We've added yet another heavily requested feature which we're releasing today. You can now add text, links, images or any HTML you'd like which will be displayed after your video finishes playing. Check it out:
This is incredibly useful for guiding your viewers actions after they finish watching one of your videos. You can add a call to action with a link so that the viewer isn't lost after the video finishes playing.
You can also use this to collect information about your viewers. For example, you could embed a MailChimp mailing list subscription form by simply copy and pasting the form embed code for your list.
To get started with these new options, go to one of your videos and click on the 'Customize this embed code' button in the 'Sharing' box. From there, just click on the 'Post-Play' tab and check that 'Enable Post-Play Screen' check box. As you edit the options, the preview will update in real time. Once you've got the screen looking the way you like, click the 'Update Embed Code' button, copy the new embed code, and you're good to go.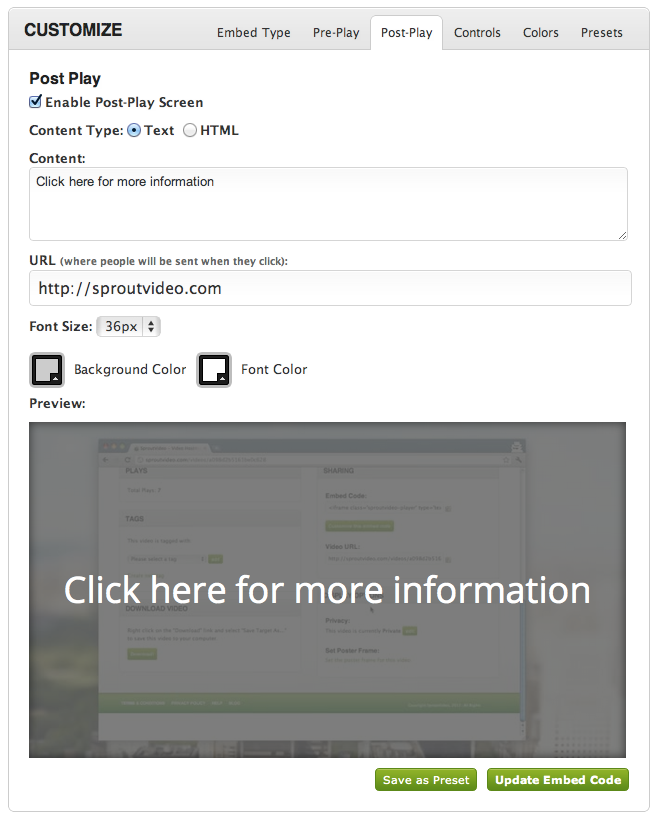 There are tons of great and creative ways to use the new post play options and we're excited to see how you use it!
blog comments powered by

Disqus