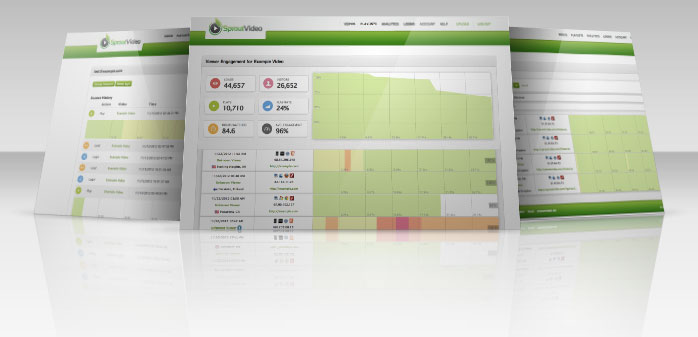 A little over a year ago we announced our analytics platform. It makes it incredibly easy to tell when, where (both geographically and on the web), and how often your videos are being played. It also lets you know which of your videos are most popular and on which devices the videos were being watched. All of this is very valuable information but it fails to answer some fundamental questions about your videos. Are people watching the whole video or are they leaving before your call to action? Are there certain points in the video that people watch over and over? What other videos of mine has this viewer watched?
Starting today, you'll be able to answer those questions and more using our video engagement analytics. With this new tool, you can not only see aggregate data for all views of a particular video but data for each individual play of your video as well.

The aggregate data makes it easy to tell at a glance generally how engaging your video is and where people drop off while watching the video as well as how many people, after seeing your video, actually play it.

With the individual play engagement data, you can easily see which parts of the video were watched, which were skipped, and which were re-watched. You can also see where and when the play took place as well as what device was used to watch the video. Lastly, you can see how many of your other videos the viewer has played. You can go even further and tag viewers with a name and email address so you can easily keep track of them. You can either manually tag viewers or have them be automatically tagged using our login protection feature or by passing in a parameter into the embed code.
We believe our new video engagement analytics will not only help you gain meaningful insight into how people are watching your videos but also give you actionable data so that you can alter your videos to be more engaging. We've been collecting data for a few weeks now so you'll be able to view data right away!
Video engagement analytics are available at no extra cost to the Tree, Grove and Forest Plans. The Seed and Sprout plans come with a 7-day free trial.
blog comments powered by

Disqus