Research projects that 90% of internet users will be watching video by 2017, so It's important to get your video strategy optimized to make sure you're getting a good return on your investment. Just like SproutVideo, any worthwhile video hosting provider should furnish you with an array of analytics tools to help.
Here's a brief overview of the metrics that we think will help you a) judge the success of each video, and b) create videos that perform better.
Plays (and Unique Plays)

What is it?
This metric is pretty self explanatory. It tells you how many people are watching your video. This is different from an impression which measures how many times your video is displayed whether it's played or not.
Note: "Unique" refers to the number of times a brand new user played your video. If the same viewer were to watch the video several times over any period of time, they would only count once towards the unique plays metric.
How Does It Help You?
The plays metric makes it simple to determine which of your videos are being watched the most, and in turn helps you nail down what your viewers are looking for so you can provide consistently fantastic videos. In the same vein, this metric will also tell you which videos are duds — so you can avoid making similar mistakes in the future.
High Performance
Judge performance by relatively high numbers of views compared to your other videos, or compared to competitor videos. As you track your progress and take steps to make your videos more engaging, judge performance of videos by increases in unique plays over time.
---
Play Rate

What is it?
The play rate is the percentage of people who see the video on a page and actually click the play button. We calculate this by dividing the number of plays by the number of impressions. If your video was displayed 100 times last week and 50 people played it, your play rate is 50%.
How Does It Help You?
The play rate metric allows you to make informed decisions about how your videos are displayed on your site. Is the poster frame eye-catching enough? Is the surrounding text appealing? This will help you determine what works in terms of getting people's attention and actually getting them to click the play button. Being able to see this metric over time allows you to see if changes to your website or video's poster frame results in a change in play rate.
High Performance
The average play rate across every single video on SproutVideo is roughly 14%. If your videos have a play rate much greater than 14% you're doing really well. You may find that your usage is different from the average of our customers. Take a look at the play rates of all of your videos to see which are performing the best.
---
Average Engagement and Engagement Over Time

What Is It?
Unfortunately your viewers have busy lives and plenty of things competing for their attention, so they often don't watch a video to completion. These metrics tell you how much of the video your viewers have seen and the points when viewers stop the video or click away from it.
How Does It Help You?
If the average drop-off point is early in your video, you can use this to judge whether your video is too long, and where the less engaging points are (so you can cut them or shorten them). Also, note the videos that people watch all the way through, and try to figure out what you did right — and keep doing it.
High Performance
The average engagement across all videos uploaded to SproutVideo with over 50 plays is nearly 63.5%. This should help give you a good sense of what to expect. More important than average engagement, however, is making sure people are actually getting to the important parts of your videos. If your viewers are dropping way off before you ever get to your call of action, your video is not performing well.
---
Device Breakdown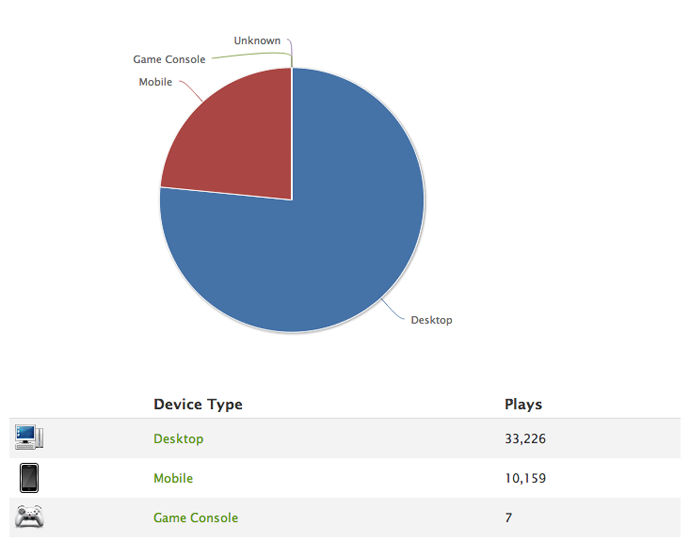 What Is It?
This metric breaks down the viewers by what type of device they're using. For the most part people either watch on a Desktop or Mobile device (although, on occasion, you'll see someone watching from a game console like a Playstation 3, XBox 360, or Wii).
How Does It Help You?
The devices breakdown is useful for determining whether you should be optimizing your videos for a mobile audience, which can influence how you manage sound and visuals in your video production. This also tells you which videos are popular with mobile users, an important bit of info especially considering that mobile internet usage is estimated to overtake desktop internet usage by as early as mid-2014.
High Performance
This depends on the audience you're targeting with your videos. If you're targeting a mobile device audience, make sure the percentage of plays on mobile devices is high and visa-versa if you're targeting desktop audiences.
---
Geography Breakdown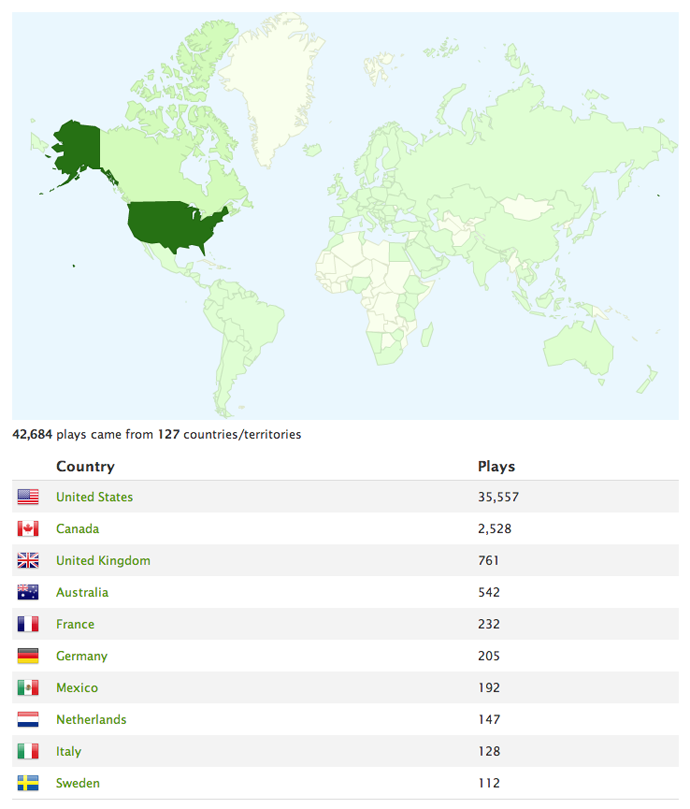 What Is It?
This metric tells you from where, in terms of country and region, your viewers are watching your videos.
How Does It Help You?
If you're interested in tapping into an international market or increasing your global visibility (and who isn't these days?), the geography breakdown will help you monitor your progress.
High Performance
This all depends on where you want your market to be. While many international companies shoot for US visibility, it's also a benefit for American companies to become visible internationally. Choose markets that have a gap for your product or service (provided it's exportable), and develop your seeding strategy to get your video watched in those places.
---
Domains Breakdown
What Is It?
This metric tells you where on the web people are watching your videos. Are they engaging from your website? From another site where your video is posted? This feature breaks it down.
How Does It Help You?
The domains breakdown will tell you whether having your videos available on bigger sites, or in multiple locations, is beneficial to driving views. It will also tell you where on the web your video is getting the most views, info you can use in your seeding strategy.
High Performance
The performance of your video in terms of reach (total viewers) is dependent on it being available and attractive on sites with high traffic, so tracking your success in individual domains will help you create a high-performing video.
---
Ultimately, the metrics you use to determine what is and is not a high performing video will depend on the goals of your video campaign. Hopefully these metrics will help get you pointed in the right direction.
If you want to try these features out for yourself, we offer a free trial of our hosting service — no commitments, and you can try out any of our pricing plans without charge.
Do you have any questions about our features that we didn't answer here? Feel free to leave a comment below, or you can catch us on Twitter (@SproutVideo).
blog comments powered by

Disqus