Broadcast Encoding Software
Broadcast Encoding software takes a video feed from a camera and converts it into a digital format that can be streamed online. Once converted, the stream is fed into the SproutVideo player, and can then be shared online for your viewers' enjoyment.
Typically, all you have to do is connect your camera to your encoding software, enter the RTMP URL and streaming key provided within your account in your settings, and you'll be ready to go live. The RTMP URL and Stream key allow you to securely connect the feed from your encoding software to the SproutVideo player, and should be safeguarded like a password.
The RTMP URL will be the same for each live broadcast but the Stream Key will be unique to each stream.
| | |
| --- | --- |
| RTMP URL | rtmp://global-live.sproutvideo.com:5222/app |
You can also find the RTMP URL and Stream Key when creating a new live stream.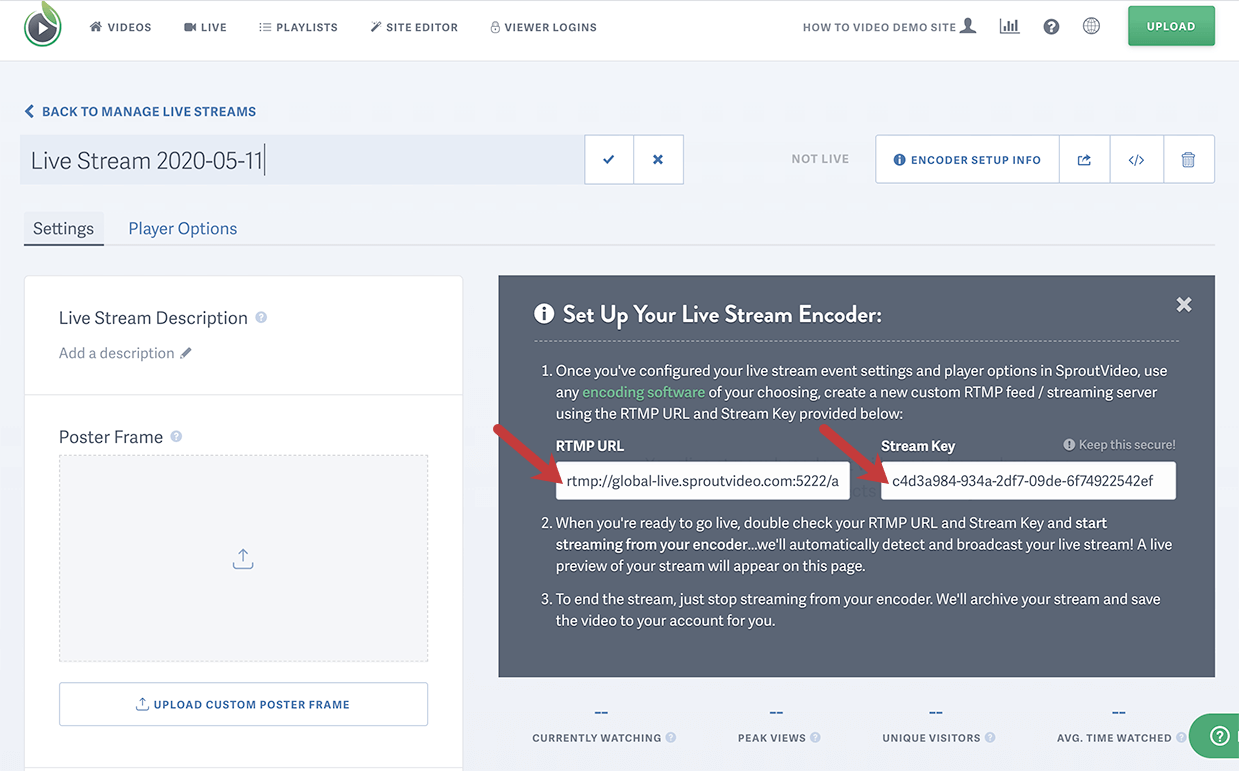 Encoding Software Options
Prior to going live, you need to download and install encoding software. There are many options available online, and some of the most popular ones are free to use. Here is a brief list of some of your options:
Recommended encoder settings
These are our recommended encoder settings on where to start, but we do recommend playing with your settings to see what works best for your content:
Video CODEC - H.264 (Main Profile)
Audio CODEC - AAC
| Quality | Resolution | Frame Rate | Bitrate | Keyframe Interval |
| --- | --- | --- | --- | --- |
| Best | 1080p | 30fps | 5000 kbps | 2 seconds |
| Better | 720p | 30fps | 3500 kbps | 2 seconds |
| Good | 480p | 30fps | 1000 kbps | 5 seconds |