When you are first getting started with your SproutVideo account, you will want to review and possibly edit certain key settings for your videos. These settings are account-wide, and affect new and existing videos uploaded and hosted by SproutVideo.
Account-wide Settings
To change any of your account-wide settings, go to Account Settings, and then click on Video Settings on the left-hand side of the screen.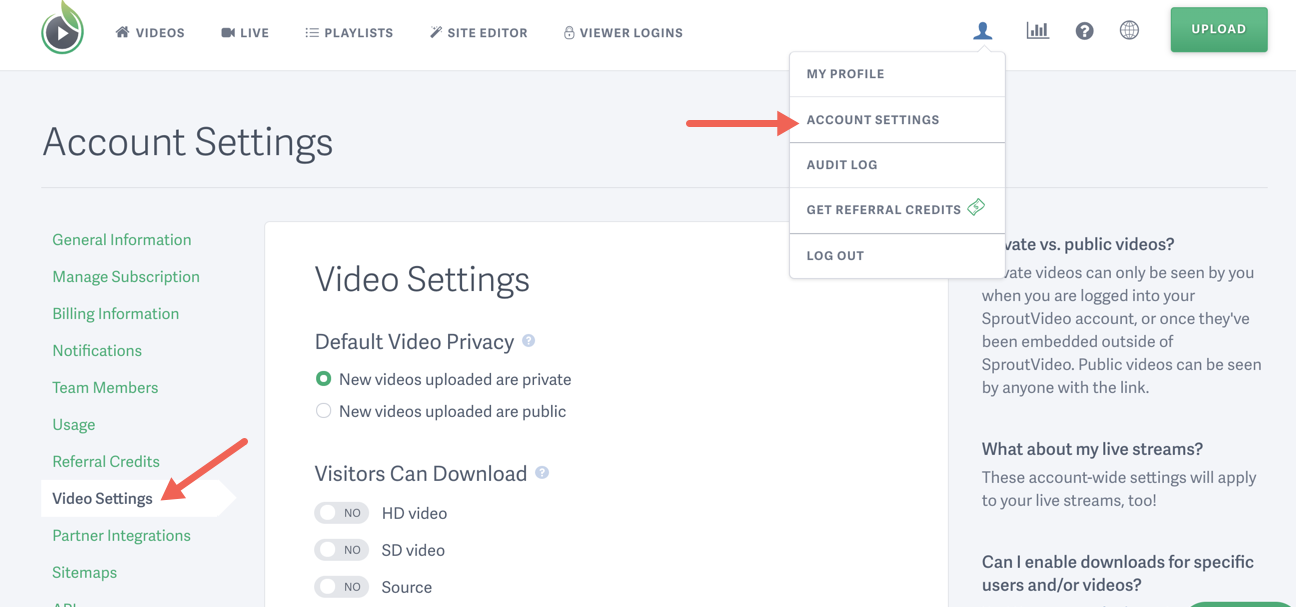 Under Video Settings, you can change the following settings, and these changes will apply to all new or existing videos in your account. Note: there are additional account-wide settings, but these settings apply to the majority of use-cases.
Video Privacy
The default setting for all videos uploaded to SproutVideo is Private. You can change that to Public if you would like. Please refer to our help article on the difference between a Public and Private video for more information.
Visitor Download Settings
Here, you can select whether or not to allow viewers to download different versions of your video. By default, none of the options are selected.
Embedded Player Settings
You can enable social sharing and embed code sharing options in the player for all your videos. Both options are disabled by default. When social sharing is enabled, viewers will be able to easily post your video to their fans and followers on Facebook, Twitter, Pinterest, Linkedin, Google+ or via Email. Embed code sharing will allow viewers to copy and paste your video embed code to their websites, extending your reach to their audiences and traffic.
Keep Source Video
When you select 'Keep Source Video,' this means that when you upload a video, the original video file will be retained along with the different versions of your videos that are automatically generated during encoding and processing. By default, we do not save your original video file. If you plan to use SproutVideo as a backup for your videos to protect against hard drive failure, or if you want your viewers to be able to download the original video file, you will want to enable this setting. Retaining the source video will use more of your prepaid storage.
Video Ready Email Notification Settings
By default, SproutVideo will email you every time a video has completed uploading. You can disable these emails by unchecking this box.
Display SproutVideo Logo
Earn account credits by displaying the SproutVideo logo on your video landing pages and video website. Read more about our referral program here. You can turn off the SproutVideo logo from showing on your video website by unchecking this box.
Related Articles
Check out these other articles in the General and Common Questions section: