SproutVideo offers several different email and marketing automation platform integrations. Setting them up is a breeze! In this article, we will go though how to enable the HubSpot integration.
Note: The Lead Capture option must be enabled to collect the contact information of your viewers.
How to Enable the HubSpot Integration
First, you must have an existing account with HubSpot. If you don't already have a HubSpot account, click here to get started with a free trial of their marketing software today.
You must also have an existing SproutVideo account or free trial. If you need to open an account, click here to get started with SproutVideo.

Once you have your accounts setup, log into SproutVideo and navigate to 'Account' > 'Account Settings' > 'Partner Integrations.'

Click the green 'Connect' button next to HubSpot.

You will be taken to an HubSpot page to allow SproutVideo access to your HubSpot account. Enter your HubSpot login information and click 'Log in.'

SproutVideo will need to be able to access and edit certain information in your HubSpot account in order for this integration to work. Click 'Grant Access' to finalize the setup.

Congratulations, your HubSpot integration is now enabled!!
When a viewer watches any of your videos, their email address, first and last name, and the title of the video they watched, will be passed automatically as a Contact into HubSpot. We also indicate whether a viewer watched 1%, 25%, 50%, 75%, or 100% of a video. You can click on the name of the contact to see a detailed view of all the videos they watched.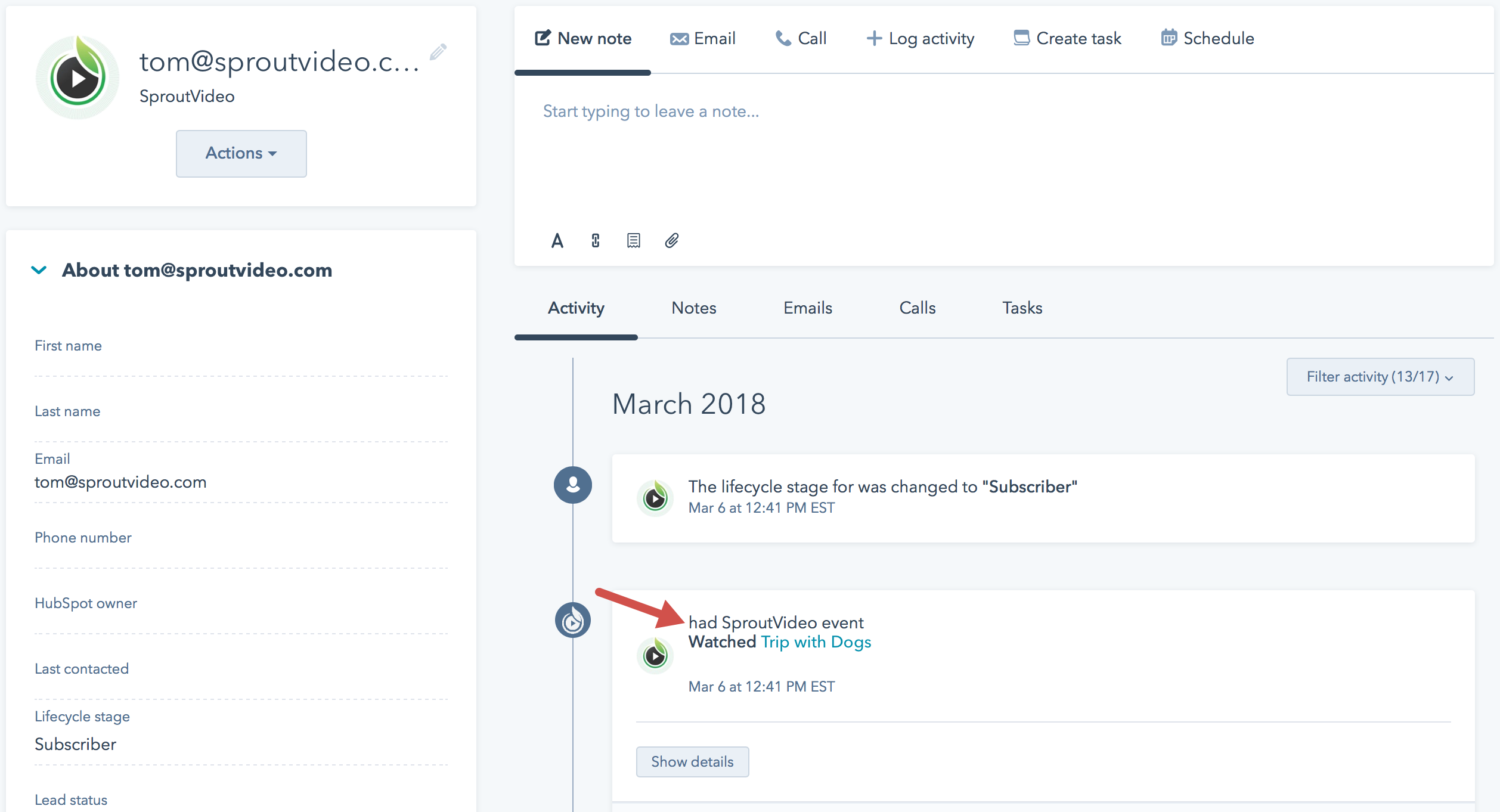 Within HubSpot, you can use this information to send targeted messaging to segments of your list. Start growing your Contacts and leveraging our powerful video marketing tools today.
If you need support for this integration, please don't hesitate to reach out to the SproutVideo support team.
Related Articles
Check out these other articles in the Integrations section: