As marketers, we are always seeking new ways to connect with our audience. At SproutVideo, our mission is to put creativity back in marketers' hands, taking video to the next level by empowering our users to use high-quality video throughout their marketing efforts.
With intuitive, powerful tools like embedded video, video analytics, mobile playback, and a high level of security, personalized marketing videos can become more attainable and manageable for teams without extensive production and distribution budgets.
When you pair the platform we've built with the power of HubSpot data and automation, you're in business. Now, with the SproutVideo Media Bridge Integration with HubSpot, you can leverage the power of SproutVideo right from your HubSpot portal.
---
What is Media Bridge from HubSpot?
HubSpot recently launched new media apps that allow users to embed media (like SproutVideo content) directly in HubSpot's drag-and-drop editors. With the combined functionality, users can then leverage engagement data in HubSpot's CRM platform and reporting.
We can't wait for HubSpot users to see the power of SproutVideo, especially with the new feature of embedding with Media Bridge. Now, when video content is top of mind, we hope to see marketers using video like they typically would use an image or form. The possibilities for new campaigns are endless.
Using Video as a Conversion Tool
At SproutVideo, we're working every day to provide the tools our users need to be successful. So, when we launched more features to improve video lead capture and conversion, it made perfect sense to combine our tool with HubSpot as a way to amplify outreach and conversion capabilities even more.


Recent HubSpot research showed that the top media type companies are creating in 2021 is video, so now that brands are more comfortable creating videos, it's time to take the strategy even further by using conversion tools and inbound marketing strategies.
Video is a proven strategy for brands to grow, here's how: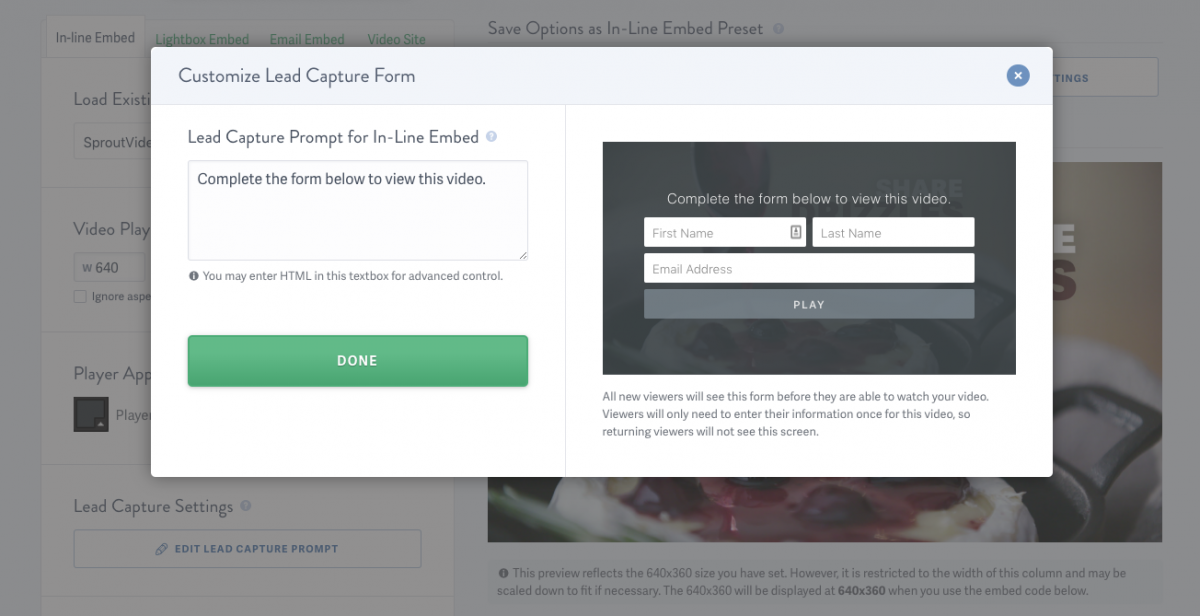 Ways to Scale Video Marketing with SproutVideo + HubSpot
When you combine SproutVideo with HubSpot using the new Media Bridge functionality to access your videos right from HubSpot, you will start saving time immediately. Not only that, you'll realize ways to use video in marketing you hadn't thought of before.
1. Use In-Player Calls to Action to Convert Leads in Email Workflows
When people engage with your content, it's one thing. When they convert, it's another. For email nurturing workflows, consider adding a demo video or video from a sales rep at a point of high engagement, or high drop-off. Use SproutVideo and HubSpot's data and analytics to optimize and insert your best videos in the right places.
2. Discover New Audiences with Video SEO + Traffic Campaigns
Video has the power to improve blog traffic by 200% (if videos are optimized and shared correctly). Creating optimized videos as part of content strategy will be an expectation for marketing teams if it isn't already. Using SproutVideo's SEO tools and HubSpot's traffic analytics and SEO strategy, your videos will begin to rank for your target keywords, giving your organic traffic a boost.
3. Gain Blog Subscribers with Video Lead Capture Forms on HubSpot Blogs
Take your existing blog strategy and run an experiment. Where you typically put a call to action, try A/B testing against a video with a lead capture form. (We have a feeling the video will win…) Your video can serve as a call to action, explanation, or way to showcase your brand.
4. Convert More Landing Page Visitors with On-Page Videos
Speaking of conversions, videos perform well on landing pages. Some tips— keep your video above the fold, use a compelling thumbnail, and optimize your in-video form copy.
5. Target Campaigns Based on Video Behavior
When a hot lead views a demo video, that means they're interested in your product or service. When they view it, then pore over your pricing page right after, they're super interested. With SproutVideo + HubSpot you can automate the follow-up to these actions, or start a nurture campaign. Your sales team will thank you.
---
Whether you're already a HubSpot user or not, explore the SproutVideo Integration with HubSpot and take a look at the Media Bridge functionality. With a specific goal of helping to reduce "tab fatigue" and human error associated with the copy + paste game, we're partnering with the tools you use every day to improve your strategy and make life a little bit easier as a conversion-focused marketer.