What Is Lead Capture?
Lead capture is a powerful video marketing tool that enables you to use gated videos to grow your marketing list. Once enabled, a lead capture form will be displayed in the SproutVideo player, and must be completed before the video can be played.
How To Enable Lead Capture
Navigate to your Video Library, and click on one of your videos for which you'd like to enable lead capture.

Once you are on the video details page, scroll down and toggle the switch to 'On' next to 'Require an email address to watch this video'. You can also toggle the switch to 'On' for 'Enable required first and last name fields' if you'd like. Then, click 'Save Changes':
Now, before a viewer enters their email address, your video will be displayed like this: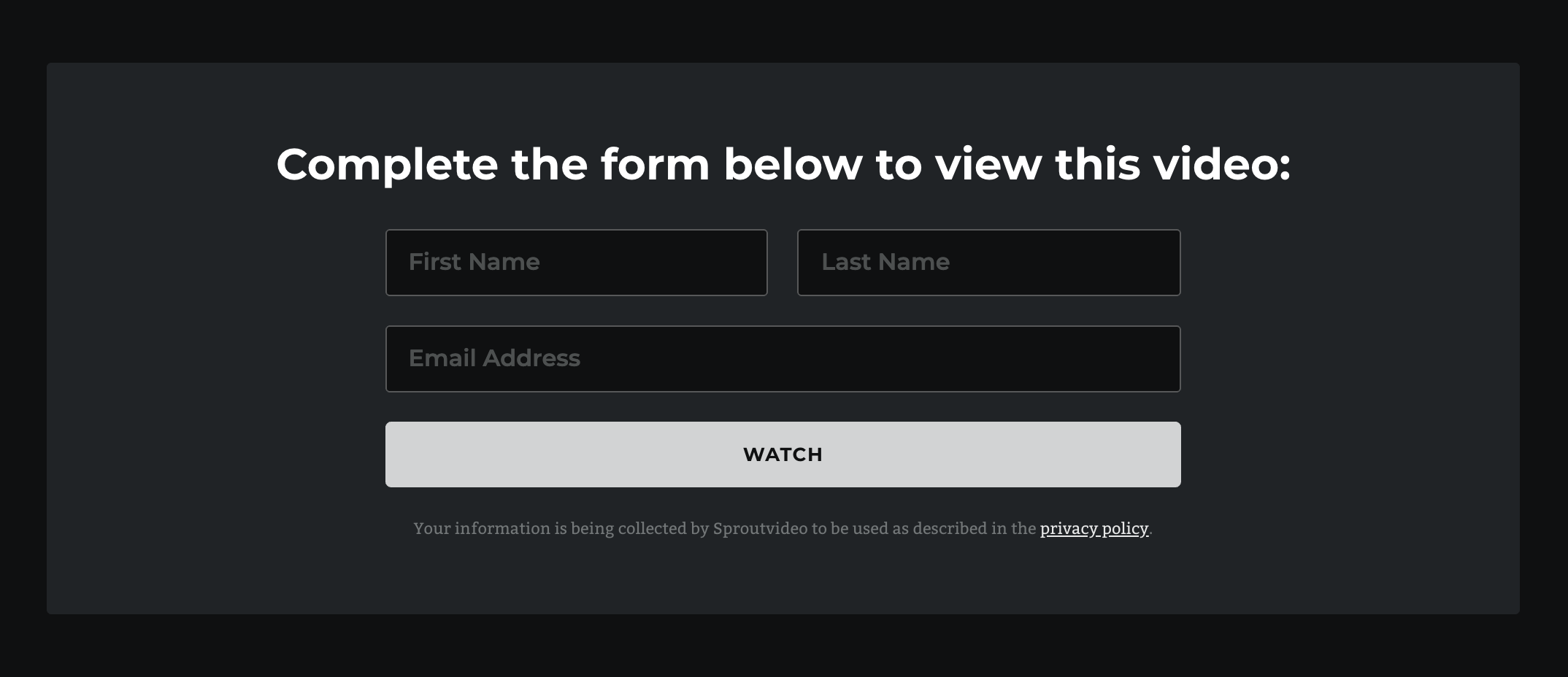 Where to Find Your Collected Leads
You can view the collected names and email addresses within the engagement data for each video. Select the video in question, then navigate to the 'Engagement' tab in your account. This guide explains how to view your collected email addresses.
Custom Lead Capture Message for Embedded Videos
If you are embedding your video, you can customize the lead capture message.
To customize the lead capture message, click 'Player Options', then select either In-line Embed or Lightbox Embed depending on the type of embed you would like to use.

Scroll down and click the 'Edit Lead Capture Prompt' button.

Enter your custom lead capture message - both plain text and HTML are supported. Then, click 'Done'
How to Display Your Privacy Policy
When capturing personally identifiable information from viewers, you may need to disclose how you will be using it. It is your responsibility to determine if this disclosure is necessary under any applicable regulations.
Navigate to Account Settings > Video Settings, then scroll down to the 'Viewer Privacy Options.'

Enter the URL of your company's privacy policy into the 'Your Privacy Policy URL' field.

Click 'Save Viewer Privacy Settings' to apply the changes.
Once saved, a link to your privacy policy will be displayed in the lead capture form for any video with that setting enabled.
Related Articles
Check out these other articles in the Video Marketing section: