What Is Lead Capture?
Lead capture is a powerful video marketing tool that enables you to use gated videos to grow your marketing list. Once enabled, a lead capture form will be displayed in the SproutVideo player, and must be completed before the video can be played.
How To Enable Lead Capture
Navigate to your Video Library, and click on one of your videos for which you'd like to enable lead capture.

Once you are on the video details page, scroll down and toggle the switch to 'On' next to 'Require an email address to watch this video'. You can also toggle the switch to 'On' for 'Enable required first and last name fields' if you'd like. Then, click 'Save Changes':
Now, before a viewer enters their contact information for the first time, your embedded video will be displayed with a lead capture form, like this: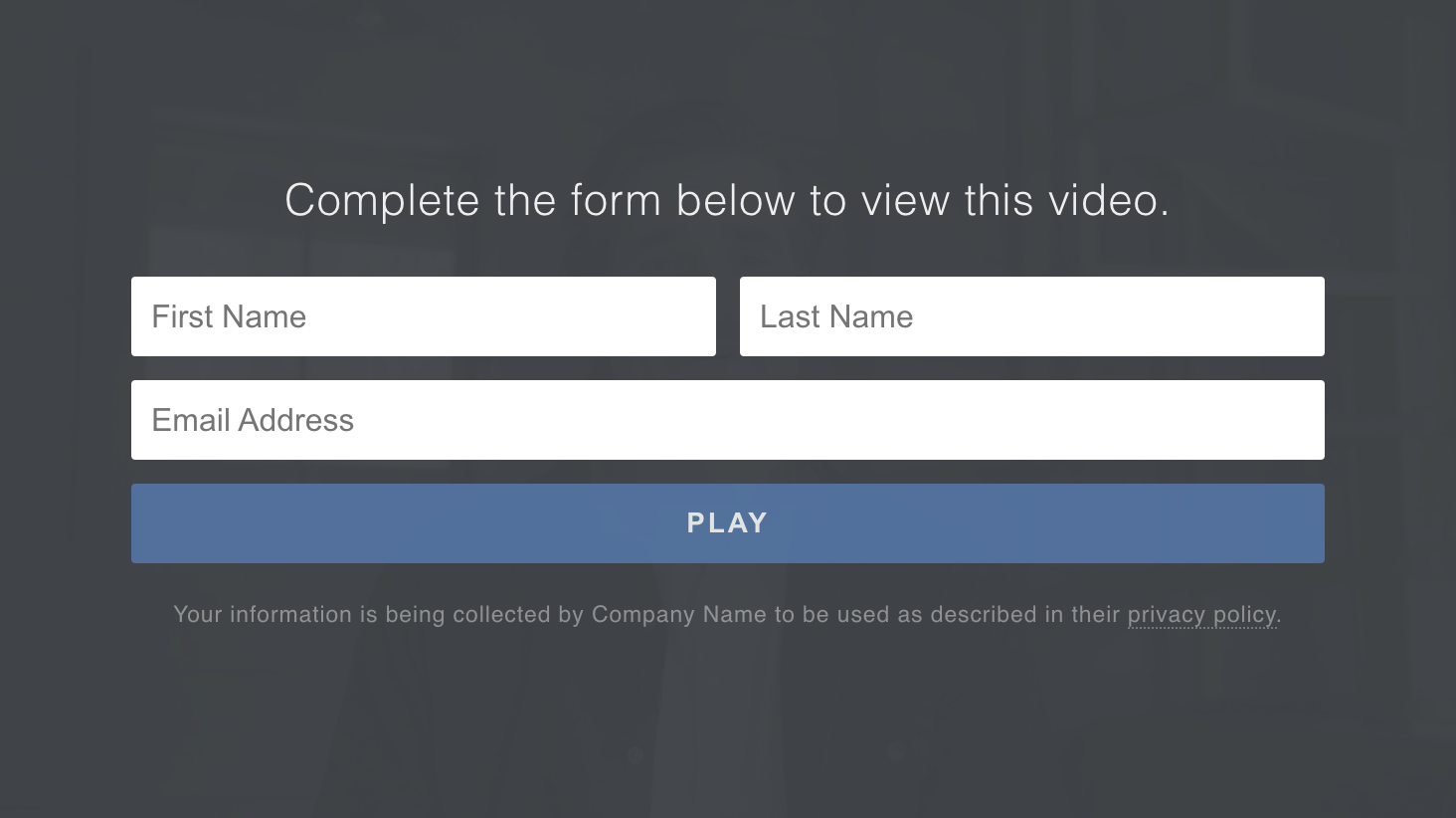 If you use a SproutVideo hosted video website, your site visitors will see a similar lead capture form page before they're able to watch your video. The look and feel of your lead capture page will vary depending on your website's selected theme, customizations, and any advanced code you may have added.
Customize Your Lead Capture Message and its Appearance
If you are embedding your video or providing your viewers with the Share URL to your video, you can customize the text and colors of the lead capture prompt.
To customize the lead capture prompt, click 'Player Options', then select either In-line Embed, Lightbox Embed or Video Site depending on how you are sharing your videos.

Scroll down and click the 'Edit Lead Capture Prompt' button.

A new window will pop up, allowing you to enter a custom lead capture message. Options to customize the background and prompt text colors for you lead capture form will only appear within this window for In-line Embeds and Lightbox Embeds. Be sure to click 'Done' to save any changes.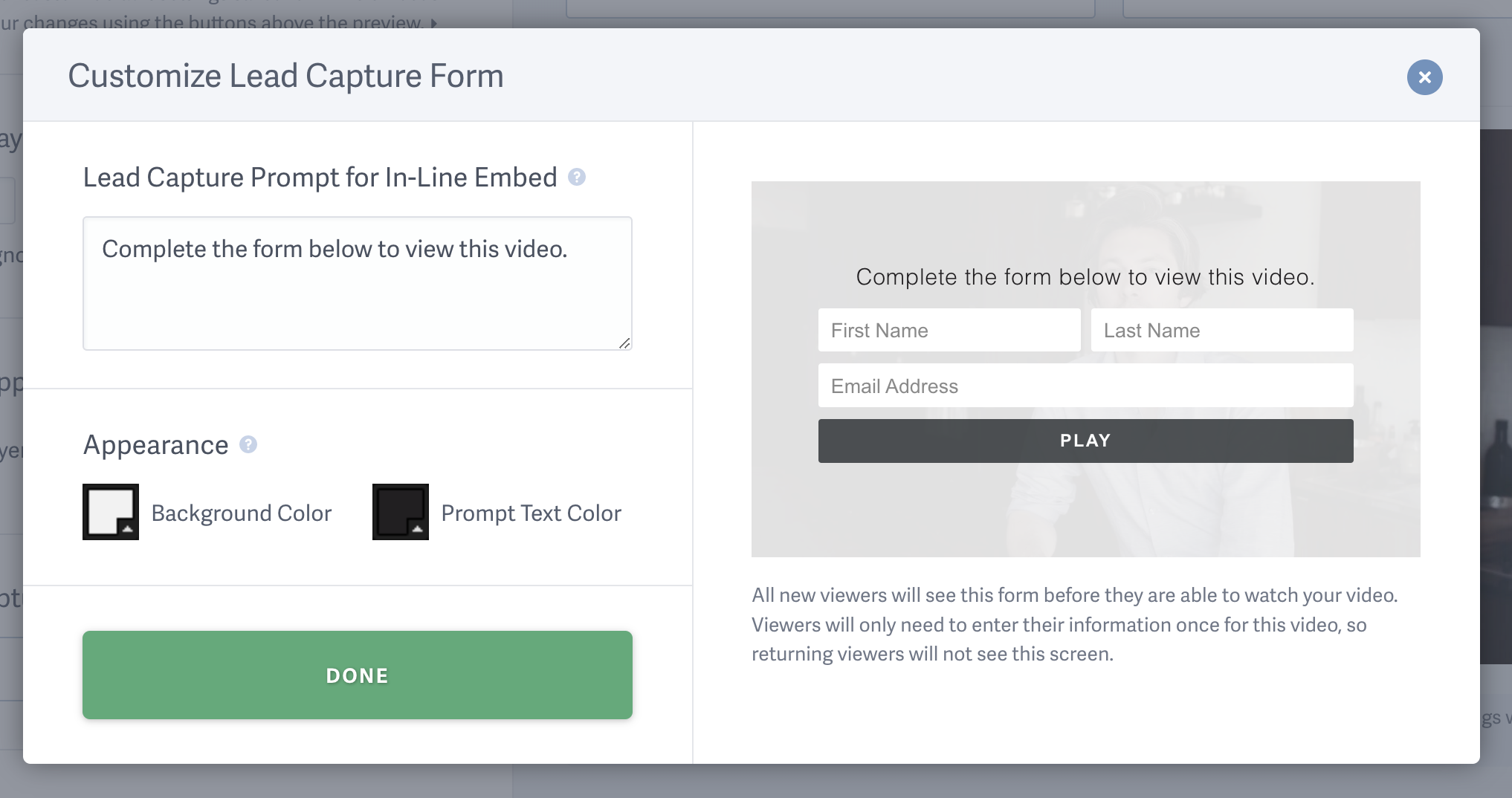 NOTE: The lead capture form button colors will be inherited from your player appearance settings for any embedded video or live stream.
You may also edit the lead capture prompt that appears on your video website landing pages. However, the look and feel of your form will vary depending on the website theme, theme colors, and any other customizations you may have added in the Site Editor. When editing your lead capture prompt for the video site, you'll see a sample form preview that does not reflect your actual selected website theme or colors.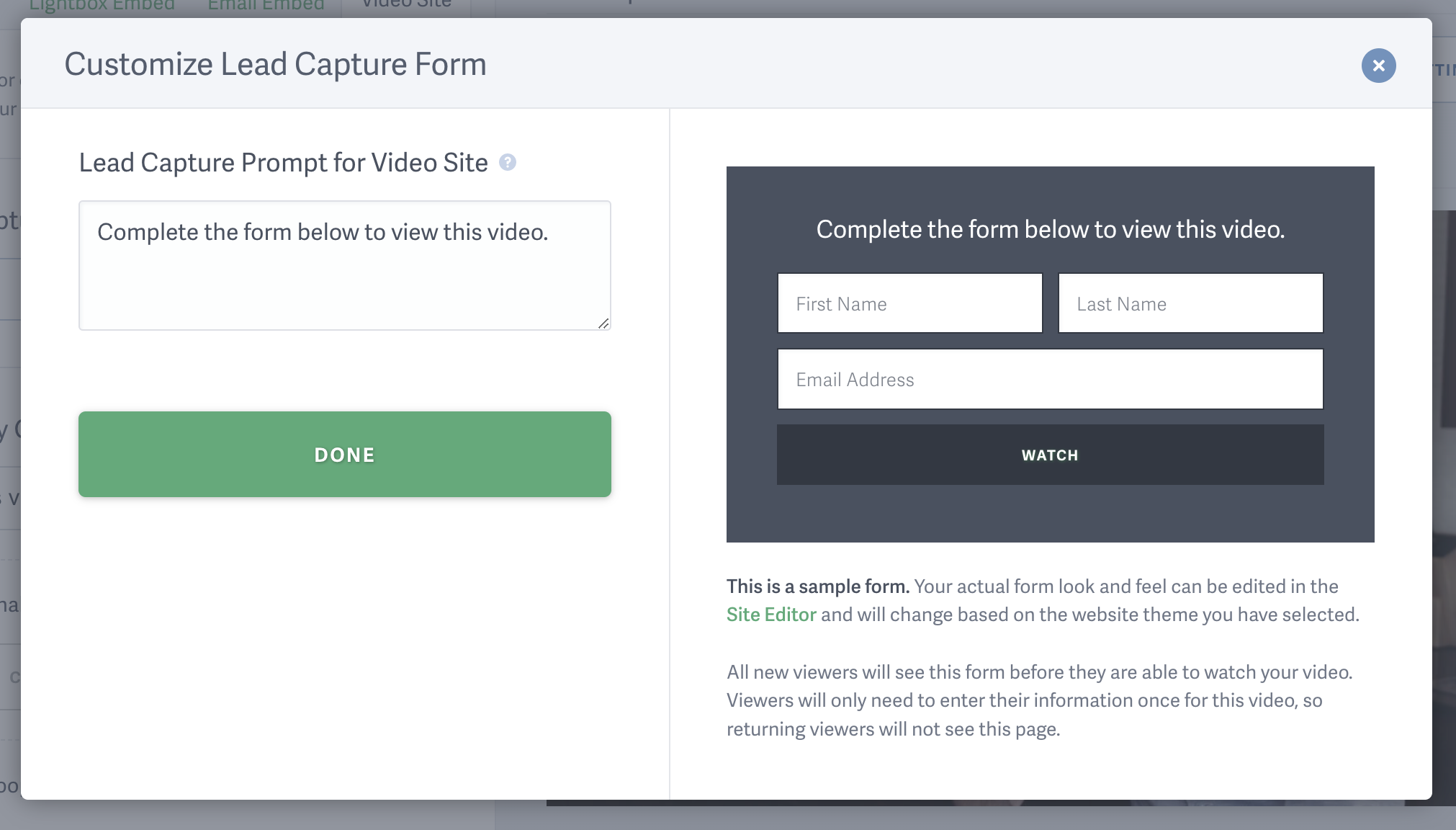 How to Add Your Privacy Policy
When capturing personally identifiable information from viewers, you may need to disclose how you will be using it. It is your responsibility to determine if this disclosure is necessary under any applicable regulations.
Navigate to Account Settings > Video Settings, then scroll down to the 'Viewer Privacy Options.'

Enter the URL of your company's privacy policy into the 'Your Privacy Policy URL' field.

Click 'Save Viewer Privacy Settings' to apply the changes.
Once saved, a link to your privacy policy will be displayed in the lead capture form for any video with that setting enabled.
Where to Find Your Collected Leads
You can view the collected names and email addresses within the engagement data for each video. Select the video in question, then navigate to the 'Engagement' tab in your account.
This guide explains how to view your collected email addresses.