Artificial intelligence is changing video editing and production as we know it. The market for AI-generated videos has skyrocketed, increasing nearly 20% globally year over year.
Technology and industry are rapidly changing, leaving creatives and marketers wondering how AI will reshape their workflows and careers.
In the realm of video editing and production, AI-generated content leaves a lot to be desired. Text-to-video tools produce impressive results for internal training videos. However, AI-generated videos don't currently meet business standards for corporate advertisements.
AI tools designed to improve the video editing and production process, on the other hand, allow companies and creators to expedite video creation — from improving video quality (AI upscaling) to mimicking your voice so well that it'll give you goosebumps (AI voice cloning).
With all the hype around AI, we want to see what tools actually expedite the video creation process. We tested dozens of AI-generative tools to create this list of the 10 best AI tools for video editing and production. Whether you need to add subtitles to a video or replace yourself with an AI-generated avatar, there's probably an AI tool for that.
10 Best AI Tools for Creating & Editing Videos
Take advantage of the free trials and free plans offered with many of these AI tools. If neither is available, watch or request a demo before investing to ensure it will suit your needs.
How to Use AI in Video Production
Artificial intelligence is the newest trend in video production, with plenty of impressive and equally underwhelming platforms and tools to try out. After wading through a sea of options, we've compiled a list of the best AI tools across applications for creating videos.
Some tools are built for AI, while others incorporate AI into existing platforms to offer new features or improve the user experience. We'll discuss each tool in detail below, and how to use AI generation when producing professional videos.
AI-Generated Videos
AI-generated video tools create a video from text, and they're some of the most popular tools available right now. Most platforms allow you to input the script and the AI software outputs a video with stock footage, captions, and an AI narrator.
However, the videos they generate leave significant room for improvement. These shortcomings make them most effective at creating faceless videos with voiceovers, such as for FAQs and blog post summaries.
Currently, all of these tools produce about the same quality of AI-generated video. But what differentiates the good from the bad (and the ugly) is how easy the platform allows you to edit the video, adding your footage, scenes, music, and more.
The Best Tool for AI-Generated Videos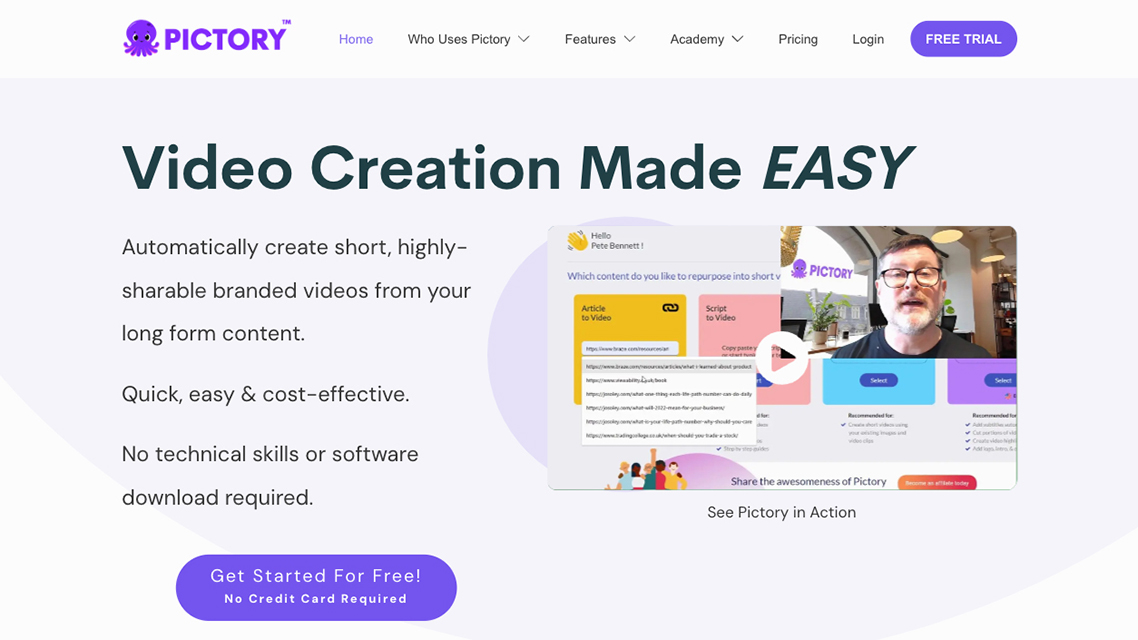 Pictory features customizable voice-overs, subtitles, stock video options, and more. Starting with a written script, Pictory allows creators to produce professional results with well-built templates and an easy-to-use interface.
We created this video with Pictory in less than 10 minutes
Ideal for producing educational and informational videos, Pictory is especially useful for people who don't have video editing experience. You can create an AI video summary from a webpage article or edit videos by editing the transcription.
For producing faceless videos without editing software, Pictory is an easy-to-use option with genuinely helpful AI features.
Runner-Up
InVideo offers many of the same features as Pictory. But the initial video generated is less engaging, making it harder to manually edit and improve the video. The InVideo user experience is also less intuitive.
Script Writing
AI writing tools are only as good as your prompt. For this reason, many AI writing tools offer templates and the ability to enhance your prompts.
The best way to get a workable script is to start with a vision for your video. Feed this vision into the AI and review the output.
The first attempt probably won't be good. But if you instruct the AI to rewrite the script with specific additional parameters, the output improves exponentially, producing a decent script to expand manually.
Learn More: How to Easily Write a Video Script
Some AI writing tools are built for marketing, storytelling, or both. When choosing an AI tool, review which AI model the tool employs. Some tools use older versions of OpenAI's ChatGPT or a proprietary AI model; this will affect the output significantly.
The Best AI Tool for Script Writing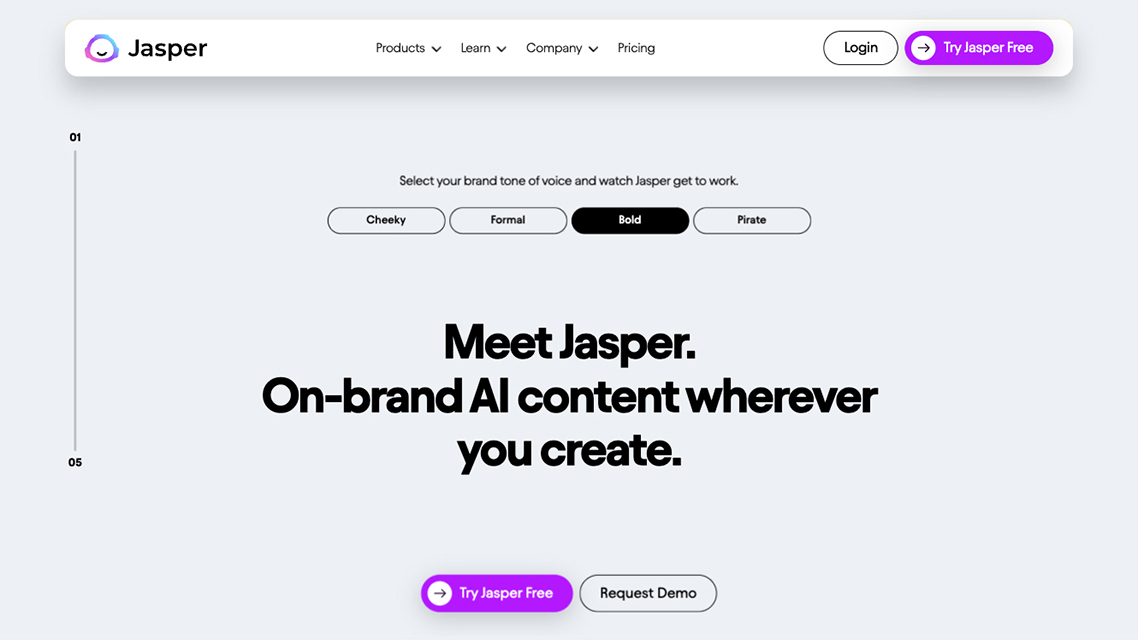 Jasper is a significant step above its competition, and not (only) because of its AI; Jasper allows you to save information about your company, brand, products, campaigns, and more. When generating copy, Jasper includes specific details based on the context of the prompt.
Speaking of prompts, Jasper features a prompt enhancer that does the work of generating a more detailed prompt based on your input. Jasper also includes a template specifically for script writing.
Jasper is a unique AI platform because it utilizes all available models, including OpenAI's GPT, Anthropic, and Google. This allows the platform to generate the most accurate and dynamic content across subjects. Overall, Jasper provides the best overall AI writing tool.
Perhaps its biggest flaw is the steep monthly price, which starts at $40 a month for the Creator plan. Jasper does offer a 7-day trial, but there is currently no free version.
Runner-Up
WriteSonic is an affordable alternative to Jasper. It offers multiple script-writing AI generation tools, including TikTok scripts and video outlines. But it lacks Jasper's branded customization and doesn't employ AI models beyond ChatGPT.
Video Editing
There are two categories of AI video editing platforms. The first comprises traditional editing software brands that have added AI features to keep up with the evolving industry (Adobe Premiere Pro and Filmora Wondershare, for example).
The second is tools built around AI. These tools flip traditional editing on its head. If you already have a favorite video editing software, it probably has AI features that will expedite your editing process or provide entirely new functionality.
Creators looking for a simplified way to edit videos will appreciate the new AI video platforms, but editing professionals will likely choose to stick to the classic tools of their trade.
AI video editing tools also commonly remove moments of silence and filler words, such as "uhm." While these functions can save time by cutting down on the amount of video you need to edit, none of the AI tools tested could seamlessly cut videos.
The Best AI Tool for Video Editing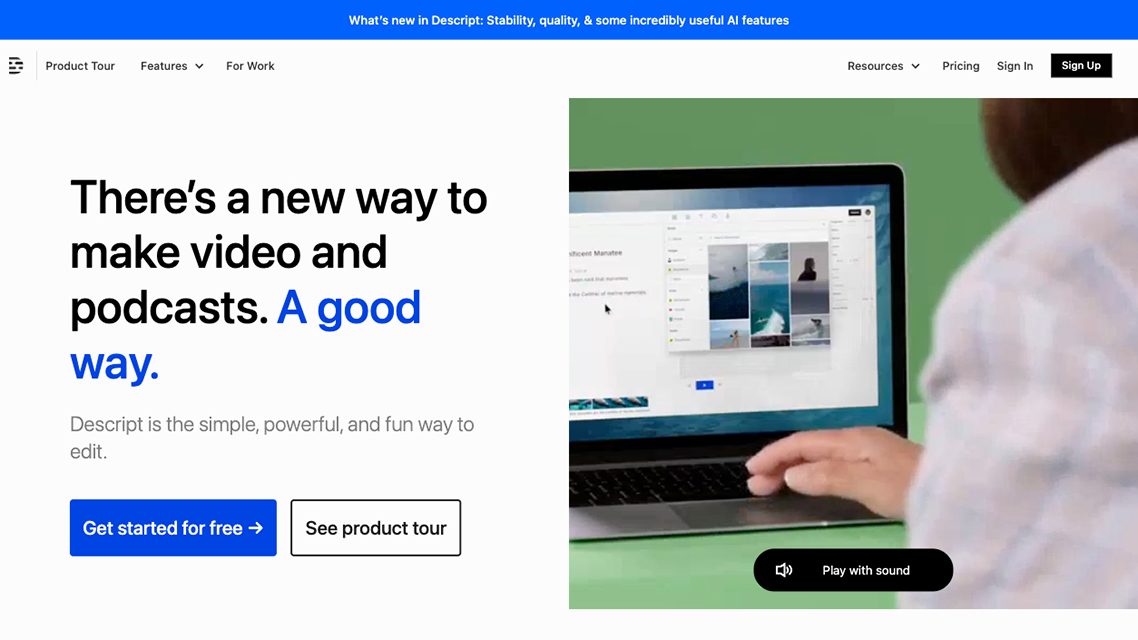 Descript is an alternative to traditional video editing software. Instead of conventional timeline editing, Descript uses transcription editing. The user uploads their video, and a transcription is automatically produced.
Then, they edit the video by making changes to the transcription. The tool also allows you to create scenes and add extra features using keyboard shortcuts similar to markup for text documents.
Descript's AI transcript editing tool with voice inflection correction
Descript employs AI features to make the editing process faster. It also allows creators to make editing changes that weren't previously possible: Have you ever wanted to edit the narrator's voice inflection for a more seamless transition? Descript's Regenerate AI does exactly that.
Descript's AI eyeball rotation
The company also recently introduced … eyeball rotation. Yep! If the video host isn't looking directly into the camera, AI can change that. With reasonable pricing and genuinely useful AI features, Descript is a great option for those interested in a modern editing process that still includes a lot of traditional functionality.
Runner-Up
Adobe Premiere Pro is quickly implementing AI features, and it's a leading tool in the industry for good reason. It doesn't offer less functionality than Descript but rather a more traditional approach to video editing.
Transcriptions & Subtitles
Producing transcriptions and subtitles with AI is nothing new. Social media platforms have been using AI to automatically generate video subtitles for a couple of years. Therefore, many tools do this exceptionally well. Your current video (or audio) editing software may already include transcription, and you may not need an additional tool.
The Best AI Tool for Transcriptions & Subtitles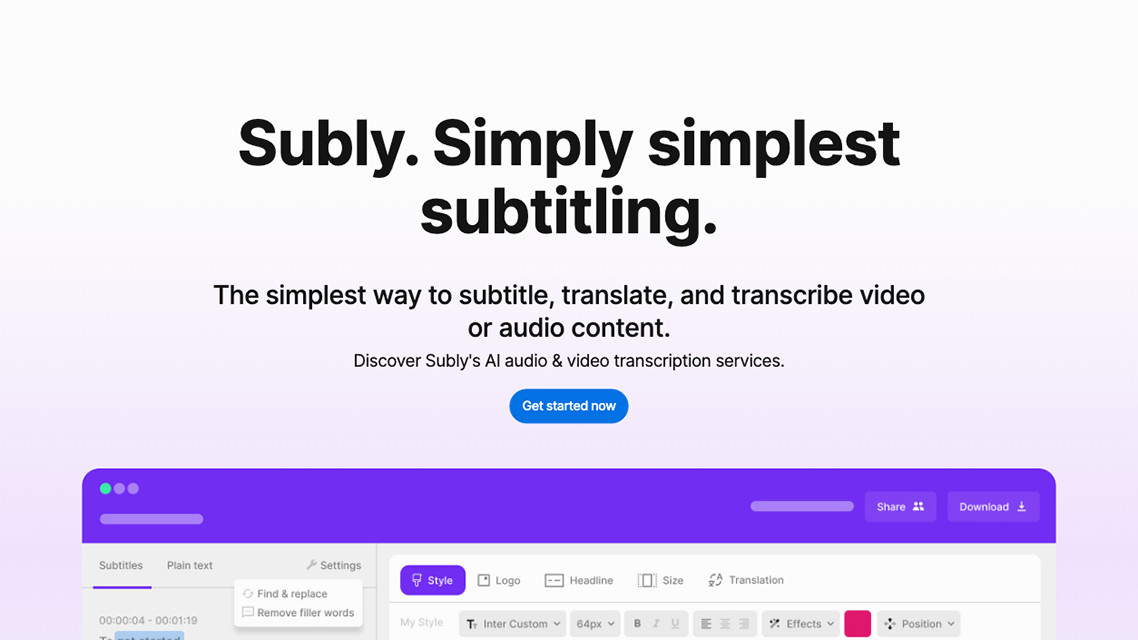 Subly is a transcription and subtitle tool with language translation for over 70 languages. It can produce a video or audio file transcription within minutes, then you can use the editor to add customized subtitles to an existing video file.
The Subly editor provides additional options that allow you to differentiate between multiple speakers and add additional text to the video. When you've finished adding subtitles to your video, it can be downloaded to your device.
Runner-Up
Auris is an exceedingly affordable option compared to Subly. Auris offers basic AI transcription and subtitle generation with language translation in 27 languages. While Subly is more fully-featured and faster, Auris provides 30 minutes of free transcription each month.
AI Voices & Voice Cloning
There is a wide range of AI voices, from the "obviously AI" to the "spooky-good." Machine learning has come a long way since the speech synthesizers Stephen Hawking used for decades.
Now, dozens of platforms produce AI voices to various degrees of realism. Some platforms even make it possible to clone your voice. Imagine recording yourself reading a script without ever stepping into a studio — AI voices make it possible to reproduce the intonations and inflections you use when speaking.
The Best AI Tool for Voiceovers and Voice Cloning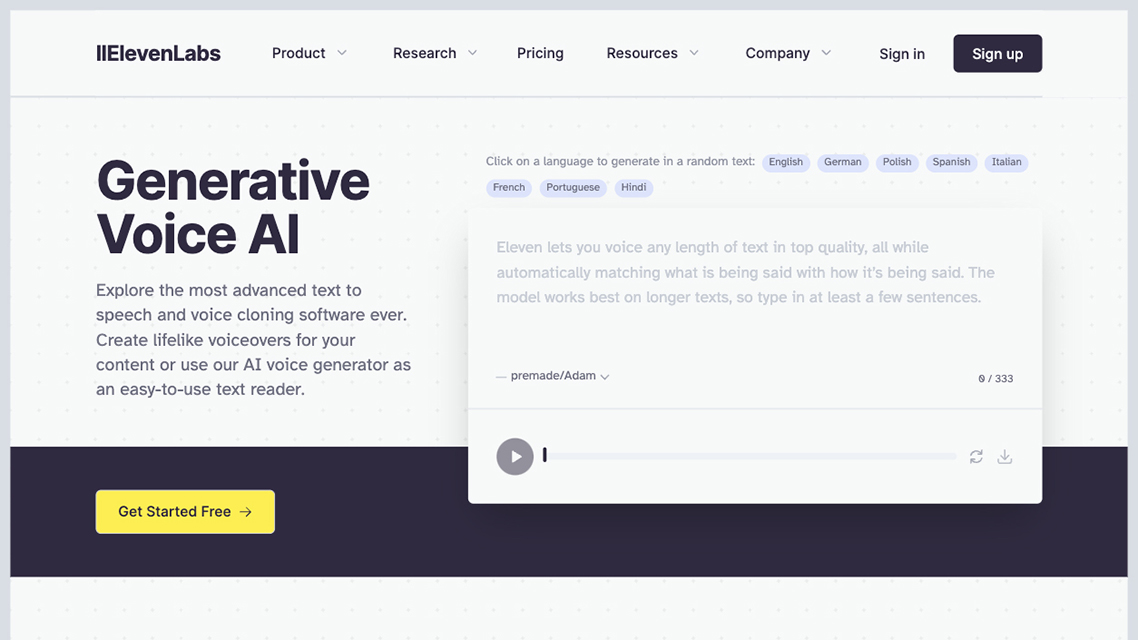 Eleven Labs Prime Voice AI is spooky-good. While many companies have created impressive AI voices, Eleven Labs' is practically (and sometimes entirely) unnoticeable. The company is disrupting the voice-acting field as we know it, making the future for voice actors unknown.
Creators and businesses, however, stand to save a lot of time and money. Imagine a self-published author who wants to release an audiobook. Not only can they use this technology to create it, but they can also use AI to narrate it in their voice!
The tool can also be used to build custom voices. It's worth testing the free version of the platform just to be impressed.
Runner-Up
It's tough to match the spooky vocal mimicry of Eleven Labs. But Murf holds its own with natural-sounding AI voices and an easy-to-use interface. It's an ideal affordable alternative with an intuitive editor for adding text-to-voiceover to any video.
AI-Generated Avatars
AI-generated avatars offer the ability to produce engaging instructional videos without hiring an actor. These avatars can replace stand-in hosts for corporate informational videos.
Yet the majority of current AI-generated avatars fail to mimic the appearance and movement of a human host. Tools that combine images of real actors with AI generation work the best.
Most tools offer a library of stock avatars to add to any video.
AI avatars are ideal for internal training videos and FAQ videos for your knowledge library. They can also be used to create content for online courses or blog post summaries.
The Best Tool for AI-Generated Avatars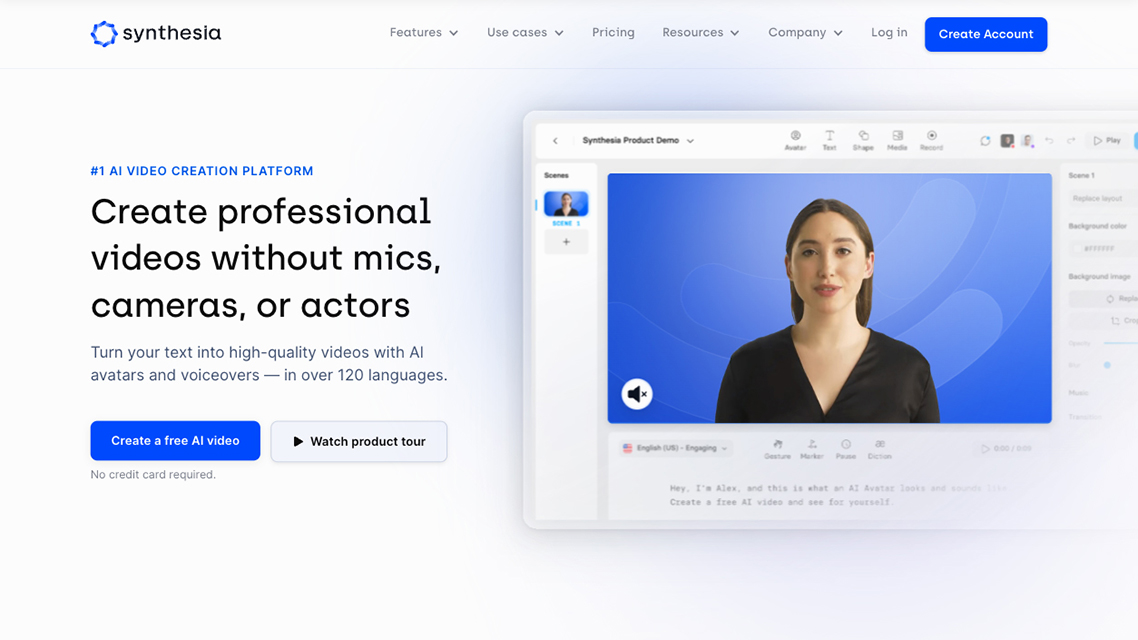 Synthesia features the most dynamic AI-generated avatars currently available. Synthesia uses real actors (who are paid for their work) to produce its avatars. AI then generates a realistic video of that person speaking.
You can even have a clone of yourself created to use as an AI avatar for only $1000 per year. One journalist tested whether or not her avatar could effectively replace her for the day.
Overall, Synthesia produces phenomenal results regarding the appearance and movement of its avatars. For onboarding and informational videos, Synthesia's avatars help produce content at a fraction of the cost.
Unfortunately, its AI voices are where Synthesia has room for improvement. While the avatar's themselves pull off the illusion of a human host perfectly, the voices quickly give away that it's AI. Combined with our winner in the voiceover category (Eleven Labs), Synthesia's AI avatars could easily fool people.
Runner-Up
D-ID offers realistic avatars similar to Synthesia. D-ID, however, uses AI to create facial movements. This allows users to upload their image and create an avatar. But it also results in less realistic-looking speech.
Text-to-Video & Text-to-Image
The potential for using AI to create realistic images and videos is quickly becoming a reality. Some platforms simply ask for text input to produce AI-generated images. These tools are able to create just about anything, and the results are constantly improving.
To produce specific content, look for AI tools that require training input to capture the desired style and color palette. These tools can create on-brand blog header photos, vector images, and image slides for videos.
The Best Tool for AI-Generated Images & Videos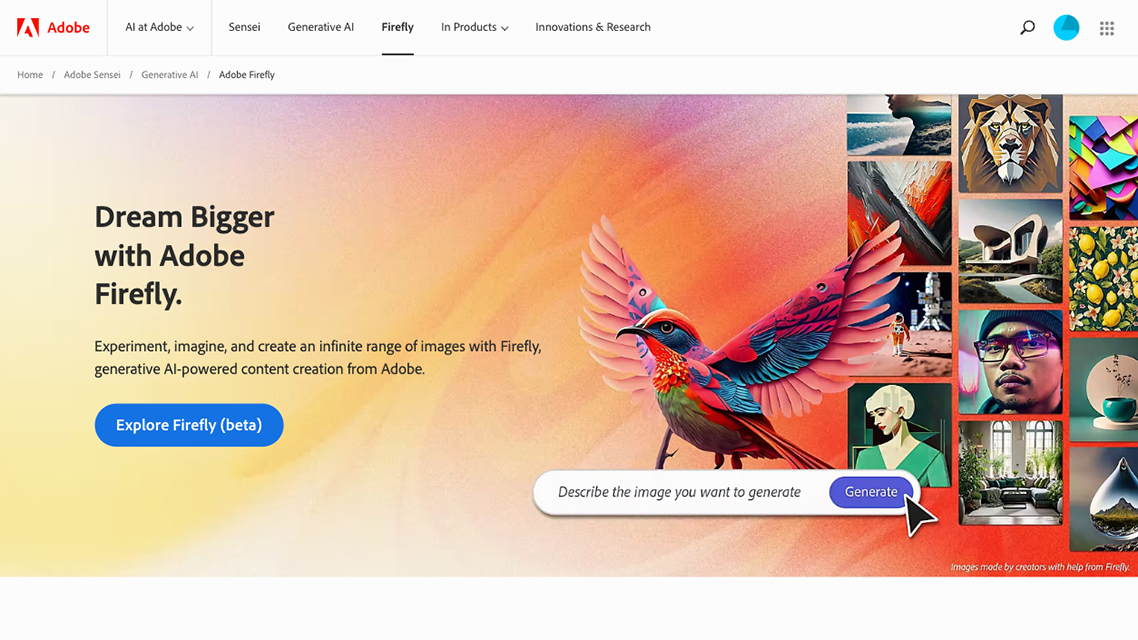 Adobe Firefly is the company's first rollout of AI features. This suite of editing tools provides an awesome range of ways to edit videos and create photos using AI. Beyond text-to-image, Firefly includes the ability to "Inpaint," allowing you to AI-generate a specific part of an image and replace the original.
It also features Smart Portrait, making it possible to edit models' faces and lighting within photos. But this was just the beginning for Adobe.
Adobe recently debuted Project Gingerbread, which boasts impressive new AI advances in generating detailed and accurate videos and images.
This rollout of AI features truly attempts to provide the creator with an AI assistant for image creation and editing. The beginning of a new workflow for image editing begins to emerge.
Runner-Up
Midjourney offers some of the most impressive image generation currently available. It provides 25 free generations and affordable subscription tiers thereafter. It doesn't, however, offer the extensive image and video editing capabilities you'll find in Adobe products.
Video Background Removal (Green Screen Alternative)
Many video editing and AI platforms (Runway, Adobe, etc.) include features to remove a video's background with AI. Green screens aren't a thing of the past (yet), but this technology provides impressive results with low effort and a small budget.
The main challenge with this feature is precision; therefore, look for a tool that allows you to fine-tune the results. It's a red flag if no options are available for improving the final result.
Inpainting is another aspect of background removal in videos. We've discussed using inpainting to add content to an image, but it can also be used to remove unwanted background objects.
Several video editing tools can remove background elements to varying degrees of success. An effective background removal tool will allow you to manually fix any mistakes the software makes.
The Best AI Tool for Background Removal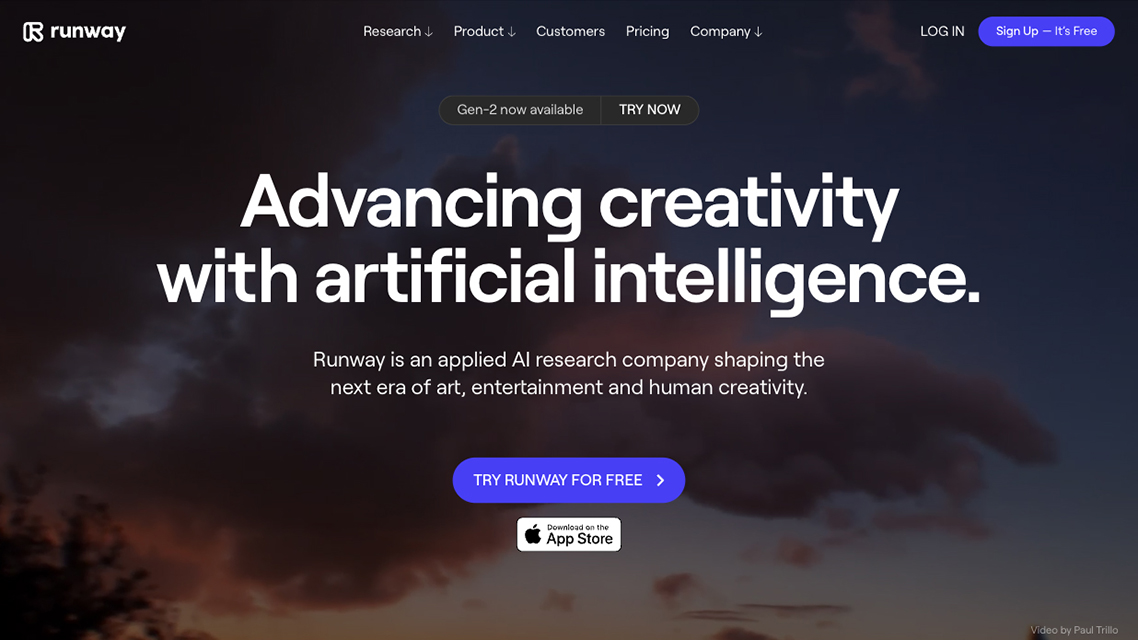 Runway uses AI to quickly remove the background of a video. You start by creating a mask for the object. Runway offers multiple features for customizing the mask, allowing you to make precise changes.
The tool also allows you to add and edit a new background to match your "green screen" image. Runway also has an Inpainting tool for removing background elements. This is another AI feature often included in video editing software, so you may not need an additional tool.
Runner-Up
Descript is a comparable AI background removal tool with one major caveat: you can't fix AI's mistakes with manual adjustments. The tool does a great job of removing stagnant backgrounds and includes some minimal options to manually the removal's appearance. But it doesn't offer nearly the same amount of customization as Runway.
Social Media Shorts
Short videos have taken over the social media landscape. But taking a long-form video and creating multiple shorts (for Reels, TikTok, or YouTube) is tedious and time-consuming.
AI can expedite this process, especially for interviews, podcasts, and other long-form content.
Once again, the combination of AI and user customization determines how successfully a platform produces short-form content. Across platforms, AI can highlight a clip, add subtitles, and crop the video for social media.
But our favorite tools make it easy to create your own clips, change the template or style of the video, and offer an easy-to-use interface.
The Best AI Tool for Social Media Shorts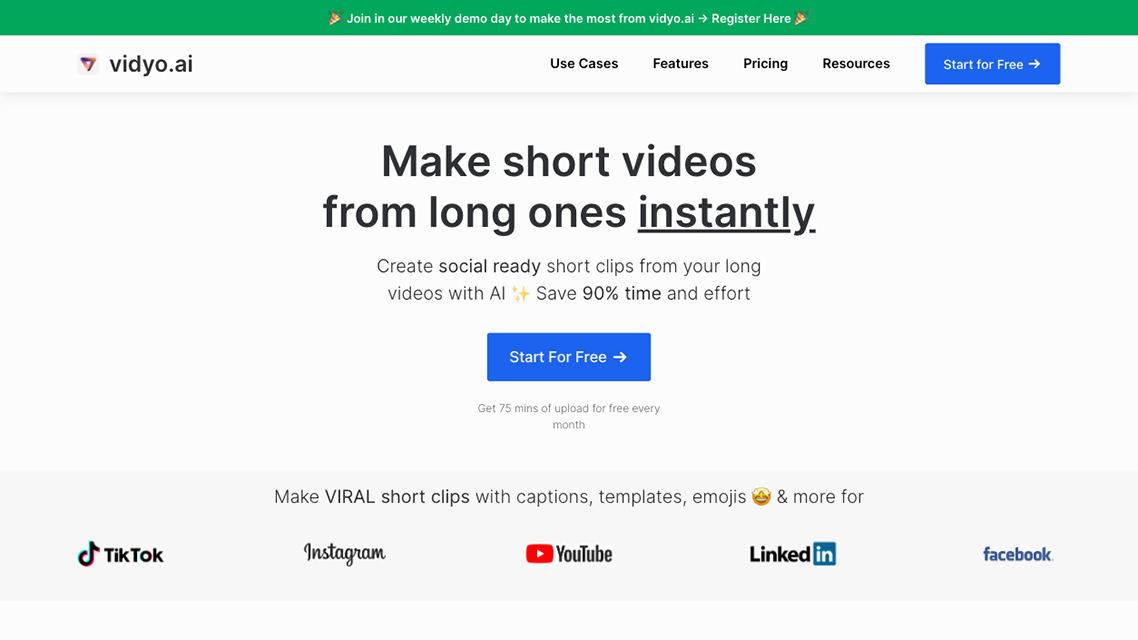 Vidyo.ai is the standout platform for creating Reels, TikToks, and YouTube Shorts from long-form video content with AI. Once you upload a video or insert a URL, the platform takes a few minutes to work magic. Once it's complete, Vidyo.ai produces a handful of potential short video content with captions.
A strapped-for-time video creator could stop here and have good short-form content to promote their longer videos. There is potential for more functionality as the platform grows. But Vidyo has created an easy-to-use platform that can actually save creators and marketers time and money.
Runner-Up
Munch is a comparable tool to Vidyo.ai, albeit with slightly less impressive results. However, some users may find the customization functionalities easier to use. Both tools offer similar features, but Munch includes a keyword tool and heftier price.
Upscale (Improve Video Quality)
Improving video quality is one of the most impressive uses of AI. Upscaling increases video resolution without sacrificing quality, allowing you to generate crisper videos.
The effect is nothing short of dramatic. It's especially jaw-dropping when applied to nature and landscape videos. This is another aspect of AI video production that is often included with video editing software.
The Best AI Tool for Improving Video Quality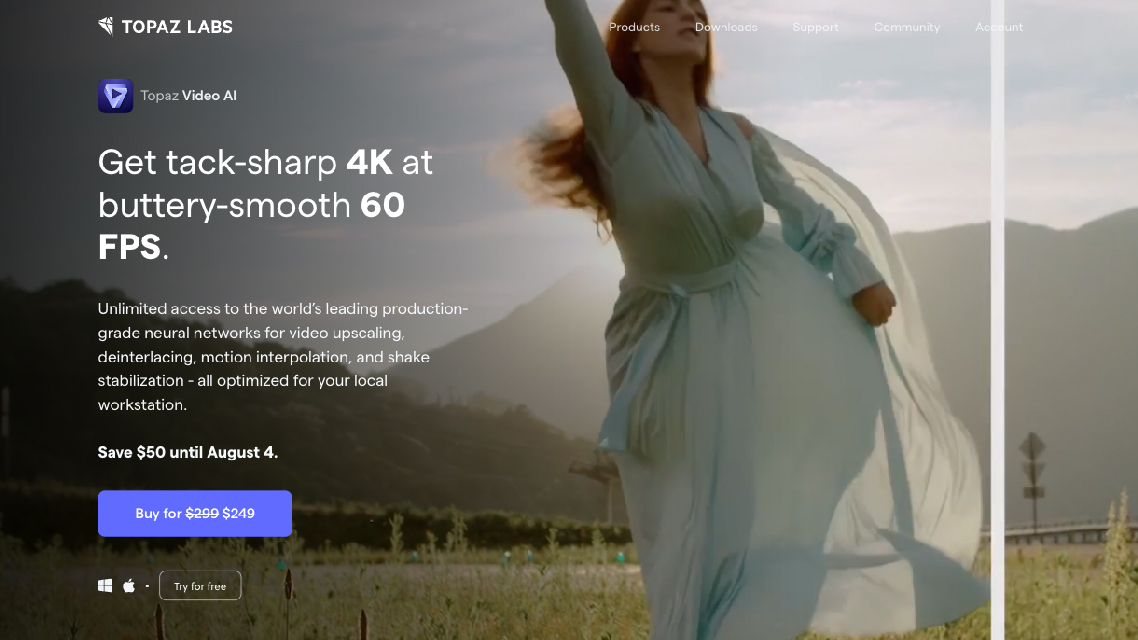 Topaz Labs is setting the standard for AI upscaling. The software focuses on doing a few video enhancements really well: deinterlacing, upscaling, and motion interpolation. It's designed to work with your existing workflow. Unlike most software these days, you can purchase the tool for a one-time fee and receive support forever.
Runner-Up
AVC Labs offers a comparable product to Topaz Labs with a unique option – the ability to make a one-time purchase or choose a more flexible subscription plan.
When Not to Use AI in Video Production
AI can improve many aspects of video production … but not all of them. AI falls short when replicating any step in the video production process that requires creative decision-making.
There's also room for improvement when producing edits of video content. For example, it can remove filler words but doesn't recognize multiple takes — and it certainly can't determine which take is the best.
Brainstorming
AI can produce a starting point. It can highlight common and popular content, build ideas from existing content, and create something new based on what has come before.
But it cannot generate original ideas. The beauty of creativity is the ability to create something from nothing. Machine learning cannot replicate the leaps and bounds of the imagination. Even the same idea and script will result in entirely different outcomes based on who directs, produces, and edits the video.
Therefore, don't expect AI to generate a brilliant idea or winning concept. Instead, use it to discover engaging topics in your industry and avoid predictable storylines and settings.
Storyboarding
In video production, a storyboard is the visual — often sketched — shot-for-shot action plan for a video shoot. Creating a storyboard requires thinking through the process of filming and the final desired product.
The storyboard helps organize the video ideas and plan an efficient day of filming. This visual sequence is essential to communicating a video's vision to the people involved, from the actors to the editor.
Current AI isn't capable of producing this level of detailed creative decision-making. It can create sketches of a script and suggest a logical sequence of shots. It cannot do the detailed planning work necessary to ensure a film crew can get the shots needed for a video.
Stock Music
Platforms that offer AI-generated music are priced in the same range as stock music platforms (compare Mubert and Epidemic Sound, for example), which also pay artists for their work. Stock music platforms offer a wide range of genres, moods, and beats per minute. Furthermore, monthly subscription prices are reasonable, so there is no justification for choosing lower-quality music at a similar price.
End-to-End Video Editing
AI can produce many impressive results in the editing process. But AI is not great at turning a video recording into a polished final cut.
While you might use AI to remove moments of silence or filler words like "uhm," the cut will not be precise enough. This AI feature can save time, but video editors must review each cut to create a smooth transition. Furthermore, AI can't make creative decisions, such as where to insert a B-roll over an interview.
The Future of AI in Video Production
Today's AI is akin to dial-up internet (for those old enough to remember). The possibilities are beginning to emerge in a field that will hugely grow and likely impact various creative industries and the workflows therein. Here are a few possibilities for the future of AI in video production.
Hyper-Realistic Video Generation
Imagine generating any video scene from an idea and text. That's what Runway envisions: a world where anyone can actualize a video without… the production part.
"No lights. No camera. All Action" is the company's tagline for its second generation of Generative AI, which is coming soon.
Beyond Runway, hyper-realistic AI generation is the goal for many competing companies. Midjourney V5, for example, was released earlier this year with stunning results.
End-to-End Video Editing
Video editing requires creative decision-making and a contextual understanding of the edited content. As these two areas of artificial intelligence improve, video editing could become a much quicker process for creators and editors.
As mentioned, current AI tools can remove silence, pauses, and filler words. But you wouldn't trust it to insert B-roll over an interview or precisely overlay audio for a seamless transition.
There are certain aspects of video editing that AI will likely never replace. Still, there are many technical aspects of editing that AI can reliably perform, saving editors huge amounts of time.
Ethical & Legal Landscape
The legal and ethical ramifications of AI are the biggest unknown for the technology moving forward. The work of artists and writers, for example, has already been consumed without copyright permission, and the consequences of this are yet to be decided.
AI is trained based on human production. Therefore, there are many questions about how human creators will benefit, if at all. To this end, Synthesia is highlighting a potential way forward by paying real actors to use their images for AI-generative avatars.
---
With the right combination of tools, a company could reasonably use AI video generation for its internal and educational content. From knowledge-based videos for your customer support library to new employee training, there is significant potential to save time and money.