In past posts, we've highlighted why videos are important facets of online marketing mixes. In this post, SproutVideo is giving you yet another reason to include web videos in your spread: integrated calls to action. Why are calls to action so important? We'll tell you. And, we'll give you a few examples of how you can implement your own.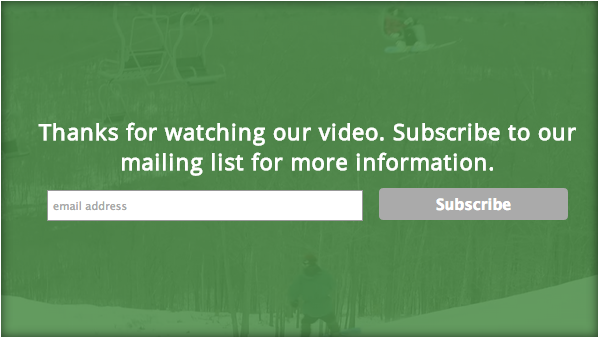 Mailing list sign up form using SproutVideo Post-Play Calls to Action.
Persuasive calls to action are the backbone of good marketing campaigns and one of the most important elements on websites. SproutVideo features post-play calls to action, allowing you to continue engaging your audience after your video is over. Your video will not end with a black screen full of suggested videos. Instead, viewers have the opportunity to continue interacting with your brand. With this customizable screen you can guide customers to new information by adding links, images, or individualized HTML. This allows you to generate new leads, allowing you to easily add new subscribers to your videos. Calls to Action open up a world of opportunities for you and your customers.
Why Rally the Troops with Video?
A viewer who makes it to the end of a web video is a marketer's dream: they are a captive audience. At the end of a video, you've already engaged them and piqued their interest with your content. If they're watching your video to the end, you also have some insight into what goods or services they're interested in. This is the perfect opportunity for converting a viewer into a customer.
Calls to Action (CTA) keep audiences engaged, which is especially critical in an environment that promotes attention deficits. CTA are images or prompts that ask visitors to take a further action: adding an item to a cart, visiting a company website, making a donation, subscribing, or learning more about a product. Instead of visiting Wikipedia, CTA buttons keep visitors clicking on your content — not clicking off to other destinations.
If you aren't integrating CTA into your video, you're missing out on an amazing opportunity. Post-video CTA can make an incredible difference for your company: marketing research has suggested that good CTA can make a hundred-fold difference, increasing engagement activity, doubling click-through rates, and increasing subscriptions. While you may understand the importance of CTA, you may still be scratching your head as to how you'll incorporate them into your videos. Don't worry – read on!
Effective Calls to Action: What Do They Look Like?
Effective CTA are like a persuasive speech, thoughtfully crafted to inspire action. With only seconds to capture a visitor's attention, a good CTA will make a given behavior seem natural for a visitor. But, those seconds can make creating CTA tricky.
The first rule of creating a good CTA is to keep the 'Action' in 'Call to Action'. Be direct, simple, concise, and strong. Use robust language to indicate to your audience what it is you want them to do. Why ask a potential customer to 'click' when you can ask them to 'watch' or 'download'? Why 'try' a service when you can 'get started today'? According to Hubspot, Firefox increased conversion rate by 3.6% when the company began using stronger language in their CTA's.
CTA should create value in your product. CTA tell prospective customers what your product is going to do for them. Use numbers. We automatically attribute credibility to statistics and mathematical proof. Take the opportunity to differentiate yourself from your competitors. "Visit our site. See why over 2 million people are using this service."
Make your CTA stand out visually and linguistically. Use language to your advantage. Clever, creative language is persuasive and interesting. Space is limited when it comes to CTAs, so the words you have should engage and excite visitors. Maximizing sensory and emotional appeals, asking questions, including testimonials, and using humor are all good linguistic strategies. Further, make sure you're carefully thinking about how to make your CFA visually appealing. Color, size, and page position can have dramatic results on click-through.
Good CTA impart a sense of urgency on the audience. Why click today when you can click tomorrow? Because the audience feels they have to. When you ask a visitor to 'Act today', you're suggesting that tomorrow may be too late to take advantage of the promotion. Seasonal products may be limited in quantities. Creating urgency will translate into conversion.
CTA are also successful when they appeal to the consumer's time. CTA should show how quickly an act can be performed or easy the action is to do. Maybe it only takes seconds to download the program or payment can easily be made through a service like Paypal. Free trials are another example of appeals to ease. Free trials allow potential customers to try products without the constraints of commitment.
Effective Calls to Action: How Do They Act?
CTA should reflect your marketing and business goals, and should be tailored to your product or service. These appeals aren't just about driving sales or prompting customers to buy a service; CTA serve a number of purposes. Here are a few examples of how you can use CTA:
Purchase-related actions

Simply, purchase-related CTA are designed to persuade visitors to purchase products.

Add to cart
Buy now
Shopping cart icons

Subscription actions

These CTA generate leads and increase your consumer audience. Subscription CTA ask visitors to become part of a mailing list, subscribe to newsletters, or receive services.

Informative actions

CTA that fall into this category encourage visitors to learn more about a product, brand, organization, or event. These CTA redirect the audience to additional information, often sending them to a website after giving the audience teaser information.

Learn more
Look inside
Read more
Watch the video

Promoting Trials

Usually free, trials are interactive CTA that encourage customers to explore a product or service before purchasing it.

Downloading

Similar to purchasing actions, CTA that ask visitors to download a product or service are encouraging ownership.
Coupling your video with a post-video CTA can have a tremendous impact on your conversion rates. These are just a few considerations when it comes to creating CTA and luckily there's a lot of really good information out there to help you along the way. Let us know in the Comment section below, on Facebook, or on Twitter @SproutVideo what's important to you when determining your calls to action.

blog comments powered by

Disqus