We write about original video content creation fairly frequently, but there is another increasingly popular option known as curation. Content curation has been trending for a while across all mediums, as it can be a nice way to pay a compliment to someone producing quality pieces (with proper attribution of course), as well as to take the pressure off the need to constantly create. When used correctly, curation can also share more of your interests with your followers and subscribers, and broaden the topics you present to them, while inspiring new ideas for your next project. So, who is doing what, and where exactly is the line between curating and creating new content?
Who is Creating, and Who is Curating?
According to Pew Research, if you are female and under 30, you are more likely to be a video creator than any other demographic.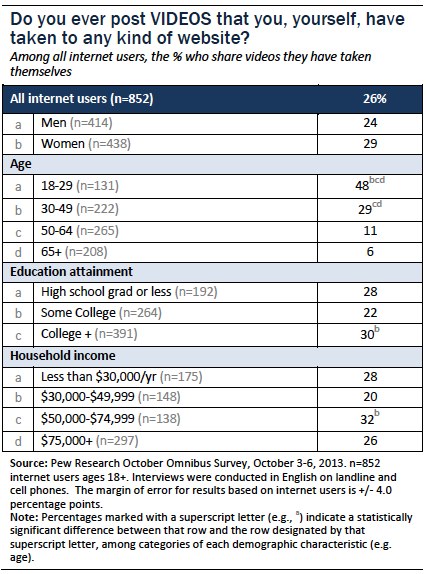 However, as the chart below demonstrates, video curation enjoys greater popularity than video creation amongst all demographics.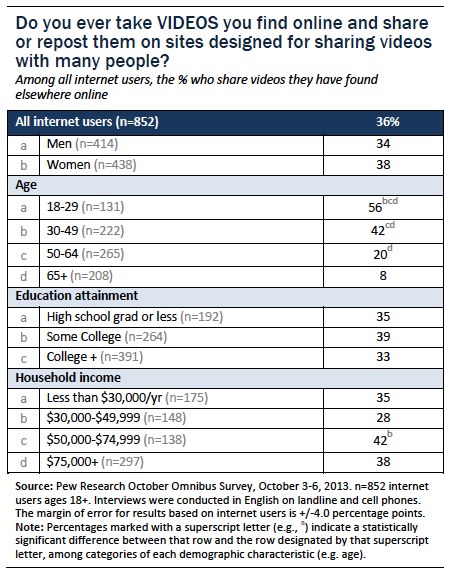 Not only are more people are sharing videos that they did not make themselves rather than creating, they are doing so at a faster clip than ever before. A study by Unruly, found that 42% of video shares happen within the first three days of a video being published, a big jump from 25% in 2013. The bottom line is that video curation is growing in popularity at an accelerating clip over time.
Are You Creating, or Curating?
There is an important distinction to be drawn between curating and creating new video content. For instance, even if you can download a video and use editing software to turn it into something new, that still may not be OK to do in the view of the person who made the original version. The best practice is to check with the original publisher before using the video, or to look for Creative Commons licensing information before putting any time or effort into your version of their original work. Attribution is a necessary step to take under the vast majority of circumstances, even when express permission has been granted, and is a net positive for all parties involved.
Another approach is to use other people's videos when they say something you agree with, but put it in an interesting or particularly enlightening way. This also works for stylish, funny, or exciting videos. Using the video embed code, if it is readily available for sharing and you have permission to do so, is a great way to publish their video in a blog post you write about their content, while still giving them proper kudos and attribution. This type of curation will usually help the original publisher of the content in terms of SEO, traffic, and exposure to a new audience, so many are more than happy to share, and some even reciprocate. For example, an article containing videos of several subject matter experts offering different perspectives on a given topic, interspersed with your thoughtful commentary about why each one is relevant, is a great way to show all the various ways of approaching the subject.
Keep People on Your Page
All of this linking out to other sites and sources of content might be making you nervous. Sure attribution is good for the content creators, but what about making sure people stick around on your website? The key is to keep your voice consistent, and make sure you are adding value and not just republishing content with minimal thought or effort. The videos you are using need to be relevant to your audience, and you need to make sure they know why you think so. You can even mix curation and creation by posting video responses to a clip you love or find particularly provocative. Video has been shown to keep people on the page, and by adding value to curated videos, you can help ensure your audience keeps coming to you both for your unique perspective as well as a source of excellent content, whether you created it or not.
---
Are you a curator, a creator, or both? Did we gloss over any aspects about the correct way to curate video content? Please comment with your best tip below, or share with us on Twitter.