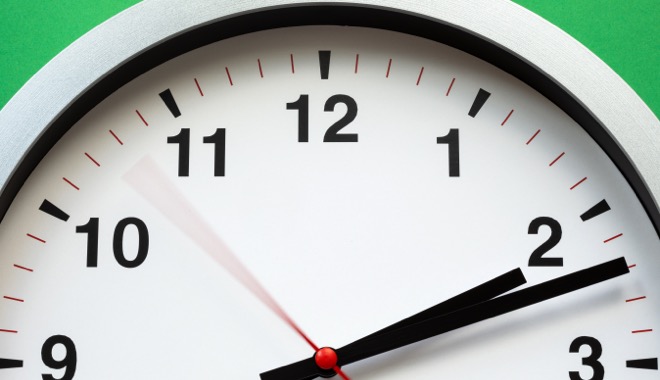 One of the best ways to get people to watch your entire online video is to make sure it isn't too long. But, what is "too long" for a video?
Turns out, it depends on the platform where you're sharing it and the type of video it is, just as much as it depends on attention spans. Certain rules of thumb can help you keep viewers engaged and achieve higher viewing durations. Keep reading for a deep dive into the science behind attention spans, and specific recommendations for different platforms and content types.
First, Know Your Audience
It all starts with who you want to watch your videos, and what you want to achieve with video. This is key not just for video length, but also dictates how you package your message with content, and the points at which you might need a "hook" to keep people engaged with your video. If you think about your favorite TV shows or movies, cliffhangers, surprises, particularly funny moments, and other carefully applied scripting and editing techniques ensure your butt will be on the sofa when the show comes back after commercial. You can use similar methods to keep people's eyeballs on your video until the very end, and knowing what will appeal to your viewers is key. Regardless of length, people will keep watching if they are hooked by a well-written script and clever editing.
Part of knowing your audience involves more technical aspects, such as whether they are viewing on mobile devices or desktops. This actually makes a difference in how likely they are to finish watching your videos.
Pixability recently found that desktops only account for around 56% of views, which aligns nicely with the 40% mobile traffic YouTube sees. Pixability also looked at how device type impacted the length of a video that people actually watch, and benchmarked it based on desktop viewing behavior: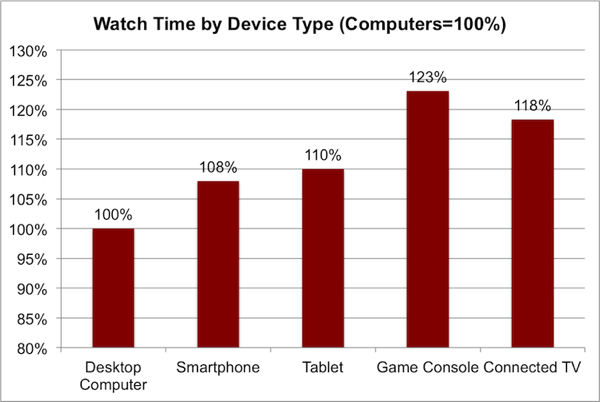 Chart Credit: Pixability.
Mobile viewing is actually better for video completion than desktop viewing (though not as good as game consoles). The ease of switching tabs and windows on desktops likely has something to do with that, not to mention the greater amount of distractions presented by all those tabs and windows.
Ensure that your videos are mobile-ready to provide the best experience for these viewers, and consider the size of the screen when designing any text elements or other visuals for your video. As data from Cisco makes crystal clear, "mobile video will increase 14-fold between 2013 and 2018, accounting for 69 percent of total mobile data traffic by the end of the forecast period." Mobile video is growing very quickly, so it is only wise to get ahead of the trend.
The fact that more people are finishing videos on mobile devices could also indicate that a longer video might work for a primarily mobile audience. For instance, if your videos are shared primarily on Facebook, then most people are probably accessing them on their phones or a tablet. Testing longer form content is not possible on other platforms like Instagram or Vine, but could be worthwhile on Facebook, especially since they revamped how video is displayed in the timeline. Check the percentage of your traffic that is mobile by looking at the Browser & OS report in Google Analytics, and selecting the "Operating System" as the primary dimension.
So, How Long Exactly?
The prevailing wisdom for the ideal video length has been that 3 minutes is an absolute maximum, and the shorter the better in general. This doctrine has also meant that most important information is presented early in the video in case viewers bounce after just a few seconds or a minute of watching. Challenging that wisdom is actual data about viewer behavior. Pixability offers this interesting cut of YouTube views, and compares it to the type of videos brands are actually producing: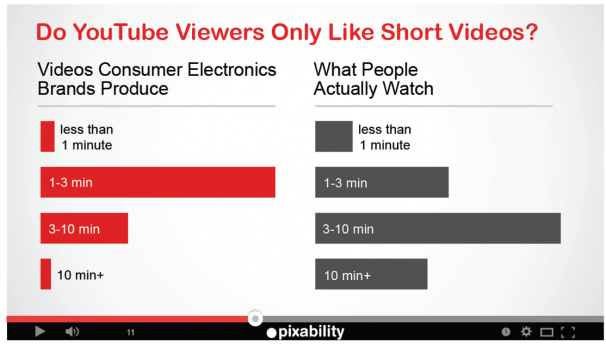 As you can see, there is a disparity between this widely accepted wisdom and reality. Videos that range from 3-10 minutes are actually the most popular with viewers. Granted, YouTube is primarily a source of entertaining cat videos and blooper reels, but that does not mean videos lacking cats or bloopers have to be less than 3 minutes long. It just means they should be more entertaining.
Attention Spans
If you make a great video, people will watch it to completion whether it is 15 seconds or 15 minutes, but quality isn't the only factor at play. There is an actual biological reason for people's short attention spans. Take the wildly popular TED Talks. They are all 18 minutes or less because science. In a recent article by Carmine Gallo, he explains the human brain consumes glucose, oxygen, and blood flow at an astonishing rate for a 3 lb organ. When being used actively, such as when listening, thinking, or processing visual information (all activities required by video), the brain fatigues in about 10-18 minutes, meaning most people actually can't focus on anything for longer than that without a break to recharge.
It's also worth pointing out that TED Talks are nearly all around 18 minutes in length, but many go viral and get viewed millions of times. This really speaks to the importance of quality over quantity. The imposed time limit forces presenters to really distill their ideas and communicate only the most important points necessary to comprehend the information. If anything, the purported 3 minute rule for other online videos might show an improvement in viewer engagement in certain circumstances, but it really might have more to do with the improved quality of those 3 minutes versus a longer form version of the same video. All too often, longer videos have unnecessary segments, visual effects, and mixed messages. If you think about what you really want to convey, and carefully layout how to get your point across, you will likely find yourself with a video less than 3 minutes long.
How to Tell How Much People are Watching
SproutVideo offers granular analytics that allow you to see exactly how much of your videos viewers are watching. Video engagement metrics provide a heat map of viewing activity, allowing you to identify popular segments and troublesome "drop-off" points in your clips. Using this reporting, you can see exactly what your audience can tolerate, and you can also improve your online hosted videos based on the viewer data.
---
Have you noticed a connection between video length and viewer engagement? Let us know in the comments below or share with us on Twitter.

blog comments powered by

Disqus