When conceptualizing video content to add to your website, it can sometimes be difficult to pick the right topic or angle. A smart way to approach it does not start with a video camera or even video editing software, but with Google Webmaster or Google AdWords to get a handle on the search terms that drive converting traffic to your website. These tools are especially valuable because you can use them to obtain all your search query data that is encrypted and consequently absent from other free reporting platforms like Google Analytics. Importantly, these tools are free to use, and are multifaceted – this is just one way to use them to better inform your content creation. Read on for our top tips for using these Google platforms to drive more clicks and conversions with your video content production.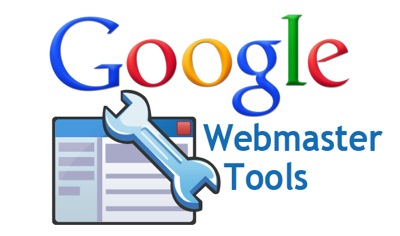 Google Webmaster Search Terms Report
Google Webmaster is free to use and very easy to set up. It is intended to be used for search engine optimization (SEO), but it can also be used to better understand what people seek when they discover and click on your site organically.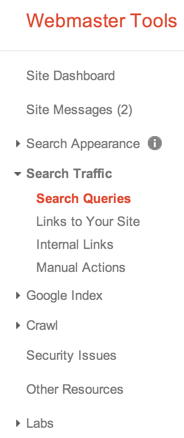 To review your search terms report in Google Webmaster, log into your Webmaster account and click on Search Queries under the Search Traffic section on the lefthand side of the screen.
With at least 30 days worth of data, look at the search terms that have a lot of impressions for your website, and the number of clicks those search terms are getting. You can filter this report in different ways, but selecting those with a lot of search activity and clicks helps pinpoint popular topics that are driving traffic to your site. The click through rate does not allow you to take volume into account, which is why looking at impressions and clicks separately is necessary. For generating video content ideas, page rank is also less important because a high page rank indicates your site is already optimized against those terms, whereas video can help your site rise through the SERPs, so to maximize benefits to your site, impression and click data is paramount.
Since your goals might vary slightly, you can target your content in slightly different ways using this data. For instance, you might realize you are not getting enough clicks for a relevant search term receiving a lot of impressions. A video can help drive more clicks because search engines usually display video results towards the top of the page, and potentially rank results with video content higher than those without.
Google AdWords Keyword Planner
The only metric Google Webmaster is missing is conversion data, because ultimately, traffic is great, but if it is not resulting in paying customers or subscribers, it is worthless. This is where AdWords comes in. Admittedly, this is only useful for those paying for search traffic. However, even with a small budget, you can get a lot of very useful data and some incremental conversions to boot.
In AdWords, make sure you have at least 30 days worth of data, and go to the Keywords report. Click the "Details" drop down menu, and select "All" to see every search term that drove clicks and conversions to your site, not just those you paid for.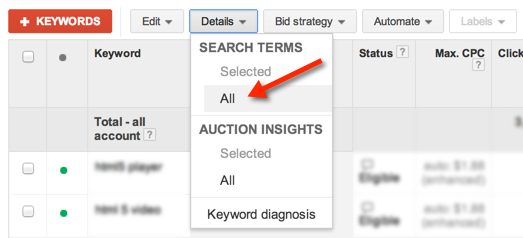 You can do this for your entire campaign or just for specific ad groups to get more granular data. To identify the search terms that you should target with video content, look at those that are getting a lot of impressions and clicks, but no conversions. Those search terms might be sending people to a landing page that needs a little extra oomph to increase conversions, and video has been shown to do exactly that. If you are more focused on lead generation than immediate conversions, look for a video hosting provider that offers marketing tools like email capture or calls-to-action for embedded video. Running an A/B test on landing pages with video versus landing pages without, or testing different videos, is the best way to make sure you are not doing more harm than good.
Pull It All Together
Once you have identified the search terms that are driving clicks and conversions to your website, optimize your video content against those terms. Use the keywords in the title and description of the video, as well as in the video content itself. When done correctly, this should not resemble keyword stuffing in the slightest. Rather, it should be captivating content aimed at a specific subset of your website traffic. With a professional video host like SproutVideo, your content will shine on your website with smooth HD playback and no 3rd party branding or ads.
---
Have you recently implemented video on your website? Just getting started and curious about how it might help? Let us know in the comments below or on Facebook and Twitter!