With two decades in tech, Tim Ryan joins SproutVideo as the new marketing leader. His experience ranges from incubating and building early-stage startups to helping Fortune 500 companies grow.
---
Do you remember when you went from 12 to 13 years old? It's a transitional age when the mental shift into teenage years, while sometimes awkward, leads to exciting new ways of being in the world.
This year, SproutVideo turns 13 years old, and we're celebrating what it means to become a sustainable teenage business.
As the newest hire and marketing leader, I'm excited to share five "outsider" perspectives on what makes SproutVideo a pleasant surprise as an employee and a dependable video hosting platform for customers.
1. Solve an Underserved Market Problem; Have Fun
Thriving as a SaaS business in a competitive market happens when you enthusiastically solve a problem. During my onboarding, I learned how foundational values have guided SproutVideo over the past 13 years.
At the heart of our mission and values lies the unwavering belief that every individual and business, regardless of their scale or form, deserves an easy and secure solution for hosting and embedding videos.
---
Mission: Be the most dependable solution for anyone to easily and securely share their videos and live streams.
---
In my first month, I learned that 13 years of listening to the challenges of educators, marketers, engineers, creators, and entrepreneurs has resulted in thousands of incremental improvements to the platform.
Through hours of market research, I also learned that SproutVideo fights above its weight class. SproutVideo is the David vs. Goliath, entirely bootstrapped and profitable in a market with publicly traded and venture-backed video hosting giants.
If you embrace a trailblazing spirit, SproutVideo may be your soulmate. In contrast to many companies with public shareholders and venture capital financing, SproutVideo has complete autonomy to prioritize customer value and culture over growth metrics.
This freedom allows the company, and by extension, the team to innovate high-value features that solve real problems while having fun and prioritizing genuine work-life balance.
2. Go Above and Beyond to Serve Customers
I've worked with some of the best B2B SaaS client success teams and can confidently declare that SproutVideo's customer support team is in a class of its own.
I spent a day in the trenches with this passionate support team and witnessed them go the extra mile to answer customer questions and resolve issues quickly. Their ability to search, analyze, and provide helpful answers was jaw-dropping. Their wit, patience, and empathy highlighted what makes human-to-human connections so powerful.
SproutVideo also offers an extensive knowledge library with documentation to help customers get the answers they need any time of day. SproutVideo's documentation on advanced login functionality, for example, shares how-to advice, tips, and best practices to better control and monitor who is accessing videos.
"Easy-to-use documentation and great support."

The documentation is clear and concise. If you have an issue or question, their support is excellent and will provide a quick and thorough response. I can't think of anything I dislike. I've tried multiple video hosting platforms, and SproutVideo serves our needs exceptionally well.

Colt C., Digital Director (Source: G2)
Here's what you can expect from the SproutVideo support team — as a customer and during your free trial:
Direct answers and rapid response to your request for help.
Human connection with real people on the other end of the line. No bots or AI chats.
In-house experts with helpful advice. No outsourcing, offshoring, or nearshoring.
A consistent point of contact who understands your business and needs.
Good, thoughtful, and funny people who will help you quickly work through your obstacles — so you can get on with your day.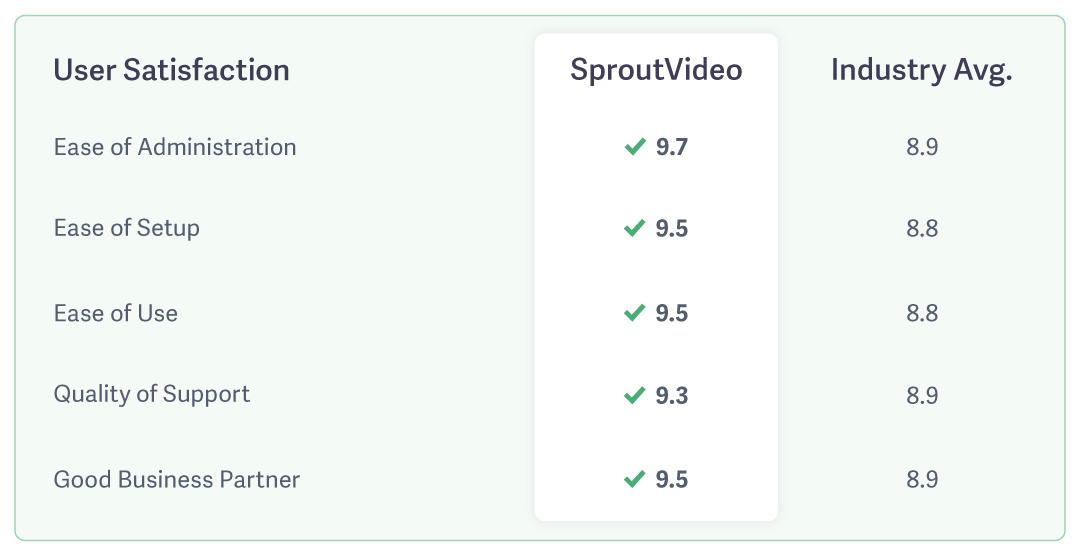 3. Build Features that Customers Need
Creating and maintaining a successful B2B SaaS product requires a thoughtful understanding of market trends and digital transformation. It also means staying ahead of customer needs and embracing agile methodologies to meet those needs.
McKinsey & Company, a prominent international management consulting firm, suggests that small and independent teams are the lifeblood of an agile organization.
To implement video hosting features quickly, SproutVideo's product, design, and engineering teams work in an agile and highly collaborative manner. This lean approach leads to a flatter decision-making structure, rapid iterations, and efficient quality assurance to identify and fix issues.
SproutVideos's product team leverages real-time customer feedback, evolving market and security conditions, and hyper-efficient methodologies to build and ship relevant software.
I've never seen this level of focus from a software and product development organization. They conceive, build, test, and ship software more efficiently than much larger organizations. As a result, SproutVideo customers experience updates and new features with fewer bugs and an elegant user experience.
Moreover, SproutVideo sets itself apart by prioritizing security and privacy. This proactive approach guarantees that customers have access to enterprise-grade security features.
When you set the security of a video to "private," you can embed it anywhere, and it can be viewed only there. If someone gets their hands on the link, they can't view it from the link URL. This is why I chose Sprout for my company.

SproutVideo Customer, Computer Software (Source: G2)
4. Be the Best at Something but Not Everything
A common temptation in the video hosting industry is to accommodate every market need. This 'all-in-one' approach often creates an overly complex and confusing product with security vulnerabilities. This results in customers seeking help to navigate and fully understand the product, leading to frustration and extra requests for assistance. Client success teams become overburdened and take much longer to respond.
Instead of trying to meet every need, SproutVideo has held a 13-year focus on the most critical customer challenges. This focus improves ease of use and means customers don't overpay for tools and features they never intend to use. I sifted through nearly 200 client reviews and identified four of the most consistent customer needs, showcasing where SproutVideo excels.
Flexible Video Hosting
SproutVideo is a versatile video hosting solution intentionally designed for reliability, security, customization, and user-friendliness.
What to expect:
Fast and high-quality playback resulting in a better viewing experience
Fabulous UI for easy video management, embedding, and tracking
Ad-free video hosting for an elevated viewing experience
Integrations and a robust API that enables enriched video management, player customization, video analytics, webhooks, and programmatic embed codes.
Privacy and Security
SproutVideo is a highly secure video hosting solution with advanced privacy functionality and controls to prevent unauthorized access, data breaches, and potential threats.
What to expect:
Protect commercially sensitive video content, IP, gated materials, and user data against threats and unauthorized access with enhanced password, login, single sign-on, encryption, and watermark capabilities.
Enhanced API-driven security features like token-based authentication and the ability to restrict video access to specific domains, which is particularly useful for preventing unauthorized embedding of your videos on external websites.
Ease of Use
SproutVideo is a hassle-free video hosting and management solution with easy set-up, intuitive analytics, and highly dependable support.
What to expect:
A clean and easy-to-use interface for content management, sharing, and tracking
Highly responsive, reliable, and empathetic customer support for a better experience
Fast uploads and frustration-free embedding
Analytics to track, validate, optimize, and support your video strategy
A free trial to use every feature without requiring a credit card
Simple, fair, and transparent pricing with no long-term contracts
"Works great and is easy to use."

I like how SproutVideo has an easy-to-follow UX design. I don't often have to visit support when I perform a task I haven't done before. Everything is clearly labeled and flows in a way that makes sense to new users.

Brianne L., Marketing Specialist (Source: G2)
Customization
SproutVideo's dependable video hosting platform offers customized settings for your video player, landing pages, embeds, and flexible integrations.
What to expect:
Simple and effective integrations so you don't miss a beat
Flexible and customizable player controls and design, video thumbnails, embed codes, playback options, video webpages, private sharing settings, watermarks, and more.
An intuitive and personalized end-user viewing experience for brand continuity
Advanced lead capture tools to drive demand, build your funnel, and track attribution ROI
5. Don't Market. Educate
If you check the SproutVideo blog or watch videos, you'll soon realize that SproutVideo's lean-but-mighty marketing team is really a group of educators and content creators. They don't try to "sell" prospective customers. Rather, they offer insightful, engaging, and educational content that empowers people to become better at their jobs.
Take Nick, our creative director, video producer, and former science teacher. He produces countless how-to videos on topics like how to capture better audio or how to find music and edit it into your videos.
Our in-house copywriter, Conner, conducts rigorous research to write value-rich articles. Whether providing insights on secure corporate video-sharing techniques or unveiling the top 10 AI tools for video editing, Conner has a unique talent for distilling research into easy-to-apply content. By reading Conner's work, you're not just gaining knowledge – you're investing in your growth, armed with the tools to elevate your work and achieve better outcomes.
Our growth marketer, Deja, works to package and share meaningful content throughout our online channels like this Instagram reel, for example.
Our senior designer, Sara, creates thoughtful and beautiful visuals for our educational content, like this blog post feature image, that incorporate elements from the products and services listed in the blog post.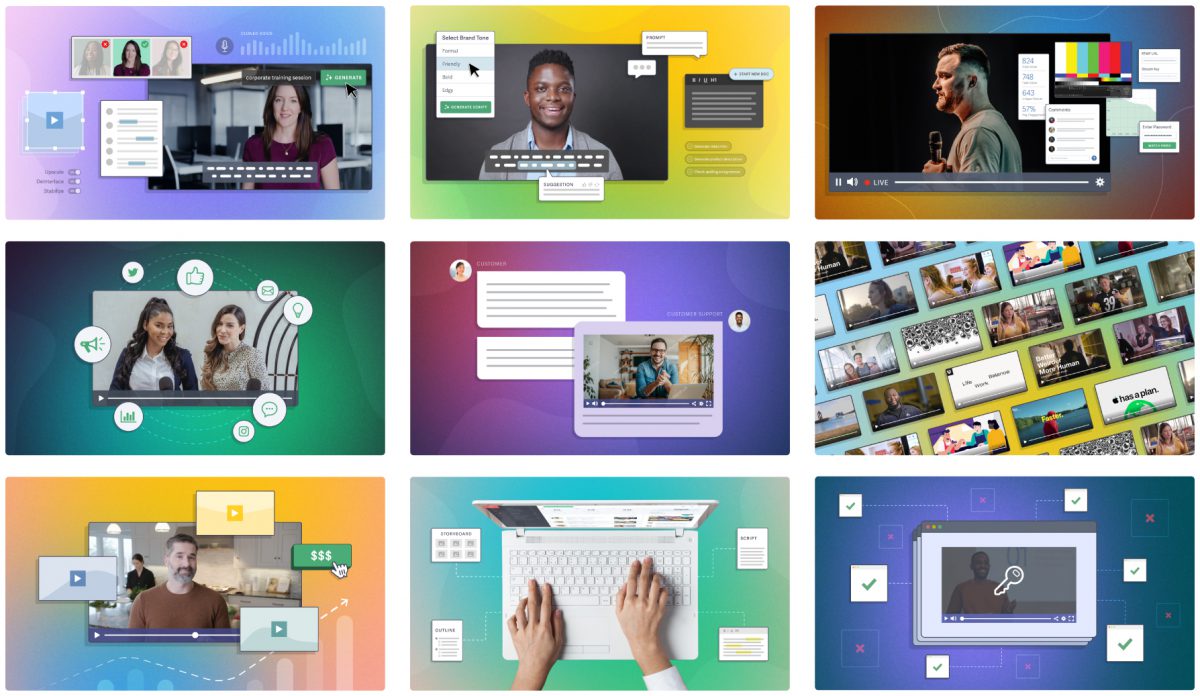 Here's to 13 More Years… and Then Some!
At 13, the peer pressure to conform is real. It's the age when many begin experimenting with new things, hairstyles, music, and activities.
From my newbie perspective, SproutVideo is a highly self-assured teen immune to the pressure to be everything to everyone.
Grounded by core values and an independent spirit, SproutVideo has become a market leader by developing exceptional customer listening skills, hiring and retaining kind and intelligent people, and focusing on core competencies.
Happy Birthday to SproutVideo, and here's to 13 more.