We were very busy over the holiday break! Today, we are introducing a great new feature that has been very popularly requested. You can now sync up our awesome email capture feature directly to a list in MailChimp. The best part is that requiring an email address to view a video is no longer solely tied to our video engagement metrics, meaning you can use this popular video marketing feature if you have a MailChimp account regardless of whether you have video engagement metrics enabled for your account. Read on for more details about this exciting new integration.
When logged into your account, you will now see a new section under your Account settings called "Email Integrations." When you click on that new section, you will see a screen where you can enter your MailChimp API key, select the list to which you want to send your new subscribers, and configure your list settings.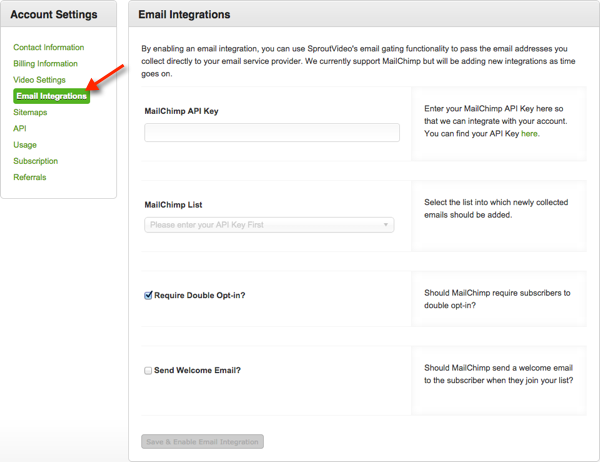 Benefits of New Video Marketing Integration for MailChimp
There is a key benefit to this new integration that specifically applies to certain users – namely, anyone on the Sprout or Seed plan. Before, email-gating a video required video engagement metrics because the email addresses were stored in those reports. Now, you can use email-gating if you setup your MailChimp integration regardless of your subscription plan.
Also, you no longer have to manually transfer the data captured by your email-gated videos to your MailChimp account. This will help reduce the chances of uploading subscribers to the wrong list, or MailChimp erroneously flagging an upload as non-opted-in users.
More to Come!
MailChimp is just the first of many integrations that we plan to implement in 2015, however, we would love to hear from you about the email, CRM, or marketing automation platforms you prefer! Mention which platform(s) you rely on the most in the comments below, and you might just see your favorites get picked for our next integrations.