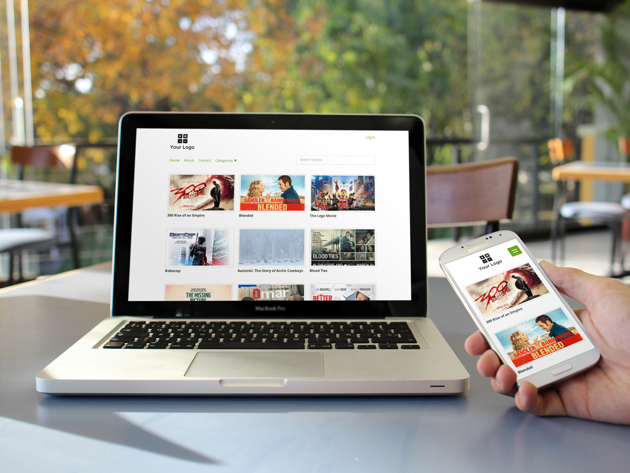 After many, many months of hard work at SproutVideo HQ, we are extremely excited to release our video website features as a part of our core platform offering. These easy-to-use, beautiful, and powerful video sites are now available at no extra cost with all our existing pricing plans for all our customers. We added features, themes, and a fancy new way of designing a gorgeous, unique video website. Keep reading for an overview of the new video website features, including security and marketing tools, as well as more details on our new themes.
The new SproutVideo websites vastly simplify the process of publishing video online, while providing a custom branded, mobile-friendly viewer experience, complete with video marketing, analytical, and security tools. These new features enable anyone with any level of technical know-how to quickly and easily build a beautiful website around their video content without ever touching a line of code.
Highly customizable, our video websites offer everything you need to match your branding, or create a new brand – whichever you prefer. You can upload a logo, pick a custom URL or setup a CNAME record, choose your favorite colors, and even add a favicon. What's more, you can pick from any of our beautiful, professionally designed themes, and configure it to your liking. If you change your mind down the road, switching themes is a breeze, with nothing to install or download.
Our two new themes are Cedar and Maple, bringing the total to five awesome theme options. Cedar has a clean, newsroom feel, with a list format and space for rich video descriptions.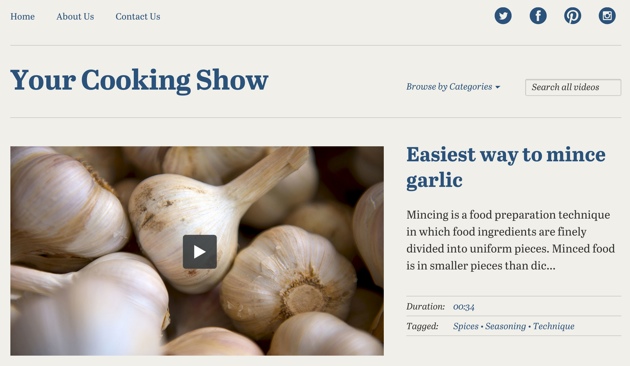 Maple is a category-driven theme, so rather than videos, the homepage features your selected categories, with additional options for category metadata, like a description and image. Clicking on a category takes you to a video listings page for all the videos included in that category.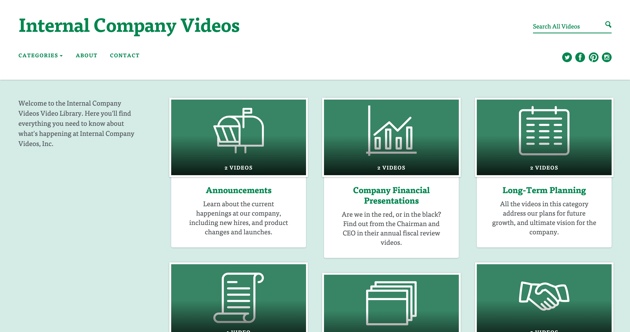 Besides our gorgeous themes, what sets the video sites apart are our video security features, which have become increasingly sophisticated over the course of our five years in business. The newly launched video sites support single-sign-on (SSO), IP Address restriction, and login protection, taking the guesswork out of sharing video securely online.
Want a branded, secure employee video portal for corporate communications? These sites can do that. Want to deliver a set of videos to one group, and another set to a different group? Got you covered. Want your content to only be available on your company's VPN? No problem. The use cases for these security features goes on, and on. Why not ask us about how you could leverage a SproutVideo website for your business?
These sites are also built on top of a robust video marketing platform. If you want to share your videos with the world on social networks, get more fans and followers, accelerate your email marketing list growth, or run drip campaigns based off which videos your viewers watched, you can do so more quickly and easily than you ever thought possible. Social cards are already setup for your video website, so you don't have to worry about your videos playing inline on different timelines. SproutVideo websites also feature built-in SEO, with video metadata and sitemaps, to help you rise through search rankings.
If you want all of those features, but don't want to use the full video website, you can still retain your customized video landing pages. It's easy to disable the full video website, and just share your videos individually.
All new SproutVideo subscribers automatically have access to these sites, and can get started building one right away after signing up for a free trial account. Our video website features have also been rolled out to our current customers. Existing accountholders will retain their current video landing pages and URLs, but will notice a new link called "Site" at the top of the page when logged into their account.
Anyone who signed up before July 14th who would like to setup a video site can go right ahead and do so if they please, while those who are happy with how things are do not need to take any action at this time. Eventually, every SproutVideo user will have to pick a custom video sharing URL. For any further details on that, please contact our support team.
Ready to get started with your own video website? Sign up for a free trial today. Have questions? Please ask us!

blog comments powered by

Disqus