Have you ever seen a live stream where there are multiple people, slides, images, or cameras? Then thought to yourself, how are they possibly doing all of that?
Well, in this episode of our How To Video series, we will be going over how to successfully execute a multi-source live stream. In this post we'll cover the benefits of multiple video sources, possible drawbacks and how to fix them, and examples of how people use this setup regularly.
What is Multi-Source Streaming?
A multi-source live stream is a live broadcast that switches between more than one video input. It could be more than one camera, a camera and a screencast, a webcam and pre-recorded video, or any combination of video sources you can think of.
The sky really is the limit to what you can use as an additional source. In the video example below, Nick LaClair, Creative Director at SproutVideo, showcases how to use two professional cameras, an iPhone, and an iPad with a switcher to jump between the different video sources at the touch of a button.
Why Use Multi-Source Streaming
First and foremost, it's just a great way to spice up your broadcast. Adding additional sources allows you to cut away from yourself, add different angles, and include information that makes the broadcast more engaging.
It allows you to operate like a mini TV studio, especially if you're using a switcher. You can use it to easily add effects, transitions, and elements that help make your production look and feel more professional.
Optimizing Your Setup for Multi-Source Streaming
If you've already mastered our 6 Simple Steps to Live Streaming for Business, you'll know what it takes for a single-source broadcast. For a multi-source setup, we'd recommend at least two video inputs, a computer, encoding software, and a switcher instead of a video capture device.
For example, in our setup, we used the following equipment for the "cooking show" segment with four video inputs:
Camera A: Sony FS7 with Fujinon 18-55mm lens
Camera B: Sony A7rii with Rokinon 35mm lens
Camera C: iPhone 8 connected with HDMI adapter and cable
Screencast: iPad connected with HDMI adapter
Switcher: Black Magic ATEM Mini with USB C to connect to the computer
iMac
Ensuring a Smooth Live Stream
Typically, problems with a live stream don't arise from the cameras, microphones, or switchers you're using. Instead, your computer or your internet connection are much more likely to cause trouble when live streaming.
Multi-source live streaming is very resource intensive for computers. Unless you already have a really powerful machine and fast internet, you may want to make some improvements. The two areas to be especially cognizant of are your internet speed and processing power.
Internet Speed
Slow internet speeds can cause buffering or even your stream to pause mid-broadcast. In most cases, you won't be able to improve your internet speed prior to going live, but there are some things to check for and adjust to improve your stream.
One of the easiest ways to make an improvement is to use an ethernet cable. If that's not available, move closer to your wifi router when streaming.
You'll want to make sure that your upload bandwidth is twice your broadcast bitrate. You can check your bandwidth by doing a simple speed test.
If you have lower bandwidth, outputting at a lower bitrate will help ensure that your video gets to your viewer more smoothly. Your bitrate is whatever your sources' bitrate is added together. For example, if you have three video sources and one audio source, all four would contribute to the strain on your internet.
Finally, be sure to close all unnecessary tabs and windows, and if possible, ensure no other streaming, uploading, or downloading is happening on your connection while broadcasting.
Computer Processing
The more sources you add, the more processing power your machine is going to need. The reason is that all video sources are processed concurrently regardless of whether they are on screen or not.
If your computer can't keep up, issues will start to crop up. For instance, your video and audio may get out of sync, or your video will be choppy.
Switch to a Switcher
Using a switcher is one of the best ways to mitigate this potential problem without shelling out thousands for a more powerful computer. While you could have each individual source going into your encoder software separately, meaning your computer has to process each one individually, a switcher combines them all into one source.
In our video above, we use the Blackmagic ATEM Mini. It has 4 HDMI inputs that allow you to transition seamlessly between sources during your broadcast. As a result, your computer only has to process one source instead of four.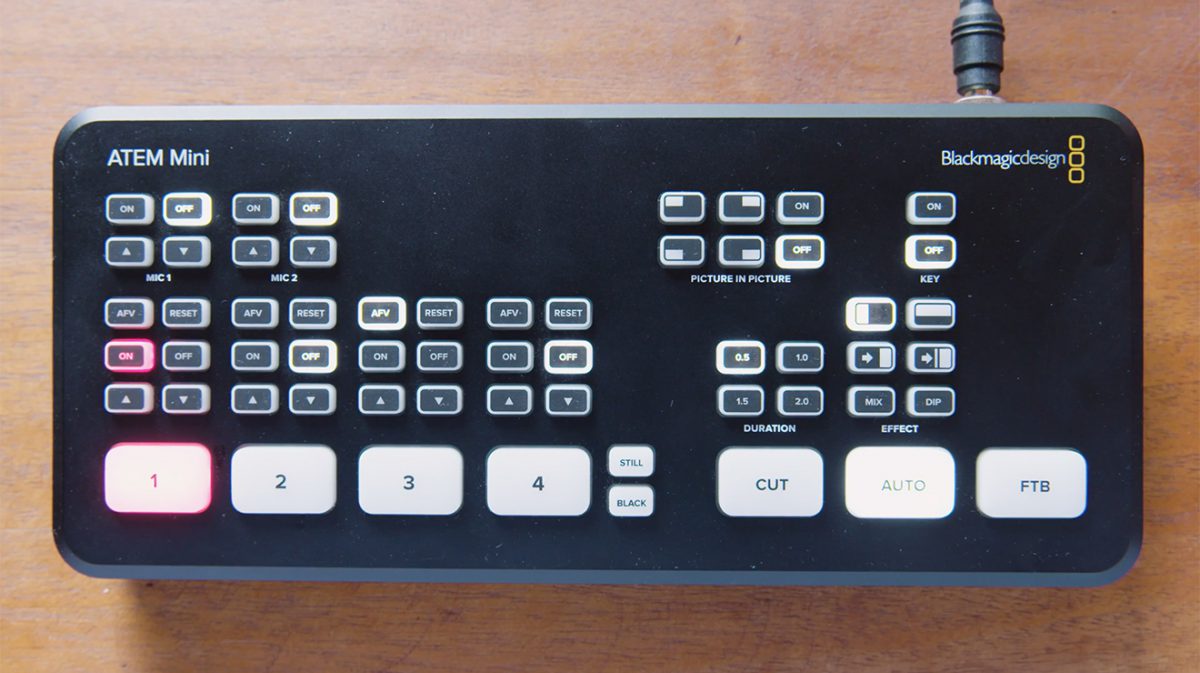 Benefits of Using a Switcher
Beyond offloading processing power from your computer, using a switcher has several benefits that will improve your live streaming process.
Right off the bat, switching sources becomes easier because of the big button layout of the ATEM Mini. Instead of having to click each source individually with a mouse while recording, this makes switching effortless.
You can also configure two different audio sources, which could be an additional microphone or even a music source. Using the Auto button, you can inject automatic transitions and effects when switching sources. Lastly, with built-in picture-in-picture functionality and chroma keying for the green screen footage, the ATEM Mini is an amazing piece of tech for enhancing your live stream.
If you upgrade to the Pro version, the benefits multiply. In addition to ease of use, the ATEM Mini Pro allows you to record your stream as a separate on-demand video in real-time. This means you'll have a high-quality backup of your broadcast even if your stream gets disrupted.
Ways to use Multi-Source Live Streaming
There are endless ways you can incorporate different sources into your live videos to make them more engaging. Below, we'll list out some basic examples anyone could execute, along with some more advanced ideas.
Product Launch
Think of Apple product announcements. The fact that they're live adds tremendously to the buzz they generate. You'll want at least one source on the person presenting, and a camera, screencast, or pre-recorded video file to unveil the product.

Software Product Demos
Using a multi-source stream for a product demo is a great way to show off the inner workings of your product. Similar to a product announcement, you can have cameras on the presenters, and then also a screencast of the application tour. To see an example, check out our recent demo of our new live streaming features.

Fitness Classes
While one camera could suffice for a fitness class, having multiple cameras would enable you to showcase different instructors, or provide clearer demonstrations of exercises from different angles. This would be especially useful if you have someone doing a modification of the main exercise.
Cooking Shows
Cooking programs typically use multi-source feeds to add variety to their streams. While there is generally one camera on the chef, there are frequently multiple cameras set up to get a shot of the food from above, maybe a handheld camera, or even a shot for when the food goes in and out of the oven. For more tips on how to film food, see our How To Video episode "Four Simple Tricks to Making Mouthwatering Food Videos."
Interviews
This example is one that applies to most businesses. Doing interviews or having conversations on camera is one of the most basic, but important types of live stream methods. Having three individual cameras as sources allows you to have a camera on each subject and one covering the whole scene. Not sure where to start with interviews? Read our guide to executing the perfect video interview.
Company Presentations
While talking directly to employees works for some updates, having an extra source that has presentation materials is bound to provide even more information. Being able to switch back and forth between slides, pre-made videos, and the presenter keeps even the most mundane presentation upbeat and lively.
Public Speaking Engagements
Public speaking events are a great time to get a live stream up and running. It not only lets you get the information out to those who couldn't make it in person, but can be recorded to be shared later on. Using multiple cameras allows you to get a variety of angles of the speakers, and capture audience members that ask questions.
---
While not every situation calls for a multi-source live stream setup, this is a great tool to have in your arsenal, whether you have a full team or are filming solo. Let us know in the comments below how you plan on using multi-source live streaming for your business.