As you start to live stream more and more, you'll naturally want to know how your broadcasts are performing with your audience. To that end, SproutVideo provides detailed metrics both during and after your live stream. Still, all those data points can only do so much for you if you're not sure what to look for.
Whether you're trying live streaming for the first time, or you've been at it for a while, data can help you improve your content and drive audience engagement. Here's how.
During Your Live Stream
While you're broadcasting, you can keep tabs on your live stream performance as viewers join or leave your event. Here are the data points we'll report while your live stream unfolds:
Currently Watching: the total number of viewers tuned into your live stream right now. This is a measure of your non-unique viewers. For example, if one particular viewer has two browser windows open, we will count two viewing sessions for that viewer.
Peak Views: the highest number of concurrent viewers of your live stream. As your viewer count fluctuates, this metric will track the largest number of non-unique viewers that tuned into your live stream at the same time.
Unique Visitors: the total number of unique viewers that have watched your live stream. We'll track a running total of the number of unique individuals who viewed your broadcast.
Average Time Watched: the average amount of time viewers spent watching your live stream. As viewers join and drop off, we'll track how long they spent watching on average.
For all four of these metrics, in many cases, the higher the number, the better. Unless you are streaming to a limited audience, you'll likely want to see as many people as possible joining your event. Even if you have a predefined audience for your live stream, being able to see how many manage to make it to the live event can be helpful.
Post Live Stream
After your live stream concludes, you'll be able to take a closer look at both your live stream performance overall, and the engagement levels of individual viewers. Similar to our metrics for video on-demand, the analytics and engagement reporting for live streams can be really useful for improving your content and verifying your viewership.
Key Analytics to Check
Post event, you'll see an overview of the metrics that were tracked during the live stream, as well as some additional details on your broadcast's performance that can help shape your future live streams.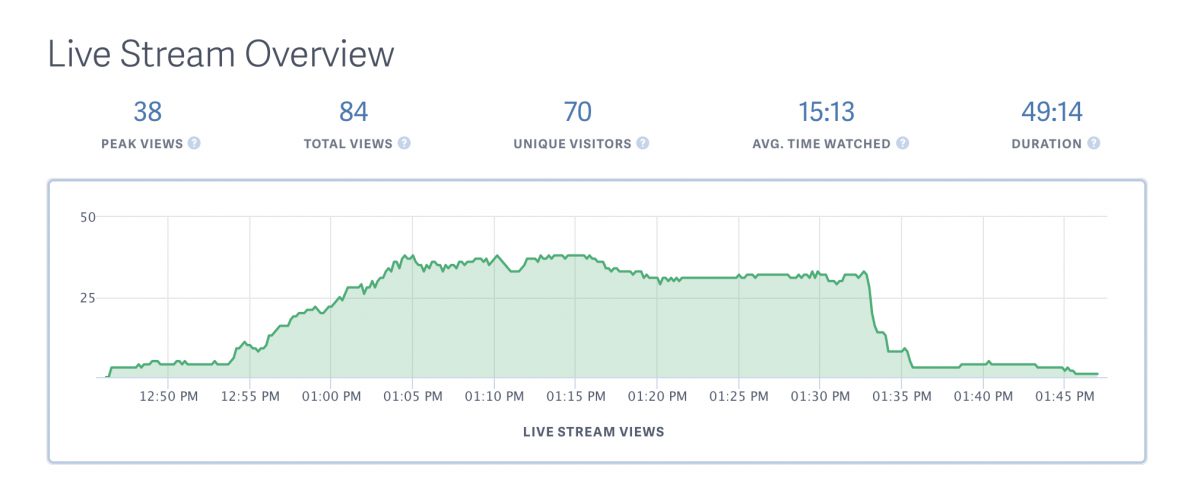 The live stream overview will give you a clear picture of when viewers joined the event, and eventually left (or in this case, fell off a cliff). A "table top" shaped graph for total views, like the one above, is very typical.
You'll usually see a few viewers arrive at the live stream landing page ahead of the start time, then a surge of traffic when it kicks off. Ideally, you'll sustain their interest for the duration of the stream. Then at the end, you'll usually see a sharp drop-off.
This information is useful for understanding how many people tuned into your broadcast, when they joined and left, and how much of it they watched.
Other data points can inform specific aspects of your approach to live streams. For example, the domain reporting in the analytics can be used to compare landing page performance. You can embed a live stream in more than one place if you so choose. You might want it to appear on a blog post and your homepage, for instance. By understanding how many viewers watched from different landing pages, you'll have a better sense for where you may want to focus your efforts in the future.
Another key metric to check is the location of your viewers. By seeing where in the world your audience is located, you can be sure to schedule your live streams for the most convenient time of day. Timing is everything when it comes to getting people to show up to an event.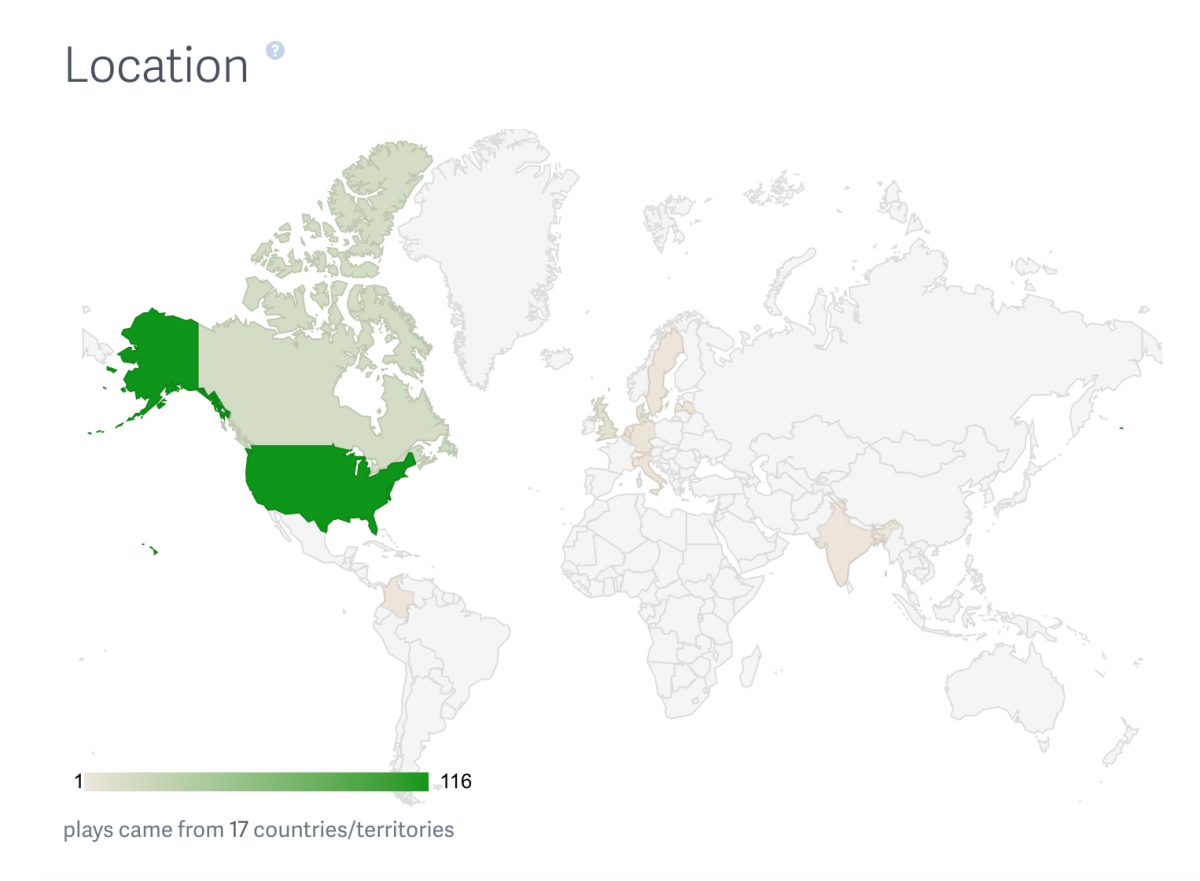 Live Stream Engagement
Live stream engagement metrics are similar to those offered for video-on-demand. Out of all these numbers, the average engagement is probably the most important metric to track. It tells you how much of your live stream your viewers actually watched on average.


Viewer engagement can tell you whether our not your message was received by your viewers, and it can help you improve your content. If you notice many viewers leaving at a certain point, you can go back and review what was happening at that moment in your live stream. Or, if you notice that it takes a few minutes longer than you thought for viewers to join your stream, you might want to stretch the small talk out a little longer at the beginning so that more people catch the bulk of your broadcast.
Accounting for Intro and Outro
One thing to keep in mind is that many live streams have some sort of intro and outro that allow viewers time to join the stream, and wind down at the end. The majority of viewers won't stick around for those parts of your event.
Therefore, if you're trying to understand the percentage of your main content that viewers watched, subtract the intro and outro from the duration of your video. Then, divide the average minutes watched by the duration of your broadcast (excluding the intro and outro). That will give you an idea of viewer engagement for the most crucial part of your live stream.
For example, the live stream pictured above had a recorded duration of 52 minutes. However, the actual duration of the main content was around 38 minutes. If you exclude the 10 minute intro, you're really looking at around 47% engagement instead of the reported 38%.
Tracking Individual Viewers
If you are using one of the methods SproutVideo supports for tagging viewers with their contact information, you can gain even more granular insights into your live stream performance.
With this detailed reporting, you can see exactly how much of your live stream was watched by individual viewers. The metrics will show you how much they watched, rewatched, or skipped.


On the left of the chart above, you can see the viewer contact information and the URL where they watched your video. Had these viewers been tagged with their contact information, their email address or first and last names would be displayed instead of "Unknown Viewer." In the next column, the icons indicate the type of device, browser, and operating system they used, their IP address (obscured to protect privacy), and physical location.
Finally, the green bars and percentages indicate how much of the live stream each person viewed. The person from Florida only watched 46%, while the viewers from Germany and the Netherlands watched the entire broadcast.
This data can be exported and uploaded to CRM platforms, or analyzed in Excel. Alternatively, if you have a marketing integration enabled for your SproutVideo account, the viewing and contact information will be passed automatically to your selected platform.
Uses for Individual Viewing Data
There are many applications for this type of data. For example, say you shared your live stream in more than one place, like your blog and your homepage. If you notice that more people are staying engaged for longer on a specific landing page for your live stream, you may want to dissect the reasons why that might be the case to keep driving viewer engagement.
If you're able to identify customers or prospects from this list, whether manually or automatically in a CRM platform, you can also see if the engagement rate varies between different segments. This can help you evaluate whether the content was appealing to existing customers, or effective as a sales tool.
Finally, if you know which parts of your broadcast viewers watched, or skipped, you can follow up very specifically with each individual. This is particularly useful for sales, or for required training and compliance.
Reporting for Recordings is Separate
If you enable your live stream to be recorded, the video on-demand version of your broadcast will have its own separate data. This is extremely useful if you want to leverage your live stream content after its big premiere.
For example, if you interview a thought leader or a subject matter expert, your content might have a shelf-life that extends beyond your live event. You could share the recording on your blog with accompanying analysis to further engage viewers there.
Since the recorded video has separate data, you can easily evaluate how your post-event promotional efforts are performing. Also, if you make any changes to the recorded version, whether by editing it or changing its metadata, you can track whether those actions impacted its performance over time.
---
Questions about running the numbers? We're all ears! Get expert advice on your live stream performance in the comments below.