Private live streams allow businesses to securely connect with consumers and employees in real time. Whether hosting virtual events with potential and recurring customers or internal training for new hires, there are many ways a company or creator might use private live streams.
Live streams are a highly engaging medium, driving 27% more minutes of watch time per viewing than on-demand video content. Furthermore, the live-streaming industry grows consistently year-over-year, with a market estimated to reach $247 billion by 2027.
In this article, we'll discuss the essential security features you'll need to host private live streams, how to easily set one up, and tips for promoting your exclusive event.
From virtual events to internal training, discover how your business might use private live streams and ​​grab our free checklist to help you flawlessly plan your next event.
What Is Private Live Streaming?
Private live streaming is real-time video content for an exclusive, permitted audience. Unlike video chat, it is a one-way stream. Viewers are able to interact with you, though to what extent will depend on the streaming platform.
On social media, a live stream is available for anyone to watch. However, businesses often require private streaming capabilities for events with limited access.
A versatile medium, live streaming offers the ability to mimic the personability of video chat or create larger gatherings with audience involvement.
Types of Private Live Stream Events for Business
Businesses use live streams to foster stronger relationships with customers and employees. We'll discuss options below; as you read, consider which types might benefit your business.
SproutVideo and LemonLight live stream webinar
Security Features for Private Live Streaming
A highly secure private live stream will use multiple privacy and security features to prevent unwarranted access at multiple levels. Securing a live stream occurs in three steps:
1. Control Access
2. Prevent Leaks & Theft
3. Audit Viewership
To track individual viewer access during a live stream, combine live analytics with login protection. This way, you can track who logged into your video website during the live stream.
How to Set Up a Private Live Stream Event
1. Determine Your Goals
The goal of your live stream determines the optimal marketing approach for promoting your event. To formalize your goal, consider the following.
Stage of the Buyer's Journey
A private live stream can target any stage of your sales funnel, from awareness through retention. The stage you are targeting will greatly influence the content and level of sales promotion during the event.
Is your goal to retain customers or capture leads? Are you stoking desire by showcasing new features or building trust by sharing knowledge? Determine your broad live stream goal. Are you building awareness, nurturing leads, converting buyers, or retaining customers?
Ideal Outcome
An event can have multiple goals. A virtual conference, for example, aims to bring industry leaders together to share their experiences and insight, with a goal of reaching 3,000 unique viewers.
But the ideal outcome, in this hypothetical example, is to generate leads for a paid program through the hosting organization. Therefore, the organizers will measure the success of the live stream by the number of emails captured.
Now we've refined the goal: capture 300 new email addresses during the live stream — and many more after by repurposing the recorded live stream content into paid advertisements and short videos.
Example: A live stream to build awareness for your brand might focus on sharing knowledge and converting viewers into newsletter subscribers. While a live stream meant to convert subscribers into paying members would spend the final minutes (at least) of the event promoting your products and offering a live stream-only discount.
Internal & Public Events
For events without a potential customer, such as employee training or town hall meetings, consider what information you want viewers to receive and the ideal outcome of the private live stream. Create a measurable goal to track the influence of your private live streams.
2. Target the Ideal Audience
Determine who the ideal audience is for your private live-stream event and use that information to inform your marketing strategy and whether the event will include a direct sales pitch. You might consider age, location, gender, profession, pain points, and media sources.
For exclusive paid events, create multiple customer profiles and take a more traditional approach when selling the live stream as a product.
The audience for your live-stream event might be broader than your target audience. For example, you may create a class to build trust with new leads and encourage conversion. The class is open to paying members and anyone else who joins the email list. Therefore, the class and its content will cater to one segment of your audience, while being valuable to many.
When marketing to a target audience isn't as relevant (such as for employee training), it's still wise to consider the viewers and plan your live stream content accordingly. This will help you determine the optimal length of the stream, the graphics to include, and what interactive elements would benefit viewers.
3. Formalize Event Content
On-demand video leaves room for error. You can film multiple takes, get lots of B-roll footage, and make magic happen in editing. A live stream is less forgiving; therefore, it is important to prepare your content, visuals, and transitions ahead of time.
You might think of a live stream as a talking head (or two), but you can create overlays, include presentations, and play on-demand videos to add interest and encourage longer engagement.
Graphics for live streams can be created in photo editing software (such as Canva) and added to your live stream with your encoding software (OBS Studio is free).
Canva photo editing and graphic design platform
You can write a script for your live stream or create a presentation outline with talking points. Consider assigning time blocks to content sections. This will help you present the information in a timely manner and maintain engagement. Consider how you might stay on track, either with assistance from coworkers, silent alarms, or visual cues.
Tips for an Engaging Live Stream
4. Set Up Equipment & Software
Professional live streams can be produced with a minimal set-up or the most advanced equipment available. Like on-demand video, you can improve your production quality with investments in sound equipment and skilled employees. Here are the essentials you will need.
Essential Equipment for Live Streams
For step-by-step instructions on setting up this equipment, read our guide on producing a professional-grade live stream or check out behind-the-scenes of live stream production, complete with an equipment list and technical setup. Lastly, our four-part "How To Live Stream" video series is another great place to start for beginners.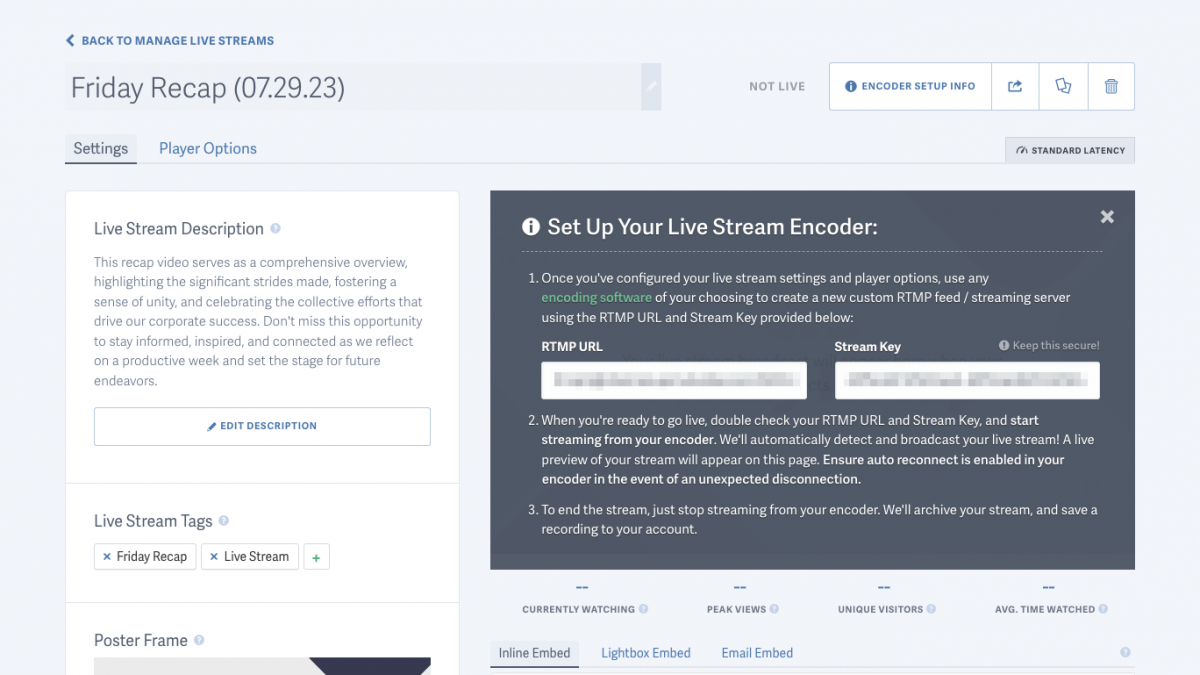 Example of setting up a live stream in the SproutVideo platform
5. Employ Security Features
The security measures you use to protect the privacy of your live stream will be set up through your live streaming platform and, potentially, your website portal.
For example, you might use login protection with domain restriction to secure your private live stream. You can create membership logins through your website portal (Squarespace, Ghost, WordPress, etc.) or use SproutVideo to easily create a hosted video website.
Then, through your live streaming platform, use domain restriction and limit access to your website URL. The live stream will only be able to load and play on your website.
These two security measures combined ensure that only those with login credentials can access the live stream, and it protects the embedded code by preventing the live stream from playing outside of your website.
You can tag individual users and review account activity. This helps make sure only those with permission have access to the content. But it also provides a way to track who engages and to what extent.
6. Spread the Word
How will people register for your event? You can use specific software built to register participants or simply create a segmented audience within an existing email list. Additionally, it's important to promote when the event will happen and whether playback will be available.
How you choose to market your live stream will depend on the type of event you're hosting. For example, a top-of-the-funnel live stream to inform potential customers and gather leads could be promoted across your marketing channels.
Note: You will also need an event landing page. This is where viewers will watch your live stream. If you are using login protection to secure your event, this is the page you will secure and the domain to which you will limit viewer access.
Ways to Promote Your Live Event
Pro Tip: Use email to send event reminders to participants 24 hours before and on the day of your private event. These are crucial for driving attendance. Consider adding a teaser video or event landing page to peak interest.
Internal Event Promotion
Private live streams are often used for internal company meetings, whether to review strategic shifts as a remote team or share quarterly revenue reports. To inform employees about upcoming live events, you can use reminders, team communication tools like Slack or Microsoft Teams, and email to share access information or login credentials.
7. Perform a Test
Perform a test to locate potential bugs or hiccups in your setup. This will help make sure your live stream goes smoothly. It is essential that your security measures and streaming equipment work the day of the live stream. Therefore, prepare to go live using the same equipment, software, and security measures that you plan to use for your private event.
Ask colleagues or friends to help you test every aspect of your live stream. Encourage them to try and break through security or find a loophole. Additionally, test the features of your live stream: autogenerated subtitles, pre-recorded videos, presentation slides, etc.
Once your test has concluded, watch the playback (this is automatically generated as a private on-demand video in SproutVideo). Reviewing the playback video will allow you to check the audio and visuals, review any slides or transitions, and review your on-camera presentation.
8. Go Live
Since you need encoding software to live stream, you can set all of this up before going live. You can create an identical live stream to test (as recommended above), then embed the live stream on your website days or weeks before going live. This allows you to set up and schedule email campaigns (with working links) ahead of time as well.
Your streaming platform lets you customize the look and feel of your stream. With a SproutVideo account, you can customize the player's appearance, poster frame, title, and description. Prior to the live stream event, add any necessary features such as lead capture, a playback call-to-action, security measures, and more.
On the day of your event, connect your streaming platform to your encoding software (or browser streaming tool). You will create a new RTMP feed/steaming server using the RTMP URL and stream key provided by your live streaming platform. As such, your encoding software is what you will use to start and end the live stream. While some live streaming platforms bypass encoding software, it provides significant control over your live stream and additional customization options.
Once connected, you can start the broadcast. Before it begins, the SproutVideo player will display your poster frame and a message to waiting viewers that the live stream has not yet commenced.
Now you're ready to host your private live-stream event! For complete step-by-step instructions, read our guide on setting up your live stream.
9. After the Event
Once your live stream has ended, consider if and how you will share the playback video. Companies will often promote the live stream playback to the registered audience that did not attend live. This email is generally sent within 24 hours after the event. On the SproutVideo platform, your live stream is automatically saved as a private video. You can embed the video directly in an email or landing page.
Another common practice is repurposing the video content from the live event. This allows you to continue sharing valuable information or promoting a product that was featured. Repurposing the content allows you to create multiple marketing assets from a single video. Use cases include short videos for social media and your website, advertisements, "how to" videos, blog posts, and product demos.
Finally, review your analytics. Note any obvious drop-off points and consider how to improve viewer engagement and retention for the next event. You can also review the domains and geographic locations where the live stream was broadcast and the types of devices used.
Private Live Stream Checklist (Free)
The checklist contains a logical order of events but does not need to be followed chronologically. It is split into five sections to make it easier to keep track of the various moving parts.
We have a wealth of material to help you plan and launch live events. Check out 10 questions to ask before launch to refine your ideas, see how we pulled off our own live stream in this behind-the-scenes look, and learn how to nail your on-camera delivery in under four minutes.