If you are doubling down on video, then you need to make your website a go-to place for online video content. Understanding where viewers are watching your videos, the video content they are consuming, and how they are discovering videos are the three keys to creating a website that becomes a destination for online video. We will breakdown each of these factors to help you set up a rocking video site.
Access
Consumers are viewing videos across devices on a daily basis, including laptops (85%), TVs (73%), smartphones (65%), tablets (51%), and video game consoles (49%). Laptops are the most popular device for viewing video on a daily basis, outranking TVs, although as smart, internet-enabled TVs become more popular, this may shift over time.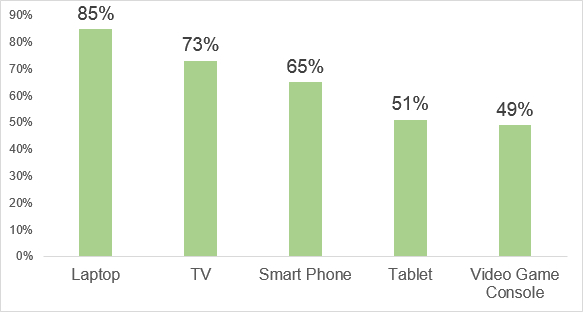 The takeaway from this multi-device consumption pattern is the need to make your videos responsive to fit a variety of screen resolutions, and as high-definition as possible. Not just your videos, either, but your entire website, including logos and images. With retina displays becoming increasingly common, anything less than the best quality will look fuzzy and unprofessional.
Interestingly, devices used for video consumption vary somewhat predictably by time of day. This is very relevant for timing your promotions on social media. For instance, you might want to tweet about shorter videos during the morning and evening commute times, when a higher percentage of people are accessing videos on mobile devices than on laptops.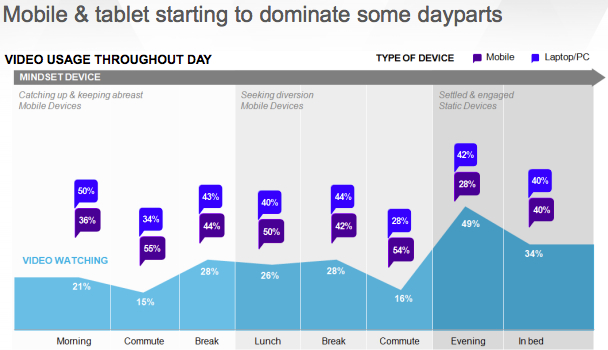 The intent of the viewer is different depending on the time of day as well, enabling you to target your audience with promotions featuring different types of content according to their most likely mindset at that time.
The types of content being consumed also vary throughout the day, allowing you to further refine the videos you are promoting at different times of the day. Importantly, whether the most popular type of video is long form, short form, or user generated shifts somewhat dramatically over the course of the day.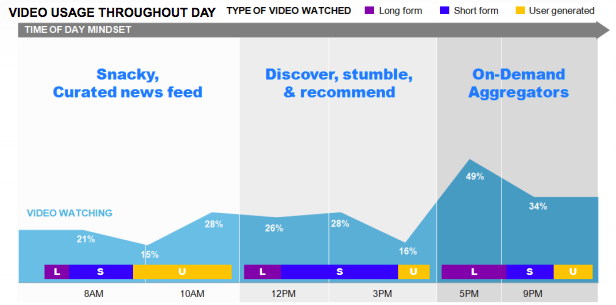 User generated videos dominate during the morning hours, but short form and long form become more popular as the day goes on and viewers shift to static devices. Use this to your advantage by releasing the type of video people are seeking at the right time of day, by shuffling the videos presented at the top of your homepage, or timing your social media promotions accordingly.
Content
It is no secret that content is king. To get viewers to visit your site daily, 43% of people who do so are seeking a destination with a wide variety of videos, and 26% look for sites where videos are constantly being posted every few hours. Naturally, producing a large variety of videos and posting fresh content every few hours is simply not doable for a lot of small businesses or bloggers. Setting a production schedule, streamlining the process, and posting as often as you can will help you keep content fresh and interesting on your site.
So what types of content are people watching? When it comes to short form video, comedy, music and how to videos are at the top of everyone's list: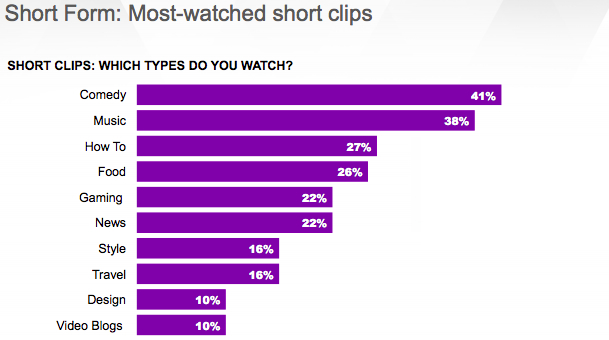 Although these types of videos might not be your focus, you can incorporate these different elements to help boost the popularity of your videos. Humor and music can help sell almost anything, and how to videos are a great way to showcase your products, services, or a unique idea.
Discovery
It is 9 AM – do you know where your audience is? Understanding where your audience is discovering new content is key to being present on the right channels at the right time. When it comes to online video, ads perform far worse than any other channel. Social and browsing were far more popular for finding new videos to watch at 78% and 72% respectively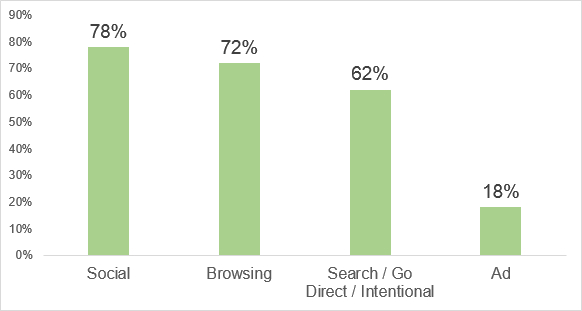 Broken down even further, this data becomes even more useful.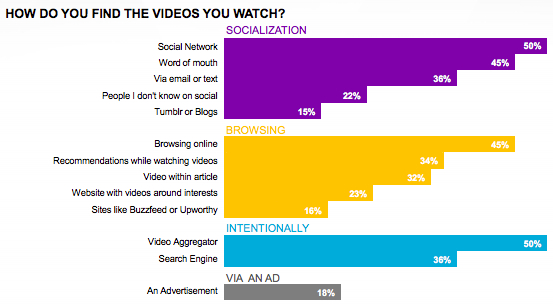 If your game plan is social media, having a separate strategy for each network you are targeting will help push your video farther, especially if you can incorporate word-of-mouth campaigns. When targeting viewers who are in a browsing mode, be thoughtful about the context of your videos. Embedding videos into interesting articles, in conjunction with recommended content, will help keep people on the page and engaged.
---
The three keys – Access, Content, and Discovery – are not easy to implement in a unified, strategic way. Staying hyper-targeted on your niche will definitely help get you started, and then enable you to scale up as you get traction. Which of these factors do you think you need to work on the most when it comes to online video? Sound off in the comments below, or let us know on Twitter!