Just because it's a trend, doesn't mean it's universally good. This holds particularly true for native video on social media.
Native video has exploded in the past couple years, as Facebook and other social giants beefed up support for video content, and began promoting it heavily over other content types. But, is native video actually good for your business?
The truth is, native video is more popular than it should be, and here's why.
Growth Of Native Video
When we say native video, we're referring to video that is uploaded directly to a social media platform, like Facebook, Instagram, or Twitter. It also includes video you captured while using an app, and then shared directly on the same platform.
Facebook technically supports all sorts of content, including links to non-native images and videos that are still displayed in the timeline, similar to how natively uploaded content is displayed. The same is true for Twitter, Linkedin and Google+. Instagram and Snapchat are the only major platforms that exclusively support native content.
Right around 2013, Facebook started doubling down on online video, and over the past couple years, took steps to expand the reach of native video content in particular. This has had several important impacts on how their platform works, and the benefits it offers to businesses.
Why It's Really So Popular
Instead of recapping all the stats that detail online video's explosive growth, I'm going to address the actual reason online video has taken off on Facebook, which is corporate profits. Facebook wants you to upload content directly to their platform because they want to grab a share of YouTube's video advertising revenue, so they changed their platform to make it easier to do, and are promoting it heavily. Plain and simple.
All of the rest of their strategy to become the dominant force for online video flows from this premise. It's not to improve the user experience, or that they're just following the unbelievable consumer demand for online video.
The reality is that users aren't bringing all of their videos to Facebook, and demanding better tools for it. Facebook is pushing tools for video, and driving the reach of that content type with the aim of making it more central to the user experience on its platform to make more money. And, it's working, at least for Facebook.
Why It's Bad for Business
While growth charts that trend up and to the right usually indicate success, the rise and rise of video on Facebook doesn't necessarily mean your business will benefit as well. There are really important drawbacks you need to consider before uploading your content.
Lack of Customizations
Their native player is not customizable at all. If you want to embed video hosted on Facebook on your website, and have it match your branding or behave in very specific ways, Facebook is not the right choice.
Of course, that might change down the road, and admittedly, this is likely the lowest hurdle for Facebook to overcome to improve the usability of video hosted on their platform, at least from a technological perspective.
But, given their goal of keeping people within the Facebook universe, it's unlikely they will optimize their embeddable video player in ways that aren't directly intended to drive people back to Facebook, or grow their ad revenues.
Less Traffic To Your Site
When uploading video natively to Facebook, you're betting that your audience will find your content there, like your page, ideally share it, and then subsequently, visit your website.
Given the recent changes to Facebook's algorithm, you might be seeing a decline in discovery if you're sharing content from your business page and not as an individual. Even if things are still going well, it's hard to bet that won't change down the road.
Also, there are increasingly fewer reasons for users to click out of Facebook, and Facebook is trying to make sure of that. For instance, when your video is auto-playing in the timeline, viewers don't have any reason to click links in your post, or on the video itself, unless it's a really compelling offer or meets an immediate need the viewer might have.
Non-native videos, shared by posting a link to a page containing the video, don't autoplay in the timeline at the time of writing. This is in opposition to Twitter and other social media platforms.
This fact is often cited as a downside to non-native video, but actually makes non-native video a better choice for driving traffic from Facebook to another website. If you share a link to a video on a website you own, the poster frame will show with a play button, encouraging viewers to click through to your website. Whether or not that's the way to go is really dependent on your specific goals for video marketing on Facebook, but is an important factor to consider nonetheless.
No Lead Capture
All you can really do with an organic video post on Facebook is try to get people to watch it. You can ask viewers to like your page in the post or the video itself, but, you can't capture their email address, display annotations during the video, or show a custom post-play screen when the video concludes to help drive traffic to your website.
If you share non-native video on Facebook, however, you have many more options for video marketing and lead generation, especially if you are using a professional video hosting service like SproutVideo
The Dreaded "Related" Videos
Once a viewer engages with your video, Facebook now tries to keep them watching, though not necessarily your content. Depending on where a viewer first starts watching, Facebook might show your other videos, or, those uploaded by others that Facebook deemed were related to yours.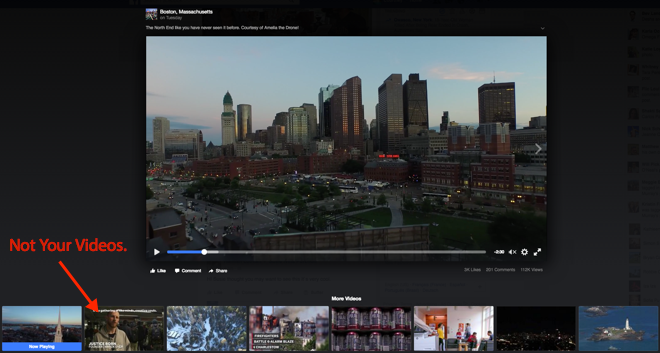 In the screenshot above, there's a lot of variety in the videos presented. For entertainment value, that's probably a good thing, but for sustaining a viewer's focus on your video and content, it's probably pretty distracting.
Is It Ever a Good Idea?
Native video makes sense if you are trying to gain fans on Facebook and drive brand awareness. For those specific purposes, it can work really very well.
After all, those 4 billion video views a day are nothing to sneeze at. Just proceed with caution, and be specific about your goals for your video. Feel free to report back in the comments below!