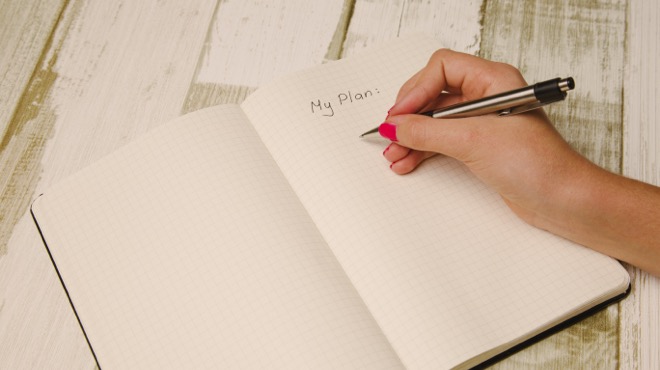 So you've decided to make a video to get your brand out there, which is great! But, you're not sure you have the time or resources to get it all done. Don't worry – we've been there.
Here's a quick walk-through of how to do all your video planning in a single day — including market research and storyboarding — and be ready to shoot tomorrow.
Note: Even though this is very achievable in a day, we really sweat the details on this one. So, we've broken this post into two parts.
9:00 am – Prepare.
Drink your morning coffee, clear your desk, and take care of all pressing matters. No distractions allowed while you get through this video project! Now, down to business.
9:30 am – Establish research objectives: 15 minutes.
In most cases, you're probably safe to just answer these two questions:
What will my target customer find interesting in a video format based on their lifestyle, age, gender, etc?
What will my target customer respond to in a video format, based on relevant examples?
When you start gathering information, look for both qualitative (descriptive) and quantitative (numerical) data to enlighten you on these questions.
9:45 am – Focus on your target market: 60 minutes.
Break out your customer archetype. Do you target more than one age group or niche interest group? What do your target customers find interesting?
Make a list of key demographic and lifestyle characteristics of your target customer. Then, brainstorm a list of ways you might be able to hook them with a video topic. If you already have a subject in mind, brainstorm angles suited to your audience's key interests.
If you haven't created your customer archetype yet, here's a helpful guide to understanding your viewer personas.
10:45 am – Narrow your topics: 15 minutes.
Working from your list of potential topics or angles, narrow it down to the ones that have the most potential for being produced with the resources you'll have available. Consider factors like time, budget, and equipment when making this determination. Try to end up with a list of 2 or 3 strong ideas.
11:00 am – Take a quick break. 15 minutes.
Have another coffee, check your e-mail, have a morning snack perhaps. Do a quick yoga stretch or two.
11:15 am – Collect secondary data: 60 minutes.
Secondary data is essentially research that other people have already conducted concerning your customer base, and published in handy reports for you to use. Focus on finding both qualitative and quantitative conclusions from completed research studies, and keep a running list of where you found what.
It's extremely important to refer back to your research objectives frequently as you gather information. It will remind you what you're trying to discover about your customer base. Keep notes of key information that will help you answer your research questions. The more specific your findings are to your video subject, the better.
Perform targeted searches on Google Scholar, or searching for public research papers. Publishers vary by industry so searching can be time-consuming, but it's useful in the long run to gain a database of helpful online publishers of market research that will be helpful to your video campaigns.
Sometimes, free resources just won't cut it, even in the internet age. It can be worth paying for membership to sites like MarketResearch.com for a fairly extensive database of consumer studies in one place.
That concludes the first half of Video Planning in a Day — Check out part 2 here!
Questions or Comments? Tell us what you think!

blog comments powered by

Disqus