Just in time for the holidays, we released some seriously awesome, incredibly useful features that are totally worth celebrating!
We now offer three different types of embed codes (responsive, email, and lightbox embeds), custom post-play screens on SproutVideo landing pages and video websites, and we changed how some of our most popular security features work to make them more flexible. We also gave the video detail page a serious facelift, and updated the appearance of the rest of the app as well.
Keep reading for all the details on what's new!

New Embed Code Options!
SproutVideo now supports multiple types of embed codes, which will make your life a lot easier if you are using our platform to host your video content. We now support basic in-line embed codes, responsive embed codes, lightbox embed codes, and email campaign embed codes. For each type, we offer powerful customization options, and the ability to create presets or defaults to save you time when working with lots of content. Here are the details on all the new embed codes we now offer:
Basic In-line Embed Codes
These are the embed codes you know and love if you have ever used our platform. Our standard iframe embed codes allow you to quickly and easily publish a video on a webpage hosted by a third party like WordPress or Squarespace. Even our basic embed codes are heavily customizable, and allow you to change the player colors, show or hide controls, autoplay or loop your video, and display a custom post-play screen after the video concludes.
Responsive Embed Codes
This is a major change to our standard video embed codes: with the check of a box, you can now generate a responsive embed code! It's now as simple as copy and paste to ensure that your videos will always be the right size for the screen on which they are being displayed.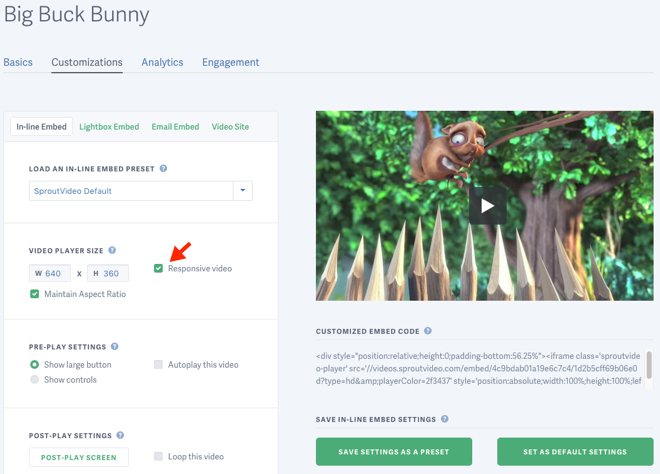 LightBox Embed Codes
Even fancier than responsive embed codes are our new lightbox embed codes! These allow you to place an image representing your video on a webpage that, when clicked, launches a video player overlay on the page.
The video player that launches will autoplay by default, and both the image and the player overlay are responsive by default. The same awesome customizations for our regular and responsive embed codes are available for lightbox embed codes too, with the added bonus of being able to easily configure the size of the image and the player overlay.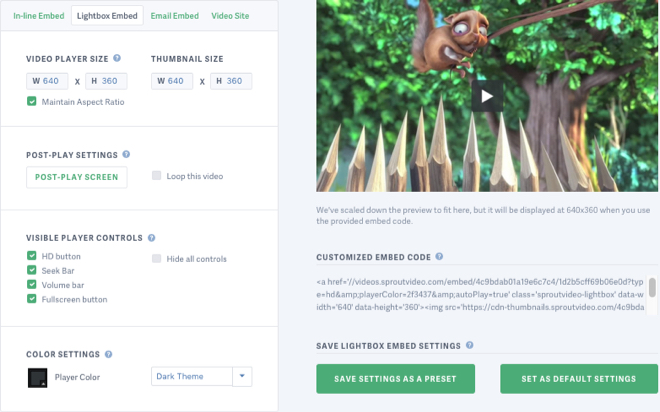 Email Embed Codes
An email embed codes is a short snippet of code you can place into an email campaign in order to include an image linked to the landing page of your choice in that campaign. The image we automatically generate for you will have a play button on it, you can customize the size of the image, and it will be responsive by default. We also will capture the email address of your viewer when they click to view your video automatically, and track their viewing session in your video engagement metrics.
To generate an email embed code, it's as easy as selecting your preferred marketing platform, making any necessary customizations, and copying and pasting the code to your email campaign.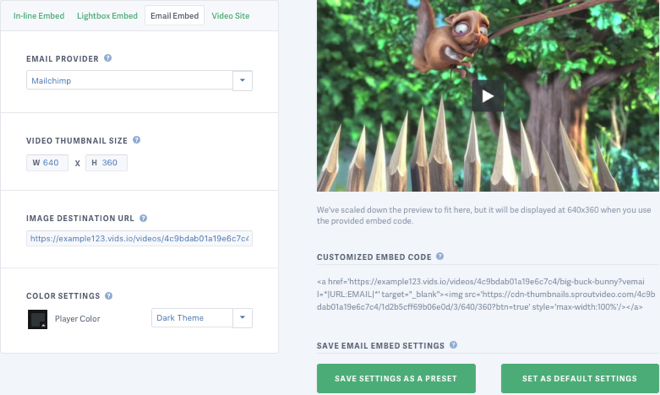 Custom Post-Play Screens For All!
Previously, custom post-play screens were only available for embedded videos. Now, you can leverage this powerful marketing tool for videos on your SproutVideo website or landing pages as well. It's as easy as checking a box to enable the post-play screen, configuring it as you'd like, and clicking the button to enable the post-play screen for your video site.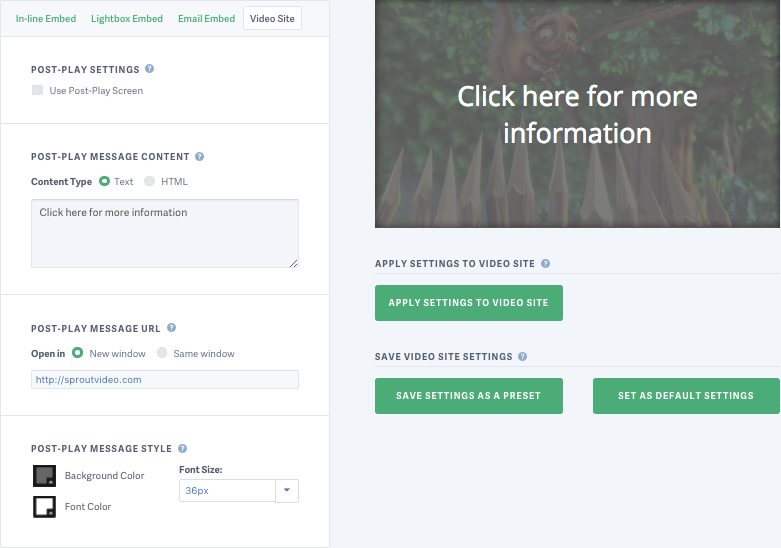 Changes to Privacy Settings
Allowed domains and allowed IP addresses are two of our most popular video security features for keeping your content secure. Allowed domains ensure your video embed codes only work on websites you specify, while IP address restriction prevents viewers not on approved connections from accessing your videos.
Prior to this feature launch, both these settings were account-wide (meaning they applied to all the videos in your account), but now, you can specify allowed domains and IP addresses on a per-video basis. Any video-specific settings will overwrite your account-level permissions for these two video security settings. This change greatly enhances the flexibility of these settings and how they can be used.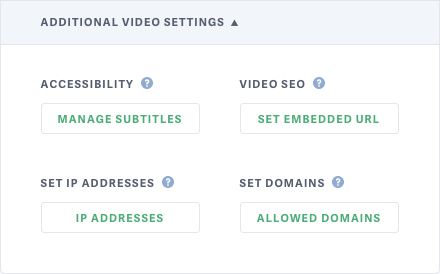 Changes to Download Permissions
Similar to allowed domains and IP addresses, download permissions can now be set for individual videos. Previously, download permissions applied to all videos in your SproutVideo hosting account. With these changes, you can now specify which videos can be downloaded, and which versions of those videos (HD, SD, or the source video file).
Any download permissions set for individual videos will overwrite account-wide settings. If you leave downloading disabled account-wide, you can now set downloading permissions for a handful of select videos, or vice versa.


We really hope you love these new features, and enjoy putting them to work! Don't already have an account? Open a 14 day free trial account to test these new features out today.
If you have any feedback or questions, please let us know by contacting us or leaving a comment below.