Email campaigns are the bread and butter of SMB marketing. As a growing startup, SproutVideo is no exception. We are constantly looking for better ways to engage our subscribers, grow our list, and provide relevant content to different segments of our subscriber base.
Since we are huge proponents of using video in email marketing, we analyzed the impact video had on one of our recent campaigns, and came up with some killer takeaways for other small businesses tackling the same challenges of subscriber engagement, open rates, and click-through rates. Keep reading to get the details.
Benchmarking
There is no shame in admitting that you can do a better job with something. In fact, that's one of our biggest motivations: to continue to set new high watermarks for performance in all areas of our business, including marketing. As the saying goes, if you can't measure it, you can't improve it, so let's start with some base data for comparison.
Our email campaigns typically perform fairly well. Our overall open rate for campaigns is around 30%, and clicks per opens is between 7-8%.
Through experience, we've found that highly segmented lists and targeted messaging really drive campaign performance. It's definitely a lot of work to produce all that content, but the bump in traffic is worth it.
That being said, we had yet to specifically analyze the impact video has on our campaigns, and were curious to see if it made any difference beyond our standard list segmentation. We always assumed it had a positive impact, but you know what they say about assuming things…
The Results
Adding video to our email campaigns absolutely made a big difference in performance. For example, we looked at a recent campaign that promoted the official release of our video website features, and were astonished at what we found. All credit to any improvements in the open rate have to go to the relative genius of the subject line, since nothing about it indicated that the email contained video, but that's something we'll test in future campaigns.
In terms of CTR, however, we saw an improvement of roughly 60% over our average – it went up to nearly 12% per open! And to think, we achieved that just by including the poster frame for our video in our email as the headline image, with a link to watch the video. Here's what it looked like: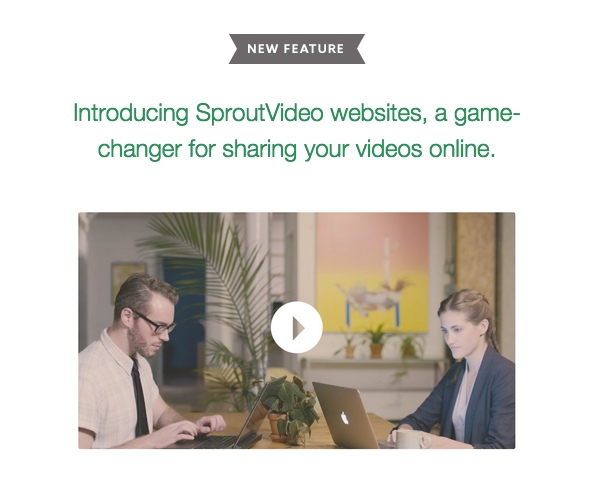 More than one person out of every ten who opened the email wound up on our website. We had anticipated a boost, but definitely underestimated it going into this analysis. If you want to see the video, you can watch it here.
Even better, that email campaign drove more than twice as many free trial signups than campaigns without video. Using our video engagement metrics, we can see that video in particular has an average engagement rate of 82%, meaning someone watching the video is likely to watch it almost to the end. Apparently, that video is pretty effective at convincing those curious about our video websites to test those features out for themselves.
It's worth noting that this analysis isn't totally scientific. The subject line happened to be a real winner, and the design of the email itself deserves some credit for the campaign performance too. In an ideal scenario, we would be working with data from classic A/B tests of campaigns with video compared to identical campaigns without video. That type of analysis would allow us to arrive at a much more definitive conclusion on the impact of video in email marketing. However, the results we achieved in our example above are still pretty exciting.
---
If you could boost the click-through rate of your video campaigns by as much as 60%, wouldn't you want to do it all the time? If you've tested video in email marketing before, let us know how it went in the comments below.