Live events can be a real boost to your business, but only if your audience shows up! There are six key elements you'll need to pull together to effectively promote your live stream. Keep reading to get a handle on promoting your next live stream, including a suggested timeline.
1. Event Landing Page
Online events require a website, microsite, portal, or a simple landing page. Usually, they contain information helpful to viewers as they locate and view the live stream.
The event page itself contains the live stream player, and usually the name of the event and a brief description of the event. Of course, you can get much more creative than that!
You can create your event landing page in many different ways. If you have an existing website or blog, a simple solution would be to add a new page or a new blog post dedicated to your event. You can also use popular landing page tools to create a custom event page. For example, we use HubSpot, but there are numerous marketing platforms and landing page providers out there.
When planning your live stream, this is usually one of the first pieces of the puzzle you need to put into place. After all, it's likely to be where you'll send viewers to register for and eventually view the event.
2. Viewer Registration
Unless you have an existing list of attendees (e.g. for an employee event), you'll need a way to register your viewers so you can communicate important information leading up to the event. Making sure you have a way of messaging your attendees is crucial for sending event reminders and calendar invites to help ensure they'll know when to tune in.
Most landing page providers have options for creating forms you can use to gather viewer information. Or, you can gate your live stream with a form that requires viewers to enter their information in order to watch.
Be sure to create a new segment or list for your registered viewers to make it easy to send event information to the right people.
3. Sizzle Reel
What better way to promote a live video than with, you guessed it, more video? A sizzle reel is a type of teaser video that will hook your audience, but leave them wanting more. It should showcase your topic, speakers, and insights, or anything that would motivate someone to sign up.
You can share your sizzle reel on your event landing page, social media, or in blog posts promoting your live stream. It's an effective way to engage your audience and get them excited about the main event.
To help drive event signups, you can use in-player CTAs or a post-play screen to link to your registration form.
4. Social Content
To help promote your event, you'll need plenty of content to share on social media. The right platform to choose depends on where your audience can be found. Each platform has slightly different formatting constraints, so be sure to refer to our guide to optimizing your videos for social media when planning your content.
A mix of images and short videos will add variety to your content and help grab your audience's attention. Be sure to change it up and feature various aspects of your event to appeal to different people. And, work in the date and time to ensure everyone knows when it's happening.
You'll need at least two weeks of content in order to effectively promote your event. Depending on the scale and frequency of your event, you may choose to promote it on social media for longer than two weeks.
5. Email Campaigns
For most types of events, email campaigns will drive a substantial portion of your registrations. Coordinate your email content with the images or videos from your social media campaigns to help it feel cohesive.
Incorporating video into your email campaigns can help improve campaign performance. To help increase click-through rates, you can use an email embed code to easily add the poster frame for your sizzle reel to your email campaign. Including an image with a video play button has been shown to improve click-through rates, and the word "video" can improve open rates.
Like your social media posts, the timing of the promotional emails depends on the nature of your event and how often you typically reach out to your audience. Still, you'll likely want to start promoting your event at least two weeks out from when it kicks off.
Email Reminders
Be sure to build event reminder emails into your campaign planning to ensure registered viewers will show up when the time comes. Typically 24 hours prior to the event, and the day-of, these are crucial to driving attendance.
6. Paid Promotions
Online ads are one of the best ways to reach beyond your owned and earned audiences and find new targeted prospects for your event. From promoting posts on social media, to podcasts, or search and video ads, there are many options worth exploring.
The right choice depends on your budget and your goals for attracting attendees. Larger events, like conferences or concerts, usually have significant ad budgets for online campaigns. To help weigh your options, consider the demographics of the users, and the popularity of each platform.
Your ads should be designed to send traffic to your event landing page or event registration form. Be sure to add UTM parameters to your campaign URLs, and enable conversion tracking, if possible, to help evaluate campaign performance.
Suggested Timeline
Depending on your internal resources, the scale of your event and audience, this timeline could look really different. Still, the essential structure is likely to be fairly consistent even if the timing shifts.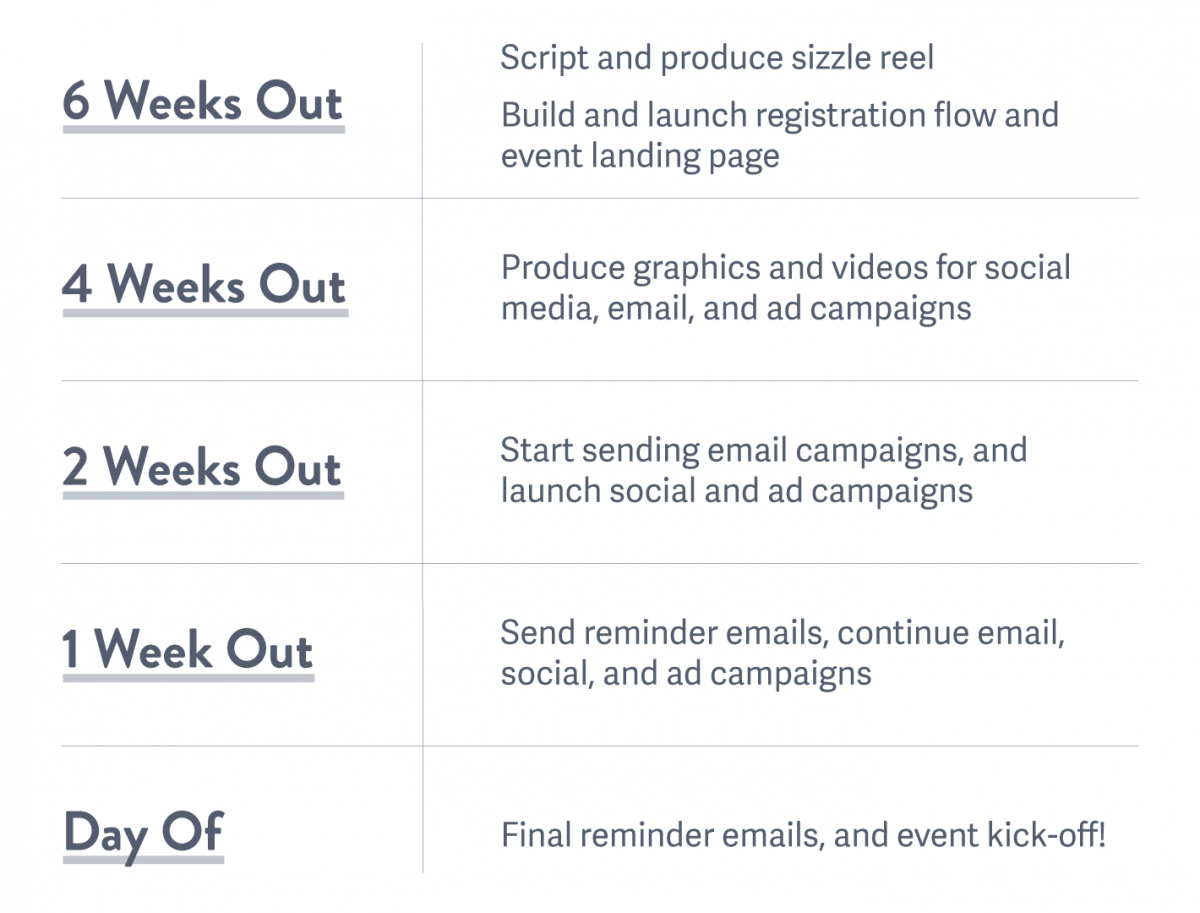 Of course, not all live online events will require all of these components to be successful. It comes down to the nature of your event and your connection to your audience.
---
How far out do you start marketing your live streams? Any extra tips to share? Sound off in the comments below.