Since we first launched live streaming last year, we've been hard at work adding new options to enhance this part of our platform. Today, we're going over everything that's changed. Learn how the latest feature updates will give you more control over your live stream, and stay more organized as well.
What's New With Live Streaming?
There are three new features available for live streaming: latency options, a two-minute reconnect window, and stream recording settings. For a platform walkthrough of those amazing new features and more, please check out the video below:
1. Latency Options
The first new feature that we've added is the ability to select the latency for your live stream. So, what exactly is latency?
Latency is the time difference between the action happening in front of the camera, and when that moment is broadcast to your audience. For most broadcasts, latency can vary anywhere from about 10-30 seconds.
The delay in your video reaching your audience is generally caused by the processing that needs to happen to allow your live stream to play on all devices and browsers.
Individual factors can also impact the delay. We've all probably had the experience of watching an event live with other people on different devices, and realizing someone is a little ahead or behind as it unfolds. The device and browser type and configuration can have a small impact on latency.
So, what are these new options, and how do they affect your live stream?
Reduced Latency
Typically, reduced latency results in around a 15 second delay. Being as close to real-time as possible can be really important in certain situations.
For instance, you might be live streaming a sports event, or your audience might be following along very actively on social media. In that kind of situation, your audience won't want to feel like they're behind the action, so a reduced latency live stream is likely a good choice.
Reduced latency does come with certain trade-offs. This setting prioritizes near-real-time delivery over video quality, and it does not allow for the ability to reconnect the stream if something goes wrong (more on that below).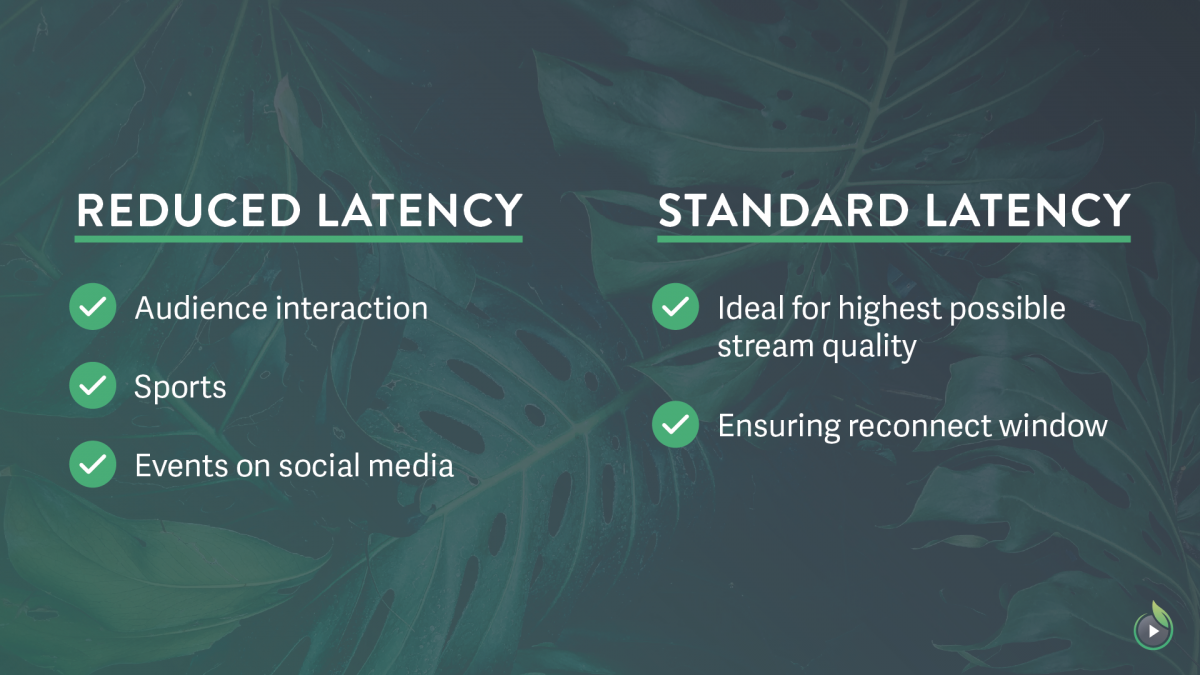 Standard Latency
Compared to reduced latency, standard latency offers certain advantages. With standard latency, you can expect a delay of around 30 seconds. The extra time allows for both higher video quality for viewers, and a reconnect window of up to two minutes. For those reasons, standard latency is the default setting on the SproutVideo platform.
Note that once you have selected a latency option for your live stream, you cannot edit it after creating the live stream. If you change your mind, you'll have to create a new live stream with your preferred setting.
2. Reconnect Window
If your live stream is using the standard latency setting, your live stream will now have the ability to recover in the unlikely event something goes wrong. Maybe someone trips over a cord, or the internet cuts out. There are several everyday scenarios that could cause your stream to drop.
A two minute reconnect window means that if your stream is interrupted for any reason, the platform will continue trying to reconnect for up to two minutes. That gives you a grace period to correct whatever the issue is, and get back to your audience.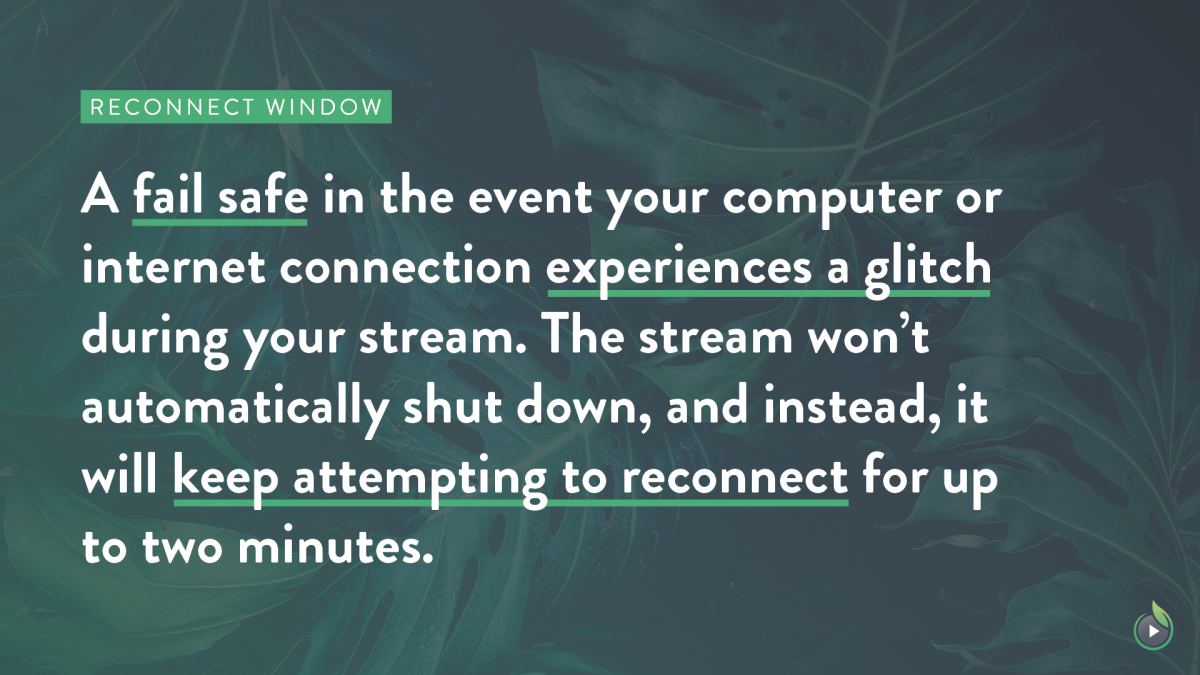 After all, you probably put a fair amount of effort into driving attendance for your live stream. It's nice to have the confidence that you'll have a chance to fix it if the unexpected happens.
3. Stream Recording Options
The third and final new setting for live streams has to do with what happens after your broadcast ends. By default, we record your live stream and post it to your account as an on-demand video automatically. This new option allows you to disable that process.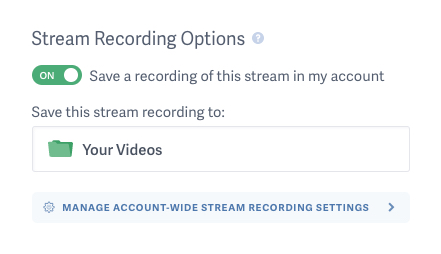 This comes in handy in instances where your live stream only has value while it's live. For example, a promotion you only want to run for the duration of the stream. This will also help keep your account storage usage in check by only saving the live streams you need.
Even if you don't record your live stream, the analytics and engagement data associated with the live stream will still be available. Those metrics are associated with the live event, and not the video-on-demand version, so they are not affected by this setting.
More on Live Streaming with SproutVideo
Our live streaming features are still new, meaning we're actively looking for feedback from users to help improve this feature set. The above features were all implemented in direct response to popular demand from our customers.
Although they are new, our live streaming features are very much ready for show time. We are focusing on adding more new features to make the experience even better in the near future.
So, if you've tried live streaming with us, how did it go? Share your thoughts by reaching out to our support team.
---