If you don't have an explainer video on your homepage, you are missing out. The positive impact on everything from SEO to conversion rates has been well-documented, especially in the last two years when they became an essential marketing tool for any business with an online presence (e.g. everyone).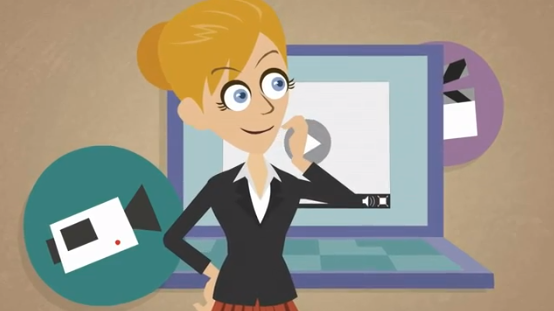 Image Credit: Goanimate
Catch People's Attention Quickly
The internet age has drastically reduced people's attention spans. Some studies have shown as much as a 30% drop in the last few years, going from 12 seconds to just 8 seconds. So, make those first 8 seconds of your video count. Get people hooked so they keep watching past the attention span cliff. It can be done! The average explainer video is watched for 2.7 minutes – that's practically an eternity in this day and age.
Be Yourself…
Having a unique voice and approach will help you stand out. After all, this video is going to be the face of your company for potentially thousands of viewers, so take the time to develop a compelling and memorable persona. Some great examples of memorable spokespersons include Flo for Progressive Car Insurance, and Isaiah Mustafa, for Old Spice. Love them or hate them, these characters have strong personalities you are almost guaranteed to remember, and keep your interest throughout the spot.
But It's Not About You
Your focus should always be on your target audience. Starting with the planning and through the execution of your video, you should be seeking to answer key questions they may have about your company, product, or service. Answering every possible question isn't the idea here. You need to keep your video focused on the 2-3 main things people need to know about you and your products or services.
Short and Sweet
Given short attention spans and the need to keep your video focused on just a few key points, your video probably won't wind up being that long, and in fact, it shouldn't. An often cited sweet spot for explainer videos is 45 – 90 seconds. Anything less, and you might be leaving important information out, or just presenting a sales pitch. If you make it any longer, the majority of people aren't likely to ever see those extra seconds.
Still, quality is king when it comes to video length. We recently touched on the fact that people often watch longer videos than is commonly assumed. If you are investing in an explainer video, clearly presenting all the points you want to in an intelligent and engaging manner is likely to be more effective than subscribing to the "science" behind recommended video lengths. If you can get someone to watch more than 8 seconds, after all, you have their attention and its yours to lose.
Delivers Results
Whether your goal is to keep people on the page, grow your email list, or capture leads, your explainer video should be able to help. To measure the success of your video, you will need to be able to track key metrics with detailed analytics reporting or granular video engagement metrics. Launch, test, refine, repeat.
Get Started
If you're looking to get a great explainer video made, check out this awesome list of probably every studio that has ever made a video, complete with examples and estimates of price ranges. We also wrote about a couple platforms for making your own animated explainer videos if you are feeling more DIY.
Have any questions about explainer videos, or looking to get started? Let us know in the comments below or share with us on Twitter.

blog comments powered by

Disqus