Creating content can feel like a never-ending merry-go-round. It takes a lot of work to brainstorm and produce high-quality content that promotes your business faithfully.
Evergreen content allows you to step off the content merry-go-round.
You will still have to work to create high-quality content, but evergreen videos, blogs posts, and landing pages can produce consistent results long past the publishing date. Indeed, this type of content often gains more traffic with time and established topic authority.
By learning how to make evergreen content that performs successfully year after year, you'll create a content engine that builds brand recognition, improves search engine rankings, and increases lead generation.
We've included 11 evergreen content ideas (with examples!) that you can use when planning your strategy, as well as tips for getting the most out of your content. Let's jump in.
What Is Evergreen Content (& Why Is It Important)?
Topics that people regularly search for are considered evergreen. Evergreen content can gain a sustainable flow of traffic that produces results month after month — often year after year when properly updated — because people are regularly searching for the topic.
Timely content produces traffic for a short window of time. Also called topical content, these topics can be a large source of traffic — especially for brands with significant search engine authority. However, brands that rely on this type of content must constantly produce content in order to stay relevant (i.e. news, entertainment, etc.).
Timely articles receive an initial traffic spike, but traffic recedes with the public's interest. Conversely, evergreen content that's optimized for SEO will take 3-8 months to reach its full potential. After which, successful articles will receive a steady amount of monthly traffic (see graphic below).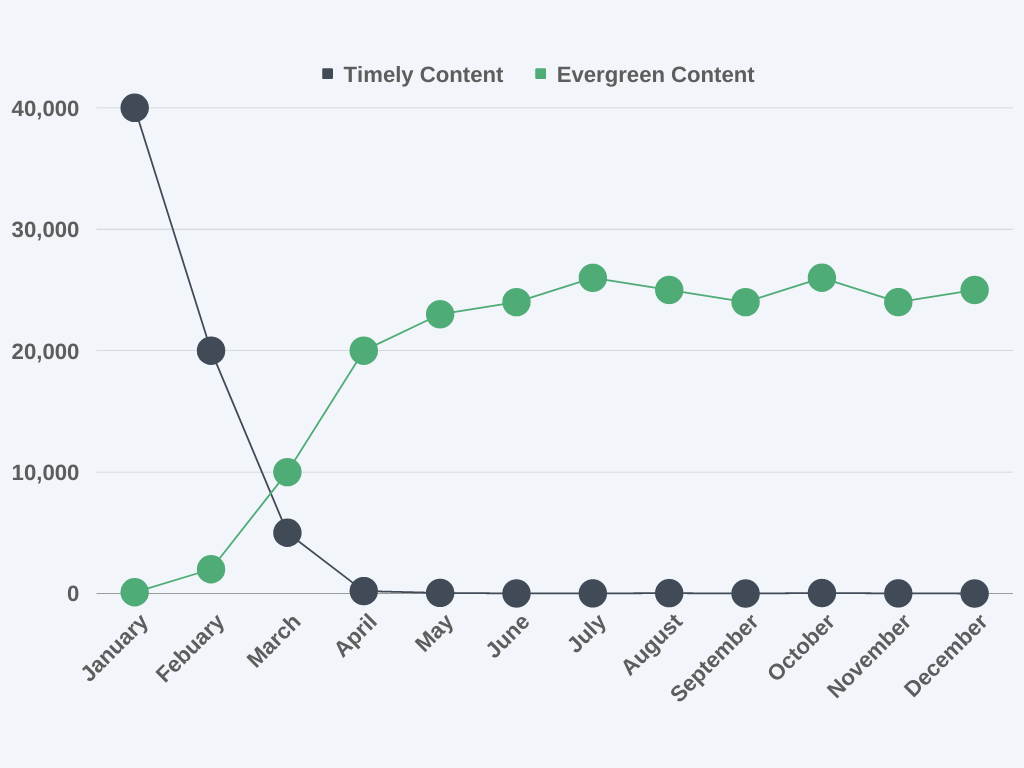 Evergreen content is consistently relevant — even if only once a year. Evergreen content that utilizes SEO best practices is able to rank highly on search engines, making your content not only discoverable but directly sought out.
Most businesses will (and should) produce both timely and evergreen content. The difference is that evergreen content will continue to generate results, even during months when you don't publish any new content.
Topic Examples: What Is and Isn't Evergreen?
Examples of Evergreen Content:
What Is Limerick in Poetry? + How to Write One
How to Change Your Car's Oil (Mechanic's Guide)
20 Halloween Costume Ideas with 1990s Nostalgia
How to Make Gingerbread for a Christmas House
10 Most Popular Nintendo Switch Games
How to Hard Restart an iPhone (All Models)
Seasonal topics can be evergreen if the content itself remains relevant year after year. If the content will be outdated, it's not evergreen.
Note that the topic 'Most Popular Switch Games' will need to be regularly updated to stay accurate. The key, however, is that the topic is timeless — the content will only require minimal updates to maintain its authority (rather than a complete rewrite to stay accurate).
What Isn't Evergreen Content (Timely Topics):
How-to Viral Dance Tutorial: Lizzo's About Damn Time
The Best Nintendo Switch Games of 2023
People Are Angry About the New Season of Grey's Anatomy; Here's Why
Everything We Know About the iPhone 12 (Release Date, Specs, Camera)
The Best Superbowl Commercials of 2023
2022 Holiday Buyer's Guide: Toys & Games
Notice that while some of this content could be updated every year, it makes more sense to create new content on that topic because most — if not all — of it will be outdated.
For example: new toys are released and gain popularity every year. Therefore, the buyer's guide will be a completely different collection of toys, rather than a list of the best toys throughout time (which would be evergreen).
How to Determine If a Topic Is Evergreen
The following question is the key to determining whether or not the topic is evergreen:
"Will the content of this video, blog post, or landing page be as relevant in one year as it is today?"
Consider the examples above: the 90s Halloween costume ideas will only receive traffic during the fall season, but the ideas within the content will remain relevant every year. There's no need to create a new list of 90s costume ideas; therefore, the topic is evergreen.
In other words, will people still search for this topic in a year, and will this article contain the information they are looking for when they do?
If the answer is yes (with regular but minimal updates), it is likely an evergreen topic.
11 Evergreen Content Ideas (with Examples)
We've established that evergreen content is an important part of any content strategy. Not only does it provide useful information for potential and existing customers, evergreen topics build a loyal following, showcase thought leadership, and boost your website's SEO.
One challenge, however, is coming up with evergreen content ideas. We've compiled a list of the most popular kinds of evergreen content to help spark your creativity. Consider your target audience, brand voice, and business' 'why' as you read through the examples.
1. Explainer
Explainer videos are a great way to showcase your product or service and contextualize its importance for viewers. Regardless of form, this type of content is an important part of communicating why your business exists to consumers. Explainer videos are created for sales and marketing and are often found on product landing pages or company homepages.
Examples:
2. Educational (How-to)
How-to (or educational) content provides guidance on something that is unfamiliar, difficult for beginners, or requires specific information to understand. Educational content is also the most popular type of evergreen content because every niche has a plethora of topics to cover.
Whether your business produces organic snacks for babies and toddlers, sells one-on-one fitness coaching services, or offers plumbing services for homeowners, there is some type of informative content that will help your customers, which builds trust while promoting the brand.
This is one of the broadest types of evergreen content. To brainstorm brand-specific content ideas, consider what information your audience needs to fully utilize and appreciate your product offerings. Seek to provide valuable information and you will build a following.
Remember to utilize SEO best practices, especially for how-to content. Evergreen content is most powerful when combined with search engine optimization. With regular traffic to your website and evergreen content to engage visitors, you can create a content engine that results in consistent new leads.
Examples:
3. Testimonials/Customer Spotlight
There are a number of ways to use testimonials in your marketing content strategy. Testimonials serve as valuable social proof on your website and sales pages. They can be repurposed into social media graphics or used as the basis for a promotional video script. Testimonials are an easy way to showcase your company's value to current customers.
A modern take on the testimonial that's become increasingly popular is the customer spotlight. Instead of directly promoting your business, customer spotlights allow the potential customer to put themselves in the shoes of someone who already successfully uses your service or product.
Examples:
4. Best Practices
Featuring best practices in your industry allows you to highlight the authoritative knowledge you have on a subject. Where 'how-to' content often tries to meet beginners where they're at, best practices content is ideal for those who have a preliminary understanding of a topic and need more detailed information.
Within your content strategy, best practices content could include featuring the work of others (as well as your own work), sharing resources that your audience will find helpful, and interviewing experts in the field who have already established credibility. However, it may also simply be a how-to article with a definitive stance on the best method of execution.
Examples:
5. Complete Guide
Complete guides cover all the related questions under a broad topic. These tend to be long-form videos — or a series of videos — as well as articles with word counts of 5,000 and above. When positioned for SEO, guides cover general keywords with big traffic and competition (generally), as opposed to long-tail keywords with less traffic and competition.
These guides are often high-value in a content strategy because they cover a central topic that's important to your target audience. They're often called 'pillar pages' because they can bring in more traffic than other pieces of content combined. For a series of videos, you might collect viewers' emails to receive the next installation automatically. In this way, 'complete guides' make for great top-of-funnel content that perform reliably.
Examples:
6. About Us
'About Us' content allows a business to tell its story, share its mission, and highlight the people who make it happen. Whether in video form or as a page, this evergreen content can be shared across marketing channels and even leveraged as a recruiting tool.
Highly effective 'About Us' pages and videos serve as marketing tools by telling the story of why a company exists and how it came to be. Oftentimes, stories on the why and how of a company are more compelling than sharing the who or what.
Examples:
7. Case Study
Case studies provide your company with an opportunity to showcase successful results, challenging projects, and outright failures — while providing advice for how others can overcome the same obstacles (which is often by using the company's products or services).
Consider interviewing those involved for more hard-hitting content. You might incorporate visual elements to explain complex concepts or showcase data points. Case studies are also highly effective as increasing brand trust: the transparency combined with in-depth information provides a valuable resource when positioned for your target audience.
Another approach is to highlight a customer or client's 'before' and 'after' experience that resulted from using your services or products. This strategy allows the case study to double as a customer spotlight, although it would include more concrete information on what has changed.
Examples:
8. White Paper
White papers are long-form essays that explain a problem and feature the company's solution. They are generally downloadable PDFs featuring technical and in-depth information alongside helpful diagrams, a company's methodology, factual evidence or data, as well as casual persuasiveness geared at marketing the company or its proposed solution.
White papers can be used at various stages of a sales funnel, making them dynamic pieces of content that can be shared with interested subscribers or offered as an opt-in in exchange for a website visitor's email address.
Companies will often use video to highlight the problem and tease the details of a solution. As the video concludes, a custom post-play screen directs users to the downloadable white paper.
Examples:
9. "Best of" and Other Lists
Imagination is the limit when it comes to brainstorming list ideas. There's plenty to cover across industries and niches, so this type of evergreen content is extremely common. A list can be shared in various forms: video, article, and social media post.
This type of evergreen content might cover the "best of," or "most popular," for a particular keyword. It might highlight benefits, pitfalls to avoid, or discuss the pros and cons of a group of products or services that all do the same thing. The list (pun intended) goes on.
Examples:
10. Product or Service Reviews and Comparisons
Review or compare popular products or services within your niche or industry. When an unbiased approach is taken, this type of content can be efficient at building trust. It allows you to discuss technical details of the product that requires expertise.
As a marketing landing page, this type of content can make for a great introduction to your brand. This approach is unabashedly biased, using the topic to directly showcase why your company is better than the competition.
This type of evergreen content provides the opportunity to create authority with search engines by ranking for main keywords that should be associated with the company. Additionally, the landing page can double as a high-converting destination for paid ads.
Keep in mind that some product reviews are more evergreen than others. The Dyson Hair Dryer below is a great example of this. It gained a lot of attention upon release. So while the content will continue to be accurate and relevant, fewer people will search for it year over year.
In other words, the topic is evergreen because the hair dryer will continue to be one people seek out and purchase. But it also received a timely traffic boost because it was a trendy product.
Examples:
11. Project Checklist or Toolkit
A checklist provides a step-by-step reference for completing a project or learning how to do something. For example, a video on piano exercises for beginners might offer a companion checklist of the exercises as a reference for viewers.
Similarly, curating a toolkit can be extremely helpful for people who aren't sure what equipment is necessary and what can wait. Every industry requires specific tools, but there are often different price tiers based on experience and need.
With either type of evergreen content, focus on developing helpful resources for people at various stages of expertise within your niche or industry. Also, be sure to do keyword research to determine how people are looking for this information.
Checklist Examples:
Toolkit Examples:
Bonus Tip: Offer a PDF downloadable version of your checklist or toolkit in exchange for the viewer's email address. This will help grow your email list while generating new leads.
How to Get the Most From Your Evergreen Content
1. Brainstorm Topics Using Why, How, and What
You can gain significant traffic with stellar content, but visitors will only turn into customers if the topics are directly related to your business. Instead of using keyword research to inform what topics you should write, consider your target audience, the services and products you offer, and your brand's tone. Then brainstorm content topics that incorporate why your company exists, how it does what it does, what it produces, and the results therein.
2. Provide Genuine Value to Your Audience
Content that is a thinly disguised veil for marketing does not work. The goal is not for someone to watch your video or read a blog post and immediately buy what you have. That would be great! But more often than not, consumers seek to build trust in a brand before making a purchase. The quickest way to build trust is to freely provide valuable information.
3. Do Keyword Research for All Topics
Once you have a collection of topics, do keyword research to determine the viability of your topics. What you'll find isn't whether you should or shouldn't create the content — rather, how to position the content in the way people are searching for it.
For example, a topic idea for "Video is SEO Gold" becomes "How to Optimize Video for SEO." While both articles might feature the same information, one clearly states its value using keywords that people commonly search.
4. Combine Content Types for Maximum Reach
Google provides multiple options for how to find content when searching. The default page features blog posts and landing pages with a few videos interspersed. However, people can also search content by clicking on the Images or Videos tab (among others). You'll notice that different content is prioritized within each tab.
To optimize your webpage for organic reach, feature multiple types of content on the page and include best SEO practices for all aspects of that content. For example, a blog post on 'How to Create a Vision Board' could include a video how-to, complete instructions in text, and an image for each step of the process.
5. Be the Authority (Outdo the Competition)
As part of your topic research, review what the competition has created. If you can create a resource that is more valuable, the content is likely to be successful despite high competition. Strive to create content that is more helpful and more in depth. If no other companies are sufficiently covering a topic, it becomes much easier to take the top spot.
6. Update Your Successful Content Regularly
Even evergreen content can become outdated. It's a good practice to regularly update successful content. You can also use analytics to ensure the content is continuing to perform as expected. If the content begins to receive less traffic than it usually does month over month, investigate whether the content has become outdated or been usurped by a competitor.
7. Crosslink Evergreen Content
The more evergreen content you create, the more it will overlap with other content. Whenever you mention a related topic within an article for which you have already created content, link that text or image directly to it. This crosslinking web will help visitors navigate through your website and will tell search engines that you are an authority on the subject.
8. Don't Be Afraid to Re-share Evergreen Content on Social Media
One of the major benefits of evergreen content is the ability to continue sharing it with new followers and customers who will find value in what you've created. Be sure to re-promote content to your audience after updating it. Even those who have read it before may revisit it to discover new helpful information. Also, don't be afraid to reshare content that hasn't been updated — just make sure the information is still accurate before you do.