Ever wonder how a video feed from a camera is converted to a live stream online? The answer is encoding software, a type of video software that can take a video source and transcode it in real-time into a format that can be streamed online.
In this post, we'll be taking a look at six different options for encoding software. From basic to advanced, decide which encoding software is right for your project with this thorough guide.
---
Here at SproutVideo, we've been using OBS software to encode our live streams these past few months. While it's popular and free to use, OBS is far from the only option. There are a plethora of different services you can use to live stream your content, some very similar to OBS, while others have a host of premium features. So which is right for you?
In this episode of our How To Video series on live streaming, Nick LaClair, Creative Director at SproutVideo, takes us through six alternatives to OBS, and the features that come along with the upgrade.
What to Look for in Encoding Software
There's already a really amazing free option on the market. You can do quite a lot with OBS, the software we use in-house at SproutVideo for live streaming. To see what it can do, go behind the scenes of our first live stream, or see exactly how OBS works with the SproutVideo platform.
But what if you need more advanced features, or just want a more user-friendly experience with live streaming?
We've broken the features you can expect to find into two categories: basic, and advanced. The basic features are those that most companies will find useful when live streaming to an audience, whereas the advanced features are those that mainly apply to live streams with more complicated setups, like multiple participants or streaming to multiple platforms.
Basic Features
These basic features are available on most encoding software, including OBS. The differences you'll find between platforms will instead be more a matter of ease-of-use and degree of control. Generally speaking, higher-end software will offer more finite control than those on the cheaper end of the spectrum.
Multiple Inputs:
If you're using more than one video source, this feature is crucial. It allows you to add more cameras or video sources in an efficient way, and switch between them during your broadcast.
Chroma Key:
This is a type of image compositing that allows for the manipulation of video through color-based hue detection. This is how a green screen works, and also how you can change your Zoom background.
Files and Media:
In addition to the aforementioned video feeds, this refers to the ability to add additional video files, files from design programs, or images during your stream. For instance, we used a JPG to make a custom branded frame for our live stream with multiple presenters.
Video Transitions:
Transitions are different effects you can use to move between scenes while streaming. They can add polish and style to your live stream.
Graphics:
OBS allows you to import graphics and titles, while with other apps, this feature might be built right into the platform itself.
Recording:
This allows you to save a recording of the stream locally. If you're live streaming with SproutVideo, we automatically save a recording of your live stream to your account.
Advanced Features
These features are where pricier encoding software options will have the edge over a program like OBS, which at its core can only accomplish the features above.
Guests and Multiple Participants
More robust options offer built-in functionality for multiple guests, speakers, or participants right within the app. This would allow you to do a 2-10 person presentation depending on the application you go with.
Comments and Feedback
These features allow participants to interact with your stream when it's broadcast to a social media platform by pulling in social comments or posts.
Simulcast
Simulcasting is the ability to stream to multiple platforms at once, such as professional platforms like SproutVideo, or YouTube, Facebook, or Twitch. This is useful if you are live streaming on your homepage, but also want to broadcast your video to your audience on social as well.
Hardware Control
The highest tier options allow you to control hardware right in the application. This might include a switcher, control module, or even remote cameras. The ability to control hardware from the application gets you much closer to a real studio experience.
Choosing a Streaming Application
OBS is an amazing choice because of its versatility, and it's hard to overlook the fact that it is free, but if you want some of the more advanced features and ease of use, you'll want to go with a different piece of software. We took a look at six platforms that would be solid alternatives to OBS.
XSplit, Streamyard, mimoLive, Switcher Studio, Wirecast, and Vmix for the most part, cover all the basic and advanced features listed above at various price points.
Other than price, the biggest difference between these six platforms is their ability to have multiple speakers and guests, the level of customization, and integrations with hardware.
The chart below shows the differences in features and price.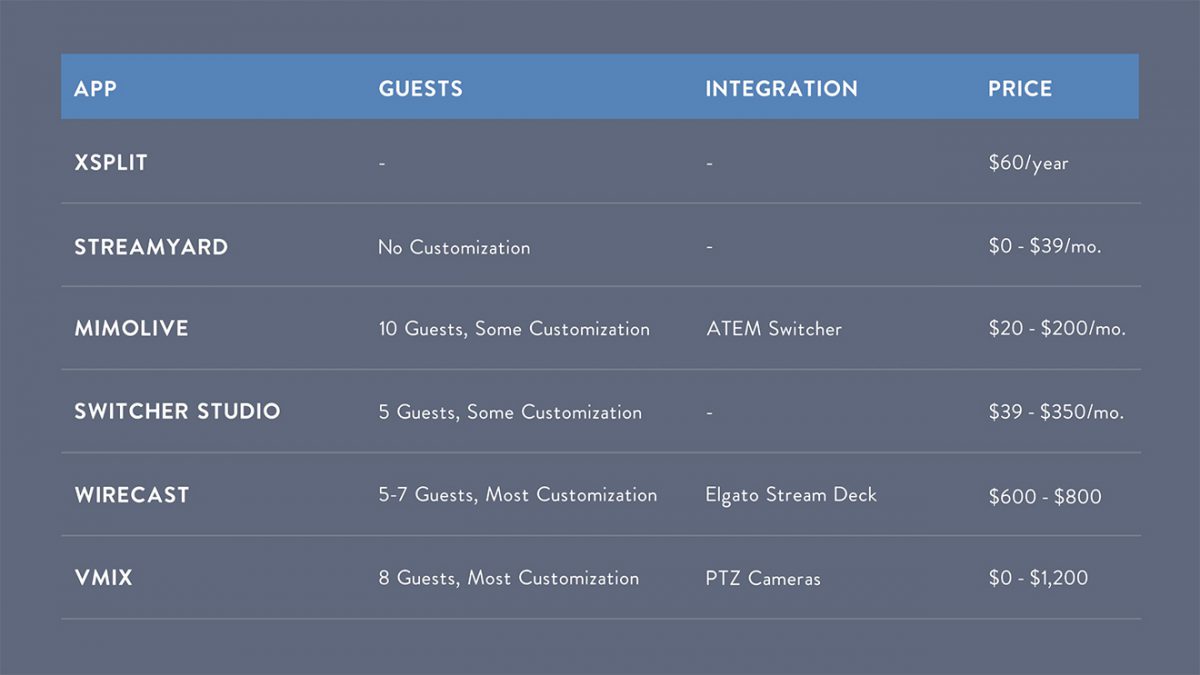 XSplit
Pros: Affordable with nice features for the price point, targeted at gamers.
Cons: No guests and only available on Windows.
Best For: Easy simulcasting on PCs, and those on a budget.
Streamyard
Pros: Browser-based, easy-to-use, allows up to ten guests, inexpensive.
Cons: Not as customizable as higher-tier options, and running in the browser could use up computer resources.
Best For: Cheap solution to featuring guests in a live stream.
mimoLive
Pros: Lots of easy-to-use features at a mid-tier price point.
Cons: Only available for macOS.
Best For: Mac users regularly live streaming with a multi-cam setup.
SwitcherStudio
Pros: Intuitive, easy to add iOS devices as a source.
Cons: Gets pricier to invite up to five guests.
Best For: Live streaming for large organizations and events.
Wirecast
Pros: Advanced control over features, and image and audio quality.
Cons: Steep learning curve for less experienced video producers.
Best For: Knowledgeable live video producers looking for more control over output, and lots of built-in features.
VMIX
Pros: Packed with customizable features and integrations.
Cons: Very complex software could take time to get up to speed.
Best For: Those looking for integrations, multiple guests, or live streaming events.
Of course, these aren't the only options in the market. Based on our research, these six platforms seemed to offer the features we deemed essential, along with some bells and whistles here and there.
---
Given the range of price points, there's clearly something for everyone depending on the features you need for your project. Which platform is your favorite, and why? What features do you rely on most for live streaming software? Share your perspective in the comments below.
If you're ready to try live streaming for your business, open a free 30 day trial with SproutVideo today.