Monetizing your video content is a very popular idea that works well in a variety of industries, not just entertainment, because it helps you reach a much broader audience while still creating a personal connection. For instance, you can include videos as part of an online course, use them to transmit exclusive advice, or for personal training. Here are the important steps to take to make sure people will continue to want to pay you for your content:
Protect Your Videos
Your videos are high production value, and you sell access to customers either as your main product or as part of a multi-layered content package. If this is the case, you need to protect your content to the extent you are able – and keep it exclusively on your site – otherwise why would anyone pay for it?
This can be achieved a couple different ways. One is with login protection, where access is only meted out to select people and can be set to expire after a certain amount of time or number of logins. Another is to keep your videos private, and publish them on a page behind a paywall or similar secure section of your site. Domain white-listing and preventing downloads are also important measures to take, because once a video is downloaded, it is nearly impossible to control where it might end up.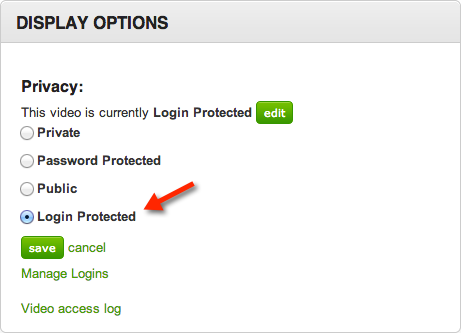 Login Protected Videos are a great way to control access to your content:

Great, Now What?
You need to advertise this high value video content, and what better way to do it than with, you guessed it, more video! Make short, snappy videos from your existing footage that highlight your best ideas, and limit them to 30 seconds max. If you cannot fit it in 30 seconds, you probably need a more visual presentation of your ideas and less text. Limiting it to 30 seconds is an excellent rule of thumb to follow to avoid giving away too much. If you can get it down to 15 seconds, or even 6, you can cross promote them on increasingly popular platforms like Instagram and Vine.
If your video is more towards 30 seconds, cross-publish this snippet on platforms built for sharing public content, like Youtube or Vimeo, as well as other social networks. Incentivize sharing of your blurb with double-sided offers (e.g. help a friend, help yourself!). You could also treat it as a pre-roll ad for videos on other sites.
Email marketing is another great tool for marketing paid video content. Read more about that in our recent blog post, How to Leverage Video in Your Email Marketing Strategy, and learn which email clients still do not support video playback natively.
Have you implemented any of these tips? We would love to hear if you have anything to add from your experience. Let us know about it in the comments or on Twitter!
blog comments powered by

Disqus