Update: We added themes and a video site editor to significantly improve the look and feel of these sites. Read about it in this blog post!
Update #2: We launched our video websites out of beta! You no longer have to make a request to have these features added to your account. You can just open a free trial account and get started right away!
We are extremely excited to announce the next phase of our brandable video pages beta is going live today: brandable, customizable video websites, hosted entirely by SproutVideo!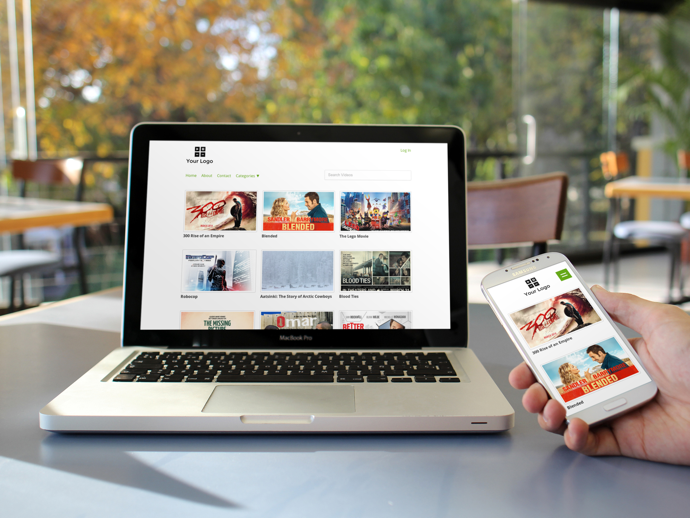 These video sites are available to all new and existing SproutVideo subscribers, and take the guesswork out of putting your video content live online. You no longer have to find a separate host for your website or a content management system – you can do everything within the SproutVideo platform you already know and love!
Here is an example of a live video site hosted by SproutVideo, with a custom URL and a custom logo: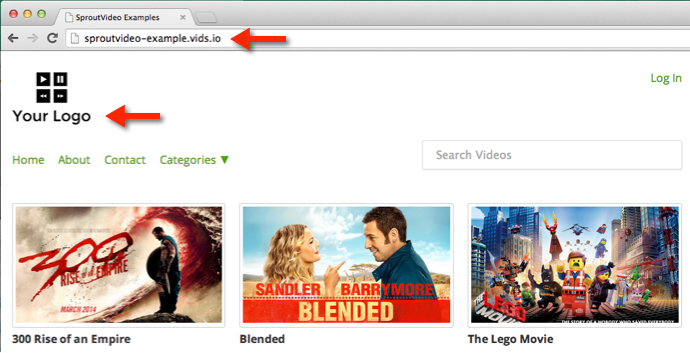 You can visit that site and click around to check it out: SproutVideo Example Site. If you are in our beta, you can add your own logo, customize the colors, add your own CSS, the menu colors, and add or remove the About and Contact pages.
Importantly, if your videos are login protected, a visitor to your website will only see the videos he or she has access to after logging in.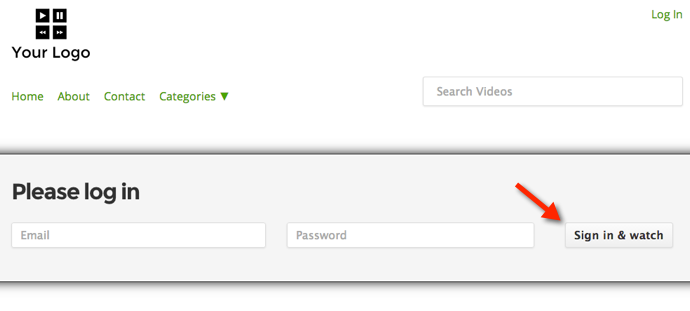 Also, if your videos are password protected or private, they will remain that way even if you have your public video site enabled. Private videos will never show up on your public site, and password protected videos will still require a password.
Once you are added to the beta, you can start customizing your video site by going to Account, and then selecting Public Site on the lefthand side of the screen. Then choose your subdomain and upload a logo.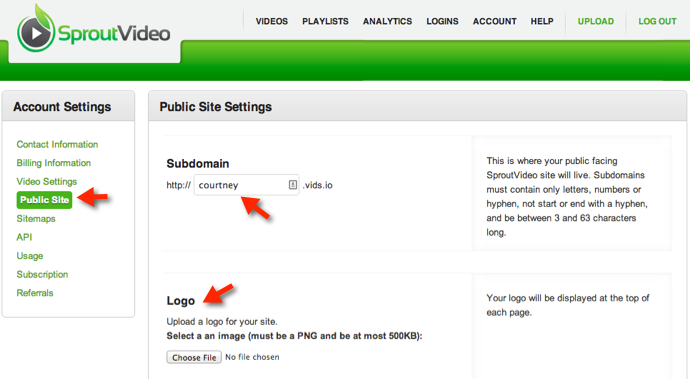 You can also add Google Analytics tracking, enable social media sharing, and customize the About and Contact pages. These video sites have built-in video sitemaps for SEO, commenting (powered by Disqus), RSS feeds, and are searchable and browseable to boot.
Sound too good to be true? Email support@52.90.43.4 and see all the features in our latest beta release for yourself.

blog comments powered by

Disqus